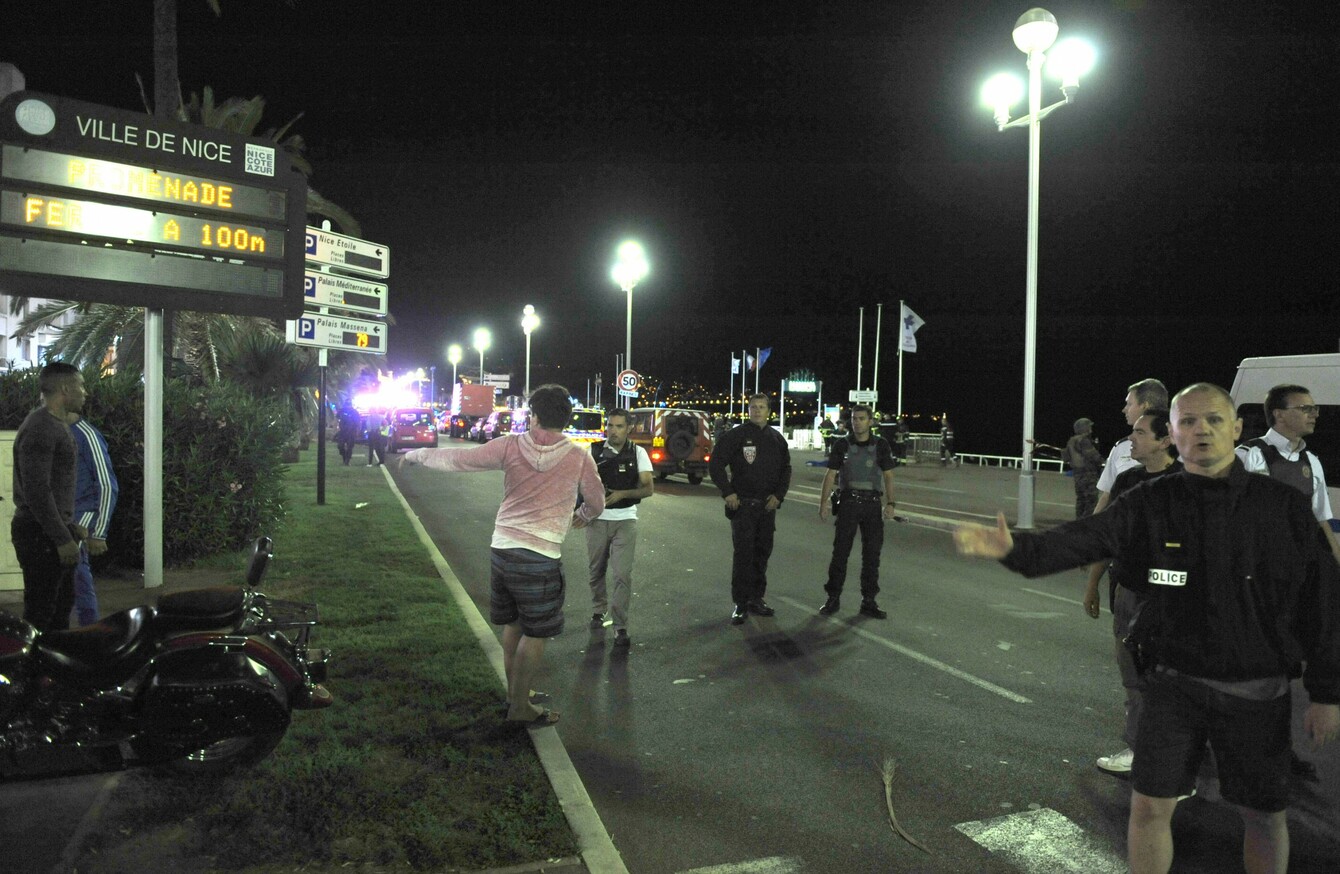 Image: Christian Alminana/PA
Image: Christian Alminana/PA
EYEWITNESSES AT THE Bastille Day celebrations in Nice, where 84 people were killed when a truck ploughed through the crowd, have described the panic in the aftermath of the terrorist attack.
Witness Roy Calley, who said he lived 200 metres from the promenade, told the BBC there was "all hell breaking loose" and the situation was "pretty horrendous".
"It was a celebratory atmosphere, it was fun, people were enjoying themselves.
"Suddenly I heard a huge, what I can only describe as maybe an explosion or a crash.
"A lot of people were screaming. That was followed by what I thought were maybe gunshots."
'The fear on their faces'
A man named Nader told BFM television he had seen the whole attack from start to finish, and had initially thought the driver had "lost control".
"I was in the street. He stopped just in front of me after he [crushed] a lot of people," he said. "We were trying to speak to the driver to get him to stop.
He looked nervous. There was a girl under the car, he smashed her. The guy next to me pulled her out.
Nader said he saw the driver pull out a gun and start shooting at police before they shot him dead.
Irishman Steven Milton told RTÉ's Morning Ireland that he had been at the Bastille Day celebrations to watch the fireworks and had just left the promenade when he saw people running towards him screaming.
"The fear on their faces told us we had to run now," he said.
Milton said he and his boyfriend, along with some others, hid in the storeroom of a restaurant about a block away from the scene.
We had no idea what was going on there, it was mixed feelings, absolute terror, there were two girls beside us we were trying to console.
"We didn't know whether we should stay, some people left, some refused to go. Quite a few French teenagers were distraught, sobbing their eyes out trying to call their parents."
'People got trampled'
People screamed and scattered as the truck veered down the beachfront, where thousands of adults and children had gathered for the fireworks.
Several witnesses described how people hurled themselves off the promenade onto the beach below to escape the path of the truck.
Marie, a 37-year-old security guard at the nearby beachfront Massena Museum — which itself hosted Bastille Day festivities just hours before the attack — described the panic as people tried to flee.
"We saw hundreds of people rushing to get shelter," she told AFP.
There were children, people got trampled.
In a Facebook video, witness Tarubi Wahid Mosta described how he had taken photos of the aftermath on the Promenade des Anglais — children's toys lying abandoned; an empty pushchair.
"I almost stepped on a corpse, it was horrible. It looked like a battlefield," he says in the video.
"All these bodies and their families …they spent hours on the ground holding the cold hands of bodies dismembered by the truck. You can't even speak to them or comfort them."
- © AFP 2016 with reporting by Michelle Hennessy.
If you are an Irish person in Nice, we'd like to hear from you. You can get in touch by emailing news@thejournal.ie.