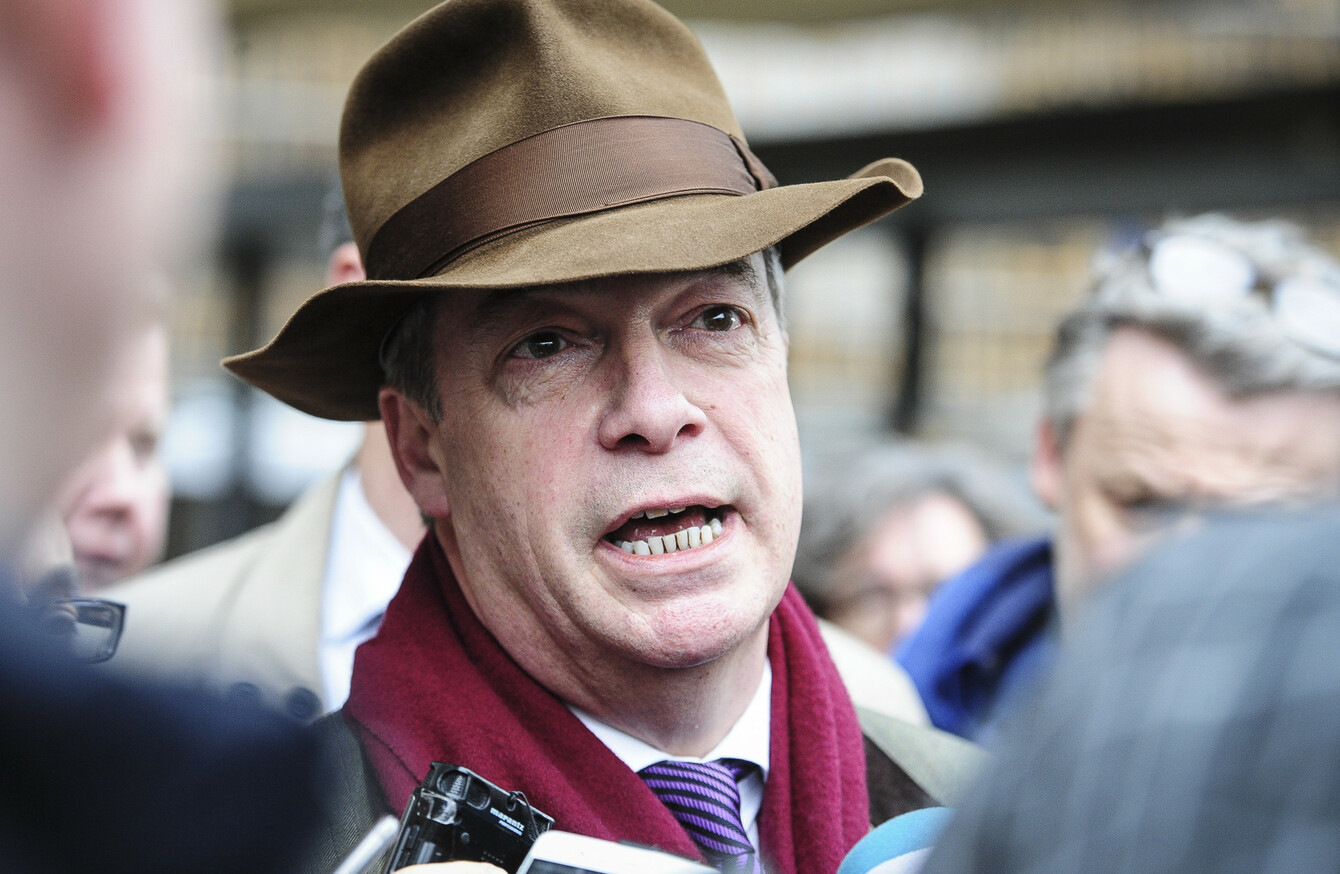 Image: Wiktor Dabkowski via PA Images
Image: Wiktor Dabkowski via PA Images
BREXITEER NIGEL FARAGE has said that he actually doesn't want a second Brexit referendum but fears that the UK may be forced to vote again, referencing Ireland's second vote on the Lisbon Treaty.
Farage was interviewed on TV3′s Tonight Show last night and his referendum comments were in stark contrast to those he made on Twitter last week, where he suggested that a second Brexit referendum should be held.
Speaking via a Skype call last night, Farage said: "I haven't called for a second referendum, I don't want a second referendum, but having seen what happened to you guys after you rejected the Lisbon Treaty and being forced to vote again, I fear the same may happen to us."
Despite his fears and his calls for a referendum last week, Farage said that he thinks Britain would vote in favour of Brexit on an even larger scale if there was a second referendum.
"We took a fork in the road for Brexit and what we ought to do is simply to get on with it but I don't think the British would get bullied in the second referendum into changing their minds," Farage said.
"One of the reasons for that, of course, is the creation of a European army, airforce and navy, the militarisation of the Union and the creation of the United States of Europe," he said.
'A European Unionist' 
Farage hit the headlines again yesterday after he branded Leo Varadkar a "European unionist" as he attacked the Taoiseach's EU speech in Strasbourg.
Varadkar had addressed the parliament and had shared with the MEPs his vision for Europe – citing the North's special relationship with the EU, banking regulations as well as corporation tax.
But responding to the speech, Farage said that Varadkar was being used as a political pawn and that Ireland was, for once, useful to the big countries in making Brexit as convoluted and as difficult as possible. Farage added that "small countries normally count for nothing".
Speaking on the Tonight Show, Farage noted that he met Varadkar for a drink after the meeting.
"He is a very, very competent man. He's a great debater and in many, many ways he's a real smart cookie but he has an absolute devotion to the European project that has been with him ever since he was a young man," Farage said.
However, he continued to say that Varadkar "should be arguing, banging the table and fighting and saying look, we in Ireland are the one country who could potentially really be hurt by Brexit, can we make sure we have a proper grown up deal with the UK?".
He then went on to say that he is surprised to see that Ireland is becoming so integrated into the EU's ideas and that the country is "self-harming" itself.
When it comes to self harming, I'm afraid your government in Dublin has been the absolute complete and utter experts.
The one thing that is for sure is that … the point about the Brexit vote was to become an independent self-governing democratic nation. Isn't that why you left Great Britain? Didn't you become what you are because you wanted to be independent surely?