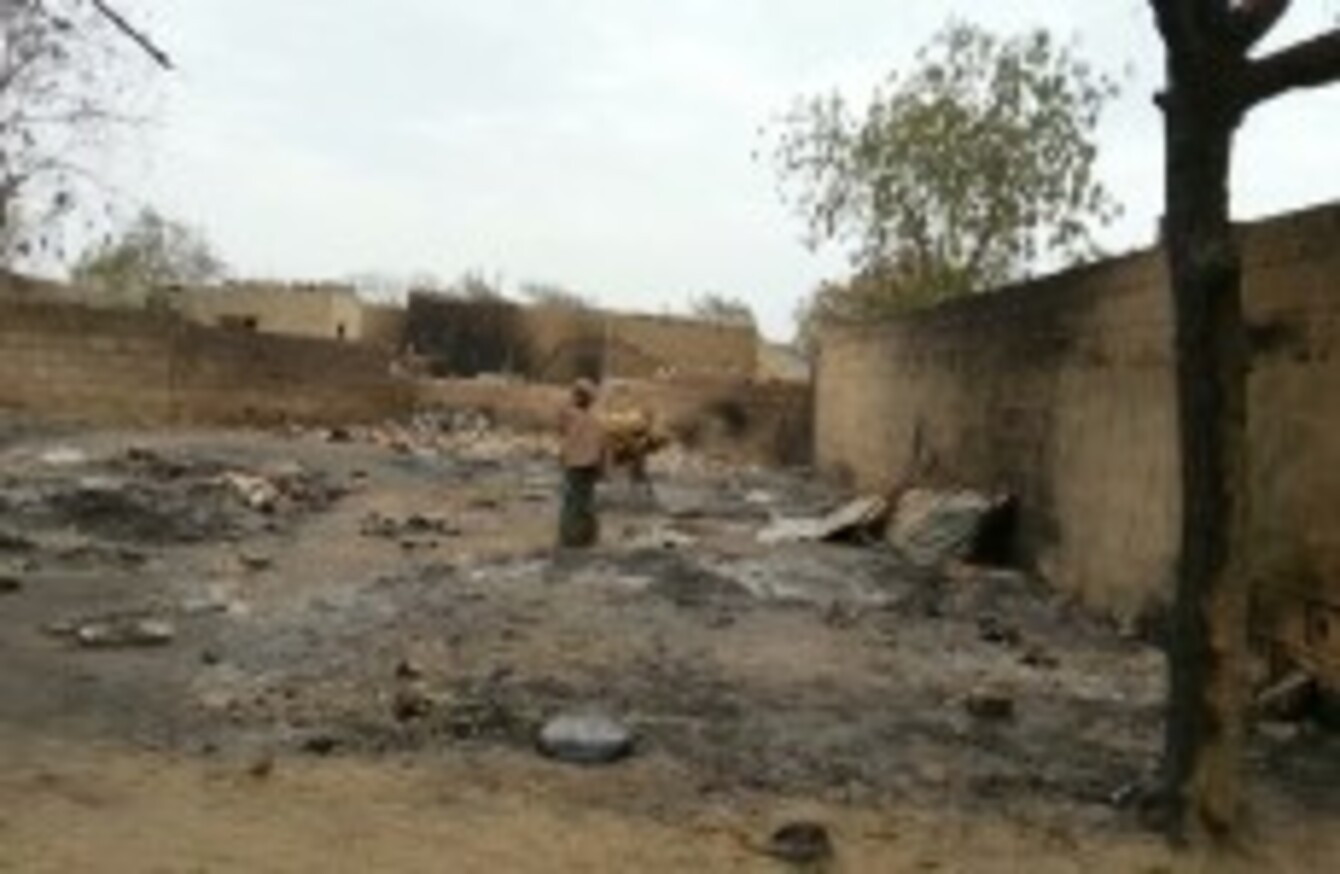 A young girl stands amid the burned ruins of Baga, Nigeria, on Sunday
Image: Haruna Umar/AP
A young girl stands amid the burned ruins of Baga, Nigeria, on Sunday
Image: Haruna Umar/AP
DOZENS OF PEOPLE have been killed in fierce fighting between Nigeria's military and suspected Islamists after troops raided an insurgent hideout in the northeast, a government source told AFP today.
Gun battles broke out in the remote fishing village of Baga on Friday, forcing residents to flee the town that also serves as a small trading centre on the shores of Lake Chad.
The village lies in Borno state, the home base of Boko Haram Islamists who are blamed for carrying out scores of attacks across northern and central Nigeria since 2009.
The fighting "killed dozens of people," said a state government official who refused to be named.
Borno state military spokesman Lieutenant Colonel Sagir Musa told AFP that media reports that some 180 people could have died in the clashes were "extensively inflated."
"There could have been some casualties, but it is unthinkable to say that 185 people died," Musa said.
"On my honour as an officer, nothing like that happened," he added.
Massive fire
Heavy damage was visible throughout the village, including signs that a massive fire had razed several homes and a market, according to an official who toured the area on Sunday with regional governor Kashim Shettima.
The official, who also requested anonymity, said local residents reported deaths among the insurgents, soldiers as well as civilians.
A regional spokesman for the National Emergency Management Agency, Abdulkadir Ibrahim, said his personnel had arrived in Baga, but communication was difficult and it was too early to assess the scale of the attack.
Mobile phone network coverage in some parts of Borno was crippled last year after Boko Haram burned down a series of telecommunication masts.
NEMA is trying to distribute "humanitarian assistance to victims," Ibrahim said.
A precise death toll and reports that some 2,000 homes were destroyed "cannot be independently verified," he added.
Red Cross spokesman Nwakpa O. Nwakpa told AFP that a significant attack occurred, but said, "we really don't know yet how many people died."
"Once the security situation is clear, (Red Cross staff) will move in," he said.
Baga is more than 150 kilometres from the state capital Maiduguri, a precarious drive on poor roads in a region hit by waves of violence.
Boko Haram has used Maiduguri as a base for its insurgency, but scores of militants have reportedly fled to more remote corners of the state following a crackdown by security forces in the city.
Clashes with troops
Local residents told the governor's delegation that the clashes started when troops surrounded a mosque that was allegedly sheltering insurgents.
A shootout ensued and there were reports from residents of the Islamists using heavy weapons including rocket propelled grenades, but the nature of the fighting could not be confirmed and details were still emerging.
Nigeria's security forces have a history of minimising casualty figures in the conflict with Boko Haram, in a bid to downplay the Islamists' capacity.
But resentment of the military is high in some communities and locals have in the past given inflated death tolls while accusing the military of indiscriminately killing civilians during their operations.
Boko Haram has said it is fighting to create an Islamic state in Nigeria's mainly Muslim north, but the group's demands have shifted repeatedly.
The conflict in Africa's most populous country and top oil producer is estimated to have left about 3,000 people dead since 2009.
The toll includes people killed by the security forces, who have been accused by international rights groups of massive abuses, especially in the northeast.
Facing mounting political pressure over his inability to end the violence, President Goodluck Jonathan set up a panel last week to study how an amnesty could be offered to Boko Haram.
It is unclear if members of the radical sect are open to an amnesty deal.
- © AFP 2013.