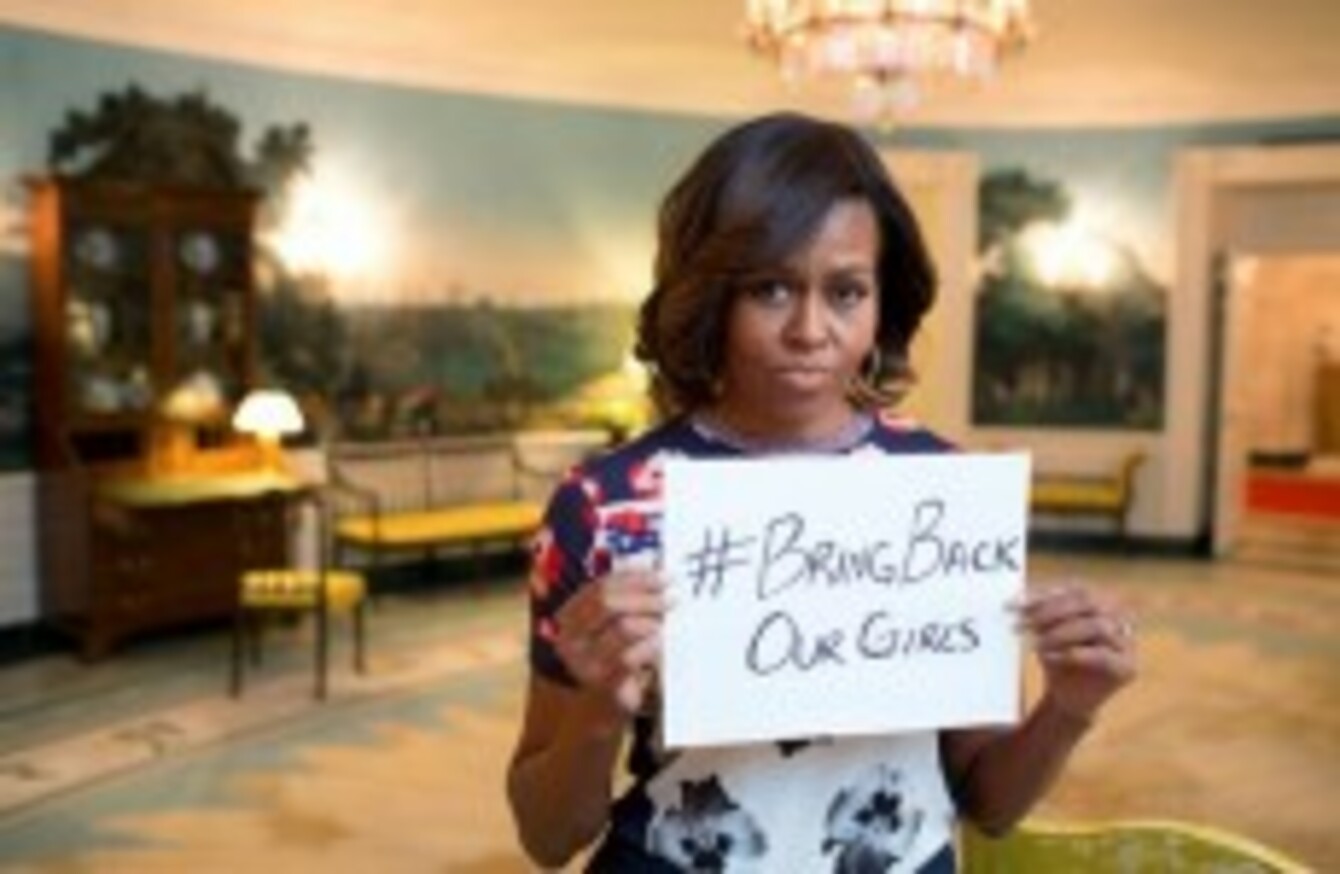 Image: Michelle Obama/Twitter
Image: Michelle Obama/Twitter
US FIRST LADY Michelle Obama is to speak out against the kidnapping of more than 200 Nigerian schoolgirls by Islamic militants when she gives the weekly presidential address instead of her husband, the White House has confirmed.
White House deputy spokesman Eric Schultz said Michelle Obama would focus on the issue of the mass abductions in an address today to mark Mother's Day, which falls tomorrow in the United States.
"As the mother of two young daughters, Mrs Obama is taking up the opportunity to express outrage and heartbreak the President and she share over the kidnapping of over 200 Nigerian girls of their school," Schultz told reporters aboard Air Force One.
The First Lady hopes that the courage of these young girls serves as an inspiration … and a call to action for people around the world to fight to ensure that every girl receives the education that is their birthright.
Address
US presidents issue a weekly radio address on a subject of their choosing. A video version is also posted on the White House website each Saturday.
Michelle Obama has often appeared alongside her husband during the addresses, but this will be the first time she has spoken alone.
Earlier this week, she expressed solidarity with the kidnap victims, tweeting a photograph of herself holding a placard bearing the slogan #BringBackOurGirls, the hashtag used as the rallying cry for a viral campaign calling for the schoolgirls' return.
President Barack Obama on Tuesday described the kidnapping by Boko Haram militants as "heartbreaking" and "outrageous" as Washington deployed military experts in the hunt for the children.
Condemnation
The UN Security Council last night strongly condemned the abduction of the schoolgirls, as the world body's secretary general dispatched an envoy to help find them.
The diplomatic moves came after Amnesty International said that Nigeria's military had been warned of an attack on a school in which more than 200 girls were abducted by Boko Haram Islamists three weeks ago, but failed to act for nearly five hours.
The Nigerian military denied the allegation and has launched a round-the-clock search for the missing girls.
At least 10 army search teams were trying to track down the girls in the remote far northeast, border guards were on high alert and the air force had so far flown at least 250 sorties.
Three weeks
Nigeria is keen to demonstrate that it is finally acting to trace the 223 girls still missing, after three weeks where the teenagers' parents and families accused them of inaction and indifference.
But Amnesty's allegations are likely to heap further pressure on Nigeria's embattled government and military.
The unanimous UN Security Council declaration said the mass kidnappings "may amount to crimes against humanity" under international law, but made no explicit reference to charges in the International Criminal Court.
The 15 members of the council said they would follow the situation and consider "appropriate measures" to take against Boko Haram.