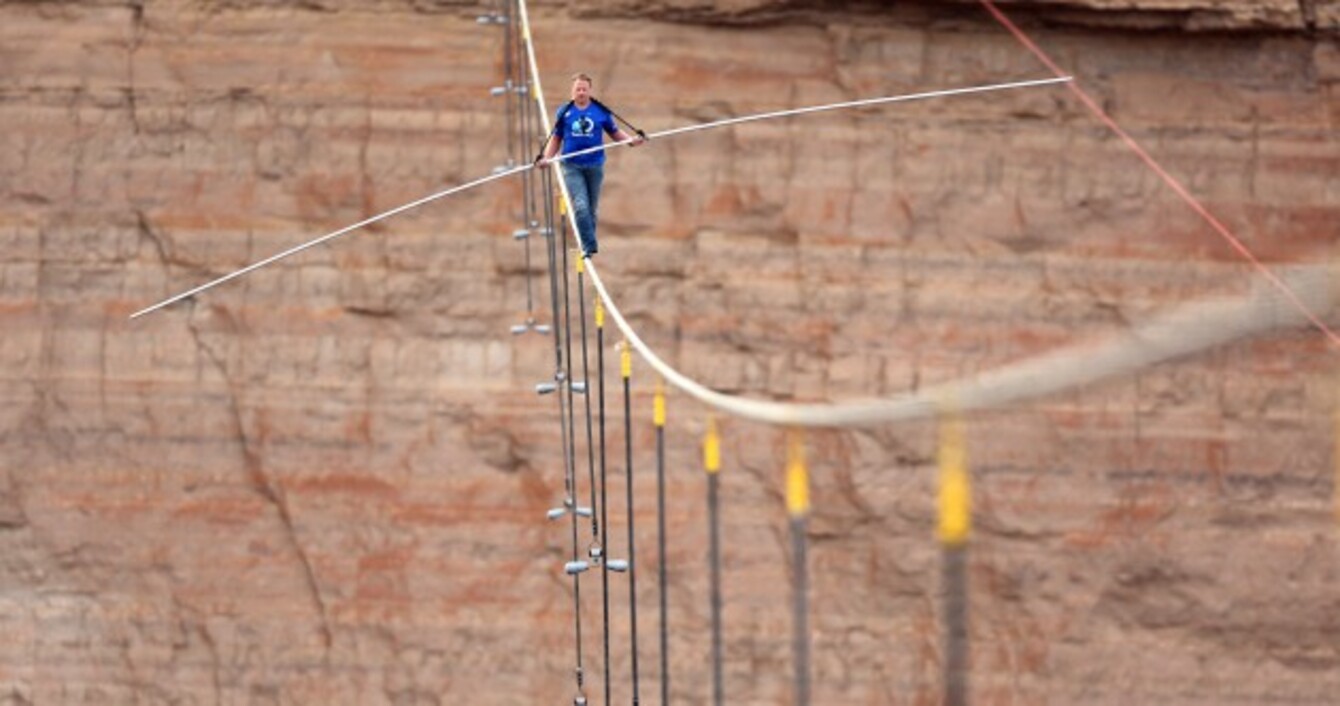 Image: Tiffany Brown/AP Images for Discovery Communications
Image: Tiffany Brown/AP Images for Discovery Communications
US DAREDEVIL NIK Wallenda became the first man to cross a Grand Canyon-area gorge on a tightrope on Sunday, completing his latest record-breaking feat in under 23 minutes.
The 34-year-old, who walked across the Niagara Falls last year, prayed constantly as he crossed a tributary gorge of the US landmark on a quarter-mile long high wire some 1,500 feet (457 metres) above the Little Colorado River.
Wind gusts were higher than expected, and he twice crouched down on the wire. "Those winds (were) so unpredictable … just out of the blue there would be a 35 miles (56 kilometers) an hour gust," he said.
"My arms are aching like you couldn't believe," he added, hugging his wife and children after the nerve-wracking walk — without a harness — over the stunning gorge in eastern Arizona, broadcast live around the world.
Organisers said he took 22 minutes and 54 seconds to cross the 1,400 feet (426 meters) — faster than anticipated — giving a thumbs up and half-running the last several yards to reach the other side.
(Video: Discovery Channel/YouTube)
Wallenda's feat made it into the top 10 global topics on Twitter, with organisers saying there were some 700,000 tweets during the walk alone.
There was some debate over whether the walk was over the Grand Canyon itself — technically it was over a tributary gorge in the Navajo Nation, east of the main part of the world-renowned landmark.
Four years in the planning
But organisers insisted he had walked across the Grand Canyon, and many who watched the death-defying stunt were willing to forgive any over-zealous marketing hype.
(AP Photo/Rick Bowmer)
Wallenda has been planning the walk for about four years, homing in on a remote location at the eastern end of the mighty geological chasm, on land operated by Navajo Nation Parks and Recreation.
He had hoped to be able to take questions from journalists live while on the high wire, but it became clear within a few minutes of the start that he needed all his concentration for the walk.
"Praise God, this is awesome …Thank you Jesus for this beautiful view," he said. "Winds are way worse than I expected," he added at one point, in comments broadcast live by the Discovery Channel in more than 200 countries around the world.
(AP Photo/Rick Bowmer)
His father was in constant live radio link with him, although for the first five minutes the conversation consisted largely of Wallenda asking Jesus and God to help him and to calm the winds.
He first crouched down before the half-way point, explaining afterwards he needed to stabiliSe the cable, and himself. "The winds were getting really gusty right then," he said.
"It was just getting really, really uncomfortable," he added.
#Open journalism No news is bad news Support The Journal

Your contributions will help us continue to deliver the stories that are important to you

Support us now
(AP Photo/Rick Bowmer)
"It's so important to have my family"
Wallenda was rigged up with a microphone and live cameras, including one on his chest looking straight downwards to the Canyon floor below — a distance more than the height of the Empire State Building.
As he passed the half-way point he continued to pray — but as he neared the other side, the tension lifted palpably, notably when, instead of thanking God and Jesus, he said: "Thank you Discovery Channel for believing in me."
After fast-walking the last several metres he fell into the arms of his wife Erendira and his three children. "It's so important to have my family there. I wouldn't be doing this if it wasn't for their support," he said.
(AP Photo/Rick Bowmer)
Wallenda, who has talked about Egypt's pyramids and the Eiffel Tower in Paris as possible venues for a future stunt, said after Sunday's walk he would likely stay closer to home.
"My dream for my next stunt is to walk between two skyscrapers in New York City," said the daredevil, who also paid tribute to his great-grandfather Karl, who died in 1978 after falling from a wire between two buildings in Puerto Rico.
Nik Wallenda nears the end of his walk. (Tiffany Brown/AP Images for Discovery Communications)