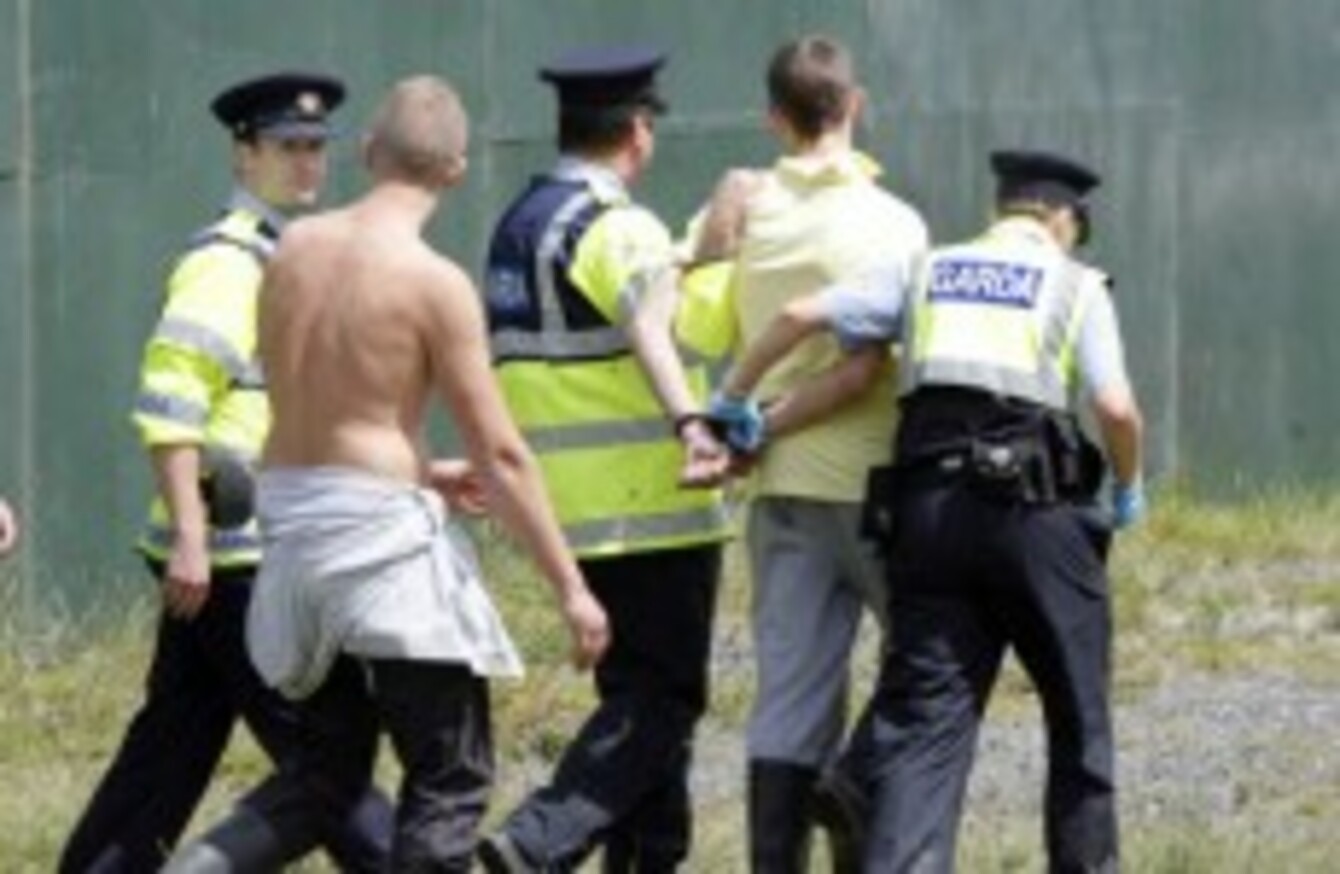 A festival goer is taken away by Gardaí at Oxegen 2011
Image: Mark Stedman/Photocall Ireland
A festival goer is taken away by Gardaí at Oxegen 2011
Image: Mark Stedman/Photocall Ireland
WELL IT'S ALL over for another year and Gardaí have revealed that  more than 300 drug seizures were carried out at the Oxegen music festival in Punchestown at the weekend, with 28 people arrested for dealing drugs.
Gardaí have released details of the total number of arrests made over the weekend. Ninety people were arrested in total. As well as the 28 arrests for drug dealing, there were 21 people detained for public order offences, eight for assault and 12 for theft.
Fifteen people were arrested on drink driving charges, and Gardaí say that 14 of those were as a result of mandatory breath testing at checkpoints around the Punchestown site. A total of 1450 drivers were subjected to breath tests. Three people were arrested for other road traffic offences, while three other arrests make up the total figure of 90, compared to 129 at the 2010 event.
There were 280 incidents of simple drug possession at Oxegen over the weekend, with 252 presumptive drug tests carried out on site.
Meanwhile Gardaí say that the investigation into a slashing incident at the festival on Friday night is ongoing, and that nobody has been arrested. Five teenagers were injured in the incident, which took place on the Blue Campsite.
The last of the campers will leave the site in Kildare this afternoon, with the campsites closing at 2pm. Last night Coldplay and Beyoncé closed Oxegen 2011, with Christy Moore joining Chris Martin and co. on stage for a performance of Ride On.
Gardaí have thanked the "many thousands of well behaved fans" for their cooperation, and have also extended thanks to local residents for their patience.