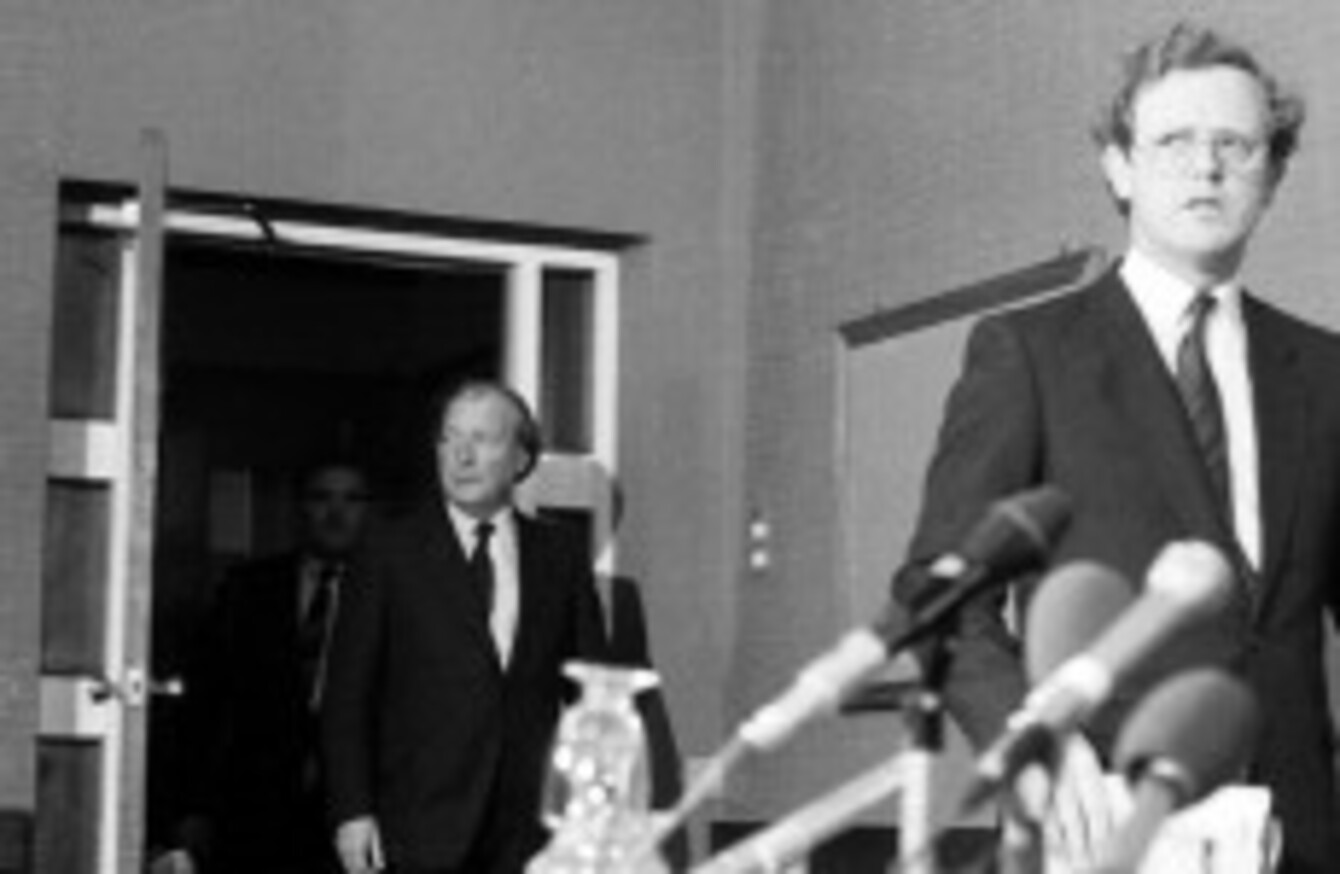 The infamous GUBU press conference of 1982.
Image: Eamonn Farrell/Photocall Ireland
The infamous GUBU press conference of 1982.
Image: Eamonn Farrell/Photocall Ireland
IT WAS ONE of the greatest scandals to ever hit this island, but according to State Papers released under the 30-year-rule this week, there was no mention of the Attorney General's 1982 resignation in the Department of the Taoiseach that year.
Although it almost brought the Government down, the only clue to the GUBU controversy was a Cabinet meeting, during which the salary for Patrick Connolly's replacement was confirmed.
Describing the unusual events of the summer of 1982, then-Taoiseach Charles Haughey told a press conference, "It was a bizarre happening, an unprecedented situation, a grotesque situation, an almost unbelievable mischance."
Paraphrasing the statement, journalist Conor Cruise O'Brien coined the term GUBU – an acronym for grotesque, unbelievable, bizarre and unprecedented.
Haughey accepted Connolly's resignation on 16 August, after double-murder suspect Malcolm Edward MacArthur was found in hiding at the Attorney General's Dalkey apartment.
The arrest came after a massive manhunt, the likes of which Ireland had never before seen.
The murder of young nurse Bridie Gargan on 22 July had shocked the nation. Not only was it an unprovoked vicious attack, with no obvious motive, the victim was also female, still in her 20s and single. It later transpired that MacArthur – who was a well-known socialite and eccentric in Dublin – bludgeoned her to death with a hammer before taking her car.
Three days after his first violent killing, he shot dead a farmer in Edenderry, county Offaly. Donal Dunne had advertised the murder weapon (a shot gun) in a classified ad and MacArthur had said he wanted to inspect it. He then robbed the farmer's car to drive back to Dublin.
He returned to his friend Patrick Connolly's apartment in Pilot View. The pair had been close since the 1970s and once Gardaí made the connection with the government's chief legal advisor, a public relations nightmare ensued for Haughey.
Connolly was preparing for a holiday in the US at the time and refused to be interviewed by Gardaí. However, he was ordered to return to Ireland and offered his resignation on 16 August when it became clear that details of the incident could not be kept under wraps.
It later emerged that in the days following the murders, the Attorney General had attended the All-Ireland hurling final in Croke Park with the killer.
MacArthur admitted to both murders. His explanations for the violent crimes centred on a desperate need for money and plans to rob a bank.  He was jailed for life in 1983. He was released from Shelton Abbey prison on 17 September this year. He is 67-years-old.
Responding to a request by TheJournal.ie, the Attorney General's office said it was "fully in compliance with its obligations under the National Archives Act 1986 and the files for 1982 have been processed in compliance with the obligations in that Act."