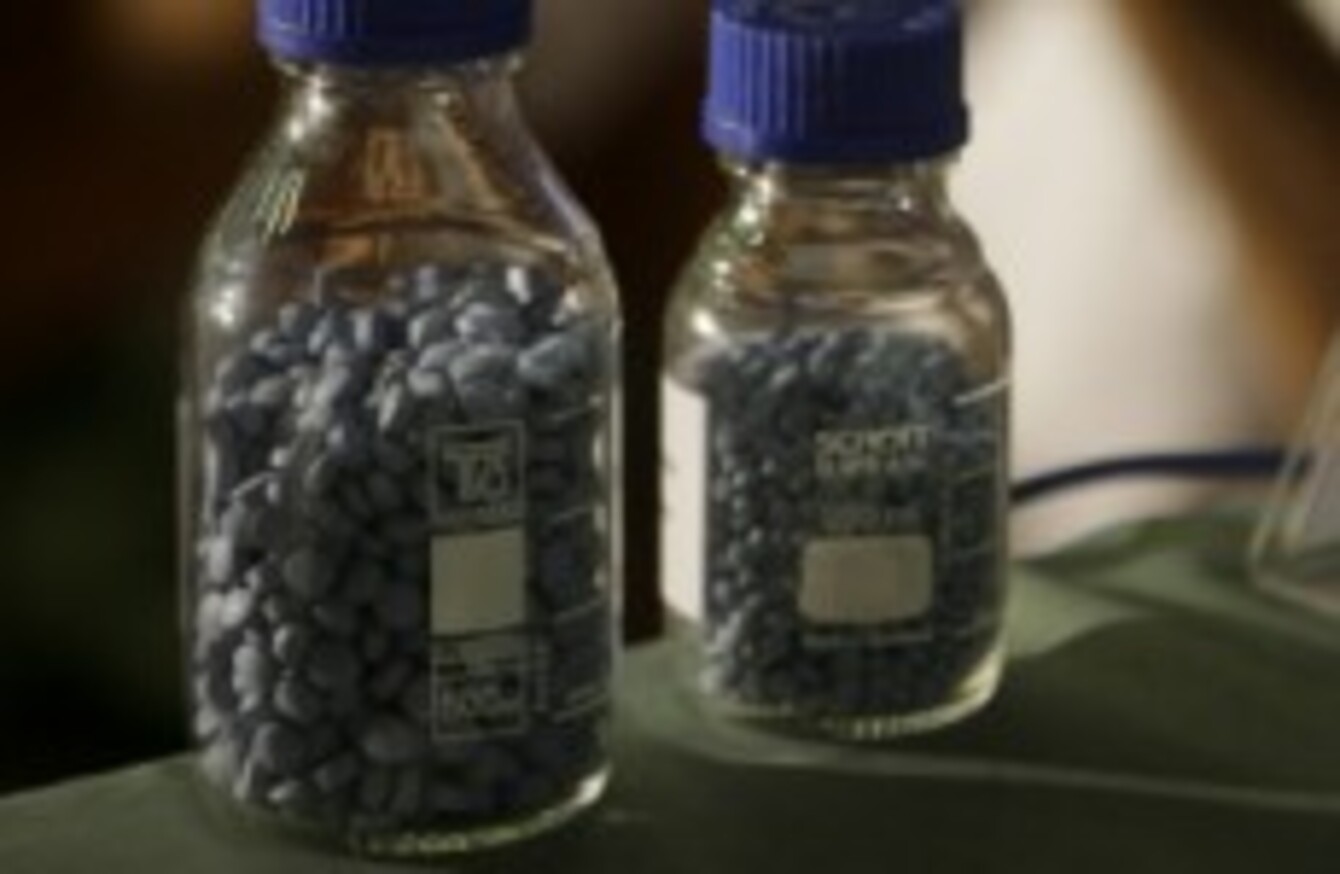 File photo
Image: Ricardo Moraes/AP/Press Association Images
File photo
Image: Ricardo Moraes/AP/Press Association Images
THERE ARE NO plans to discontinue the use of Lariam as an anti-malarial within the Defence Forces despite protests and legal action by a group of soldiers who blame it for their ongoing mental health problems.
An action group of about 20 former soldiers protested against the historic use of the drug within the Defence Forces on Thursday, a number of who have already started legal proceedings against the State regarding the use of Lariam. That matter is being dealt with by the State Claims Agency.
The chemoprophylactic agent remains the medication of choice for the Defence Forces' overseas mission to certain malarious areas. However, pre-screening now takes place to ensure the personnel are suitable to take it before it is prescribed.
In a statement to TheJournal.ie, the Defence Department said:
It is the policy of the Defence Forces Medical Corps that personnel are screened both before and after deployments and all necessary actions are taken to ensure that those with contraindications to Lariam use are deemed unsuitable for overseas service and are not prescribed the medication.
Currently, there is no data available about how many people within the Defence Forces have taken Lariam but Minister Alan Shatter is looking for these figures to be compiled.
The Department of Defence says it also does not identify those ruled out of overseas trips because they are unsuitable for the prescribing of Lariam.
Shatter has met with Lariam Action Group on two separate occasion but no further plans have been made about a third meeting. He said he expects each case to be examined based on its merits and that individual medial reports will be requested.
The matter will be dealt with in a manner that is in the interests of the State and also in the interests of ensuring that the truth of the claims made is known. It will be dealt with in an appropriate manner based on due consideration of the background circumstances.
Is the drug a bad one?
Since Lariam was first authorised in 1989, a total of 73 suspected adverse drug reactions reports have been received by the Irish Medicines Board. The complaints include headache, gastrointestinal disturbances and fatigue. More serious effects, including abnormal dreams, depression, suicidal behaviour and anxiety, have also been reported
The IMB told TheJournal.ie that medical professionals are given specific information on how to use the medicine safely and effectively. They are also given details of patient populations in which the product should not be used.
The board said it is important to note that the number of reports received cannot be used as a basis for determining the incidence of suspected adverse reactions as neither the total number of reactions or patients using the drug is known.
The IMB highlighted the risk of neuropsychiatric side effects associated with the use of Lariam in its drug safety newsletter in May 1996. It was examined again in 2003 when the IMB indicated its view that the benefit/risk profile for the product remained acceptable. Information leaflets were also updated with details of reported suicide and suicide ideation related to the use of the medication.
The actual decision to prescribe Lariam falls outside the remit of the IMB so the healthcare professional in question needs to take account of the destination and travel abroad, as well as the assessment of the patient's overall condition, medical history and other medication.
A health travel expert told TheJournal.ie that he believes the drug is "very effective", particularly for long-term use in Africa. However, it must be used carefully and it should never be used by people with a family history of depression, "up and down" emotional spells, seizures and epilepsy.
A three-week trial while still in the country of origin should unmask any further problems, he said.
The drug has a fierce reputation among some people but once candidates are pre-selected for it and it is used carefully, it is a brilliant medication.
Although most doctors will carry out such tests, there are no formal rules for them to do so. The alternative medications can be very expensive (Malarone is €4 a day), while others have side effects of their own or lose effectiveness quite quickly.
One doctor admitted that patients who require anti-malarials are often "stuck between a rock and a hard place" so they are really choosing the "least worst option".
No choice for a career soldier?
Although, Action Lariam for Irish Soldiers will listen to these claims, it is the use of the drug as the only option for career soldiers which causes them the most concern.
Not being suitable for Lariam can rule a member of the Defence Forces out of any overseas trips, putting them well behind their counterparts in terms of promotion and other prospects.
The group held a protest last Thursday outside a travel medicines forum at a Dublin hotel. One of the members Anthony Moore said the protest was well received by members of the conference, many of whom showed disbelief that the drug was still being prescribed. A number of "new victims" also got in touch with them after the event.
One of the demands of Dave O'Shea and his group is for the establishment of a confidential helpline for serving soldiers, specifically for those who are suffering side-effects from Lariam. They believe serving soldiers are currently finding it difficult to speak out about the use of Lariam within the Defence Forces. In a response to TheJournal.ie, the Department said that there is a listening service run by the Belfast Trust within the Defence Forces since 2003 which provides counselling on a wide range of issues.
O'Shea first took Lariam while in Liberia with the Defence Forces in 2003. Just two weeks later he started getting side effects, which included memory loss, insomnia, lumps on his skin and mood swings.
He recalls a number of incidences where he "wasn't himself". There was that one time he jumped through a pane of glass and blacked out.
I started to think something was wrong. I went to the medical officer, asking to be taken off the drug. But he told me that I wouldn't get away again if I did that. I was a career solider who didn't know about the disastrous side effects.
#Open journalism No news is bad news Support The Journal

Your contributions will help us continue to deliver the stories that are important to you

Support us now
The suicidal thoughts followed soon after and he describes his life since then as being on a "descending scale". He has aches and pains 24-hours-a-day and his roller-coaster of emotions makes it hard to maintain relationships.
The Action Group also claims it can link up to 15 suicides with the use of Lariam among soldiers. Moore believes that these deaths were not reported to the IMB as they should have been.
"This isn't a crusade," explains O'Shea. "It has affected our lives. I've had three close misses of suicide ideation. I've been in a very dark place. Something has to be done."
O'Shea has decided to take legal action but his challenge is still in its infancy. Minister Shatter has confirmed that there are four separate cases being taken against the State.
One of O'Shea's main demands is for protection to be offered to those members of the Defence Forces who are still serving but fear for their jobs because they are "ticking time-bombs".
Many, he says, have been suicidal, others have gotten into trouble for fighting or other inappropriate behaviour. A number have been ousted from the army or ruled out of overseas missions.
O'Shea calls himself 'Larry' after a particularly bad incident.
Over the past nine years, he has been locked up by police in both Germany and New York for events he cannot remember but involved him lashing out at innocent bystanders. He also went missing for two days in Hamburg. Other soldiers quip about their 'Lariam heads' if they forget to do something during or after a trip away.
O'Shea insists that the litigation procedures are not about money. "There certainly won't be a gravy train," he says.
He wants the situation highlighted and proper medical care promised to him and his colleagues who have also been affected by adverse reactions to Lariam. "We need to be assured that medication will be paid for if we require it. We need to get appropriate treatment."
I will never work again – there's no use lying about that. I will need money for medical expenses and if I need to convalesce somewhere. I've already been to four different psychiatrists.
A more effective pre-screening test that will actually weed out unsuitable candidates but not affect their suitability for travel has also been called for.