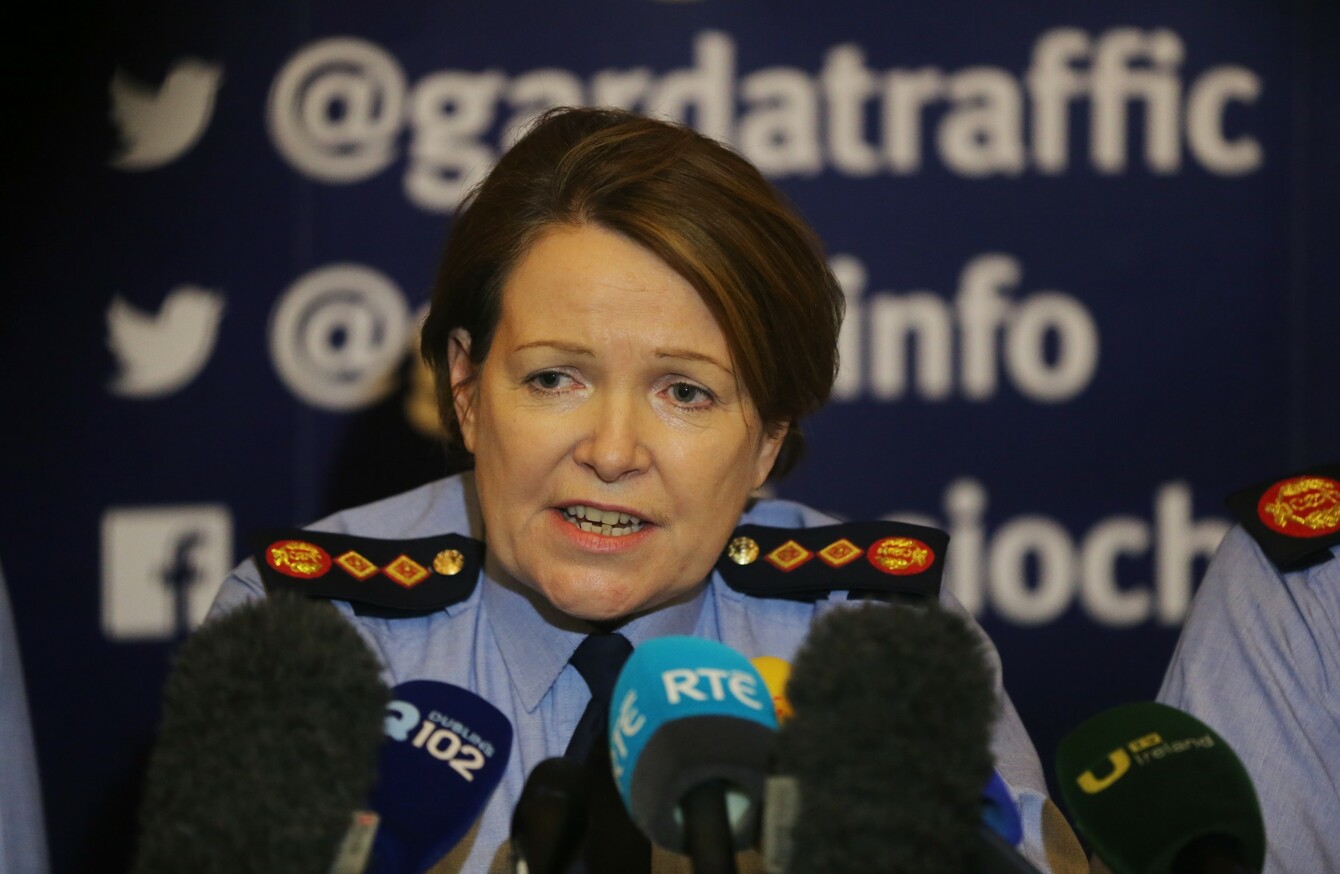 Image: PA Wire/Press Association Images
Image: PA Wire/Press Association Images
Updated at 7.45pm
THE GARDA COMMISSIONER has come in for fierce criticism in the Dáil today, with multiple opposition calling for her resignation following the publication of the O'Higgins Report two weeks ago.
The report – which examines allegations of Garda malpractice in the Cavan/Monaghan district – found a number of serious failings relation to the gardaí and the investigation of cases in the area.
Speaking during a debate on the findings of report in the Dáil today, several opposition TDs said that Garda Commissioner Nóirín O'Sullivan should resign.
This is after allegations surfaced that she advised her legal team to challenge the integrity, motivation and credibility of whistleblower Maurice McCabe.
However, Enda Kenny and Justice Minister Frances Fitzgerald both expressed confidence in Commissioner O'Sullivan.
"I want to emphasise that I continue to have every confidence in the Garda Commissioner," said Fitzgerald.
She faces the same challenges as in transforming any large organisation, and the particular challenge of doing so while meeting the daily demands placed on an organisation charged with protecting the people and the State from crime.
Sinn Féin TD Jonathan O'Brien said that the Commissioner's position was "untenable" while his party called for her resignation.
Meanwhile, Independents 4 Change TD Clare Daly and Mick Wallace as well as member of the AAAPBP strongly criticised Commissioner O'Sullivan.
Statement
Earlier, Commissioner O'Sullivan  broke her silence on allegations that she advised her legal team to challenge the integrity, motivation and credibility of whistleblower Maurice McCabe.
In a statement this afternoon, O'Sullivan denied that her senior counsel was instructed – at any stage – to impugn the integrity of the sergeant or to make a case that he was acting maliciously.
However, she conceded that there was a challenge made in respect of his credibility and motivation.
Referring to transcripts from the Commission – first made public on RTÉ's Prime Time – she said, "Whatever its source, the net charge that is now being made is that the credibility and motivation of Sergeant McCabe was challenged.
I can only deal with this on the basis of what is set out in the Commission Report and I am conscious that this involves dealing with certain findings in relation to allegations of corruption and malpractice. I have no wish to rehearse this matter again but it is simply impossible not to do so in addressing it.
She continued that she "could not see how it would be in any way unreasonable, improper or avoidable to appropriately test and cross-examine the evidence of all persons giving evidence to the Commission, including Sergeant McCabe."
Background
O'Sullivan was called upon to reveal what instructions she gave to her legal team after the RTÉ programme reported details of transcripts from its submissions to the inquiry.
They showed that a change in tack was employed by senior counsel following an admission that an error was made when stating there were instructions to challenge McCabe's integrity.
An accusation had emerged following a meeting between McCabe and two garda officers that he was acting because of a grudge against another senior colleague.
However, a tape recording proved that no motivation or maliciousness was discussed during what has now been described as a cordial meeting.
When that tape was put into evidence, O'Higgins asked for clarification on the Commissioner's intentions with regard to the whistleblower. Prime Time reported that her counsel claimed he had made an error in terms of mentioning integrity.
As far as the Commissioner was concerned at all stages I had instructions to challenge Sergeant McCabe in relation to motivation and credibility.
In his findings, Judge O'Higgins found McCabe to be a credible and honest witness.
In her statement, O'Sullivan notes that some of the whistleblower's claims were not upheld. Referring to allegations of corruption, she said:
The Commission found, in relation to certain allegations; these hurtful allegations to be unfounded and in at least one case based on a belief, but unsupported by evidence, and that those against whom such complaints were made lived for many years under the strain of those allegations.
However, she does not note that many of the allegations were upheld.
#Open journalism No news is bad news Support The Journal

Your contributions will help us continue to deliver the stories that are important to you

Support us now
On the matter of McCabe's taped meeting with the two gardaí in Mullingar in 2008, the Commissioner confirmed that she has asked the Justice Minister to refer the case to GSOC so it can investigate in the public interest.
She says she is doing this to "resolve any public disquiet, misplaced or otherwise which may arise, and in the interest of fairness to all involved".
Legal constraints
Over a week on from that explosive Prime Time exclusive, O'Sullivan's statement explains at length her reticence to comment again on the report following "calls for further clarification".
"What is at the heart of the present controversy is that, despite legal prohibitions and the clear view expressed by Mr Justice O'Higgins about the confidentiality of the Commission's proceedings, certain selective information purporting to relate to those proceedings has been put into the public domain," she continued.
"By "selective" I mean transcripts of no more than three minutes of what happened at a Commission which ran for 34 ten-hour days, generating  thousands of pages of transcripts. This has been accompanied by an unsourced and unverified account of an alleged part of the proceedings.
"Whatever the sources of information or misinformation that has been put into the public domain the inevitable effect is the risk to public confidence in An Garda Síochána being damaged in a very unfair way."
She notes that she has accepted the findings of the report which "presents inescapable lessons" for the force. She admits that it highlights shortcomings in a number of "critical areas" including dealings with whistleblowers.
"In relation to whistleblowers, I have been consistent at all times: dissent is not disloyalty and as a service we are determined to learn from our experiences," she added.
"An Garda Síochána agrees that whistleblowers are part of the solution to the problems facing the service."
She revealed she had met with representatives from Transparency Ireland yesterday with a view of working with the group "to create an environment to ensure protected disclosures and people making them are welcomed and protected in An Garda Síochána".
With reporting from Cormac Fitzgerald