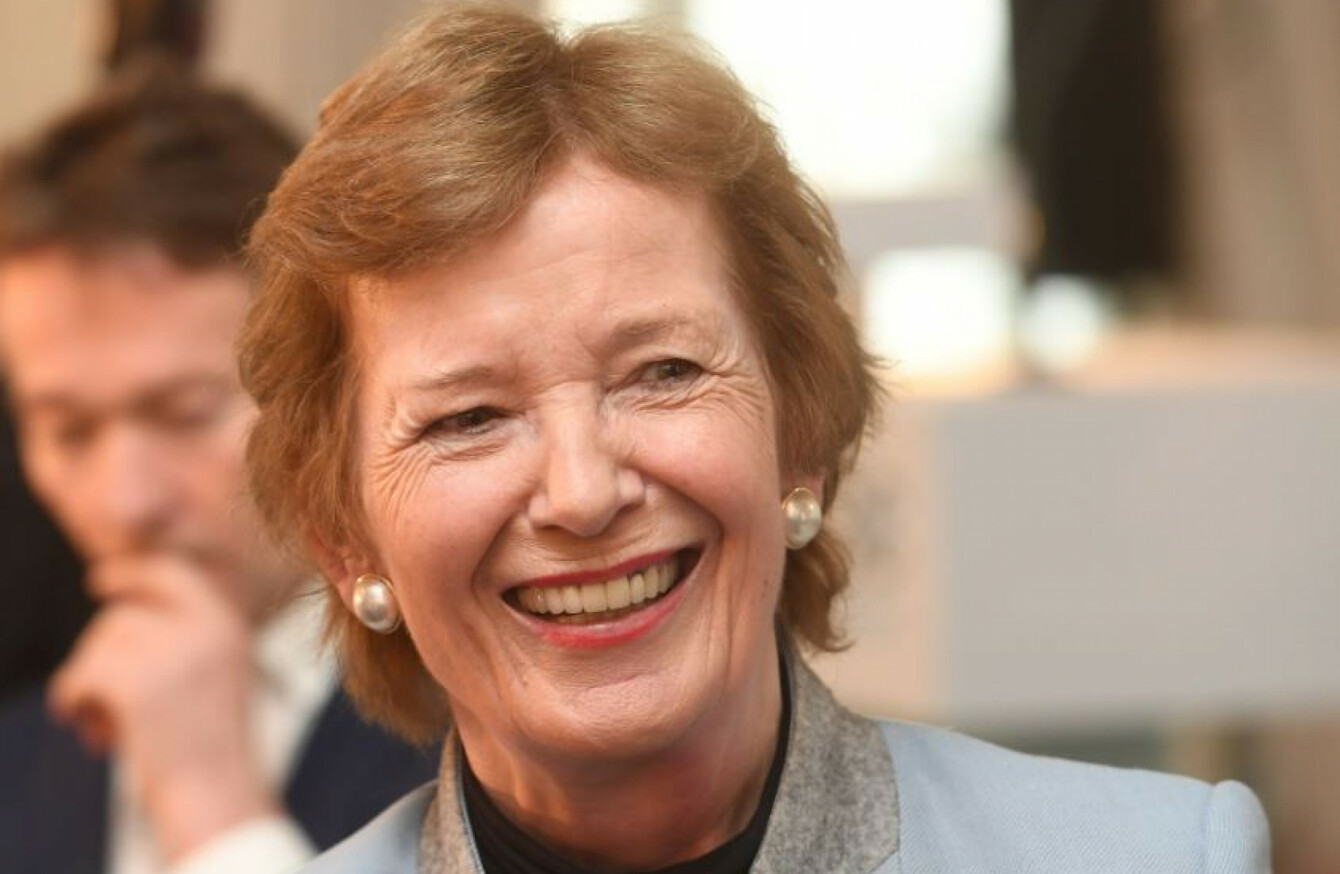 Mary Robinson, former Irish president and founder of the Mary Robinson Foundation on Climate Justice
Image: Tobias Hase/DPA/PA Images
Mary Robinson, former Irish president and founder of the Mary Robinson Foundation on Climate Justice
Image: Tobias Hase/DPA/PA Images
TODAY IS 6 January, a day with a few different names.
It's known as Nollaig na mBan, Women's Christmas, Little Christmas and the Feast of the Epiphany.
From a Christian perspective, today marks the day the three wise men are said to have arrived at the stable in Bethlehem after Jesus was born.
For many people in Ireland, 6 January marks the final day of the Christmas season – when the tree and other decorations are taken down.
Historically, Nollaig na mBan was a day for women to relax after a busy Christmas period while men took over household duties.
Today, such chores are more evenly split but, as outlined by the Dublin Visitor Centre, the tradition "dates back to older times when men would never be expected to be partake in household chores".
Nollaig na mBan is still marked by many people, and has since developed into a day to celebrate the contribution of women to society.
Various events and workshops are happening throughout the country, including the second annual Illuminate Herstory. The theme of this year's festival is 'Every Woman' – it will focus on the centenary of women's right to vote in Ireland and issues facing women today, particularly migrant women.
The festival has made workshops available to schools so pupils can learn about the suffrage movement and pivotal figures such as Hanna Sheehy-Skeffington, Anna Haslam and Winifred Carney, and the role of women in the peace process in Northern Ireland.
Buildings in Ireland and beyond will be illuminated with the faces of women who have made a significant contribution to their chosen fields.
The Ogilvy building on Ely Place in Dublin 2, for example, will feature images of former president and United Nations High Commissioner for Human Rights Mary Robinson; human rights advocate Sally O'Neill; business woman Tina Roche; Rena Buckley, the most successful player in the history of Gaelic Games; former Ireland rugby captain and current referee Joy Neville, and full-time carer Johanne Powell.
Gender equality 
2018 will be a significant year for women in Ireland, with referenda due to take place on two articles in the Constitution – 40.3.3 (the Eighth Amendment, which gives equal status to a mother and the unborn) and 41.2.1 (which recognises the woman's place in the home).
In December, Taoiseach Leo Varadkar said he wanted to establish a convention on the status of women in Ireland.
Varadkar said a commission would be established "to review the effectiveness of existing measures to tackle gender inequality".
The commission will submit a report to government within a six-month timeframe, setting out ways in which greater gender equality in Ireland can be achieved. Although  Varadkar didn't mention a specific date on which the commission would be set up, he indicated it would be in the near future.