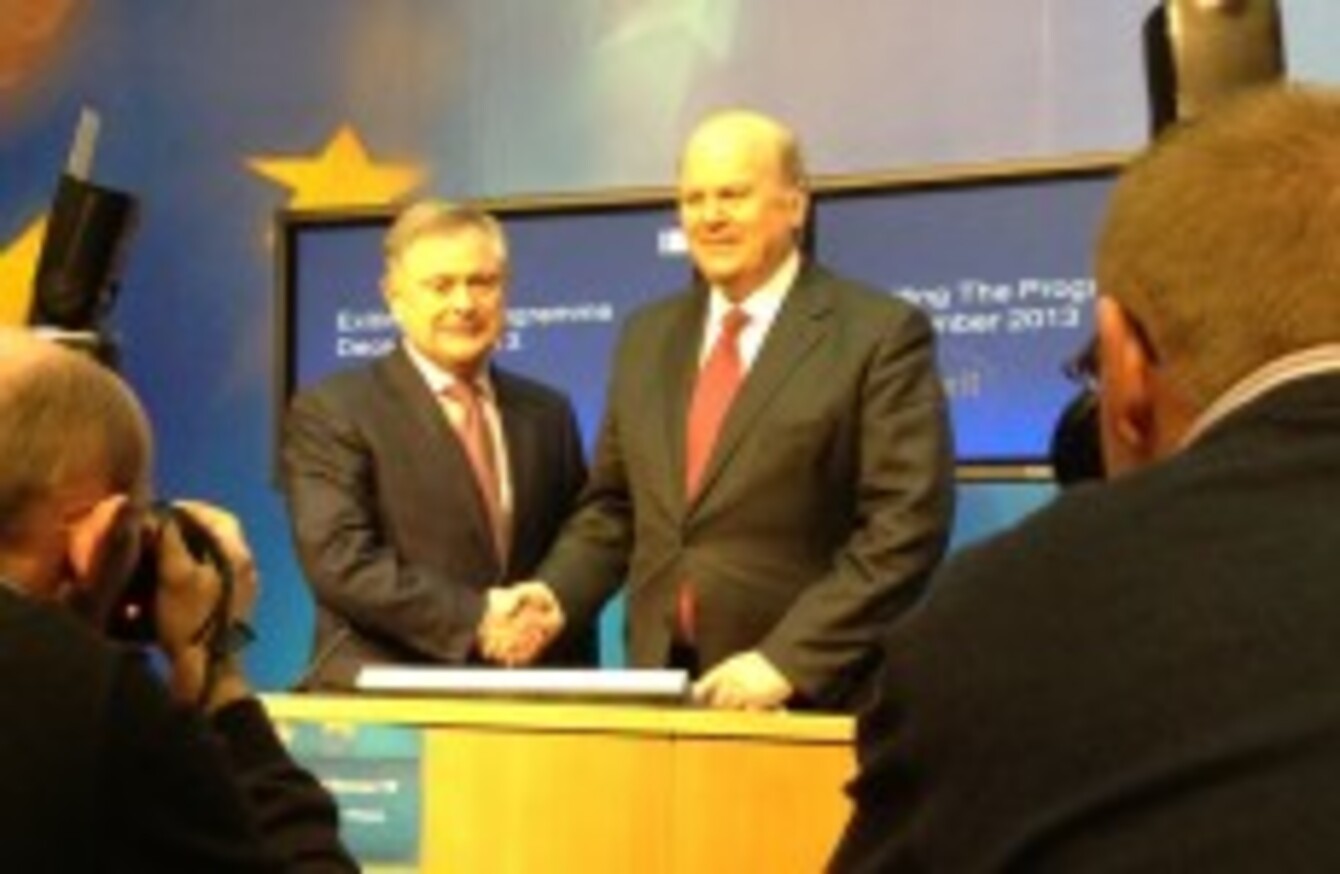 Image: Paul Hosford/TheJournal.ie
Image: Paul Hosford/TheJournal.ie
THE MINISTERS FOR Finance and Public Expenditure and Reform both paid tribute to the Irish people today, as the country prepared to exit the EU/IMF bailout.
Michael Noonan today said that the Irish people are the 'real heroes and heroines' of the bailout exit as they had borne the brunt of the programme, which he said had seen the government take 270 different actions across the board.
The real heroes and heroines are Irish people. They've had taxes increased and services cut, yet they sustained the course and supported the government as we implemented the programme.
Noonan also paid tribute to emigrants and those who lost their jobs, saying everyone owed a debt of gratitude to them for "helping Ireland come out of it's greatest crisis".
"The people who've suffered most are those who lost their jobs. The second worst hit are those forced out of the country in search of work. We want to reverse both trends."
Noonan said that he believes Ireland's debt is now sustainable and said the government was committed to growing the economy.
Fortitude
Noonan was echoed at this mornings press conference by his colleague Brendan Howlin, who added his tribute to the 'fortitude' of the Irish people.
"There were many who felt we'd never reach today.
"But, the Irish people rolled up their sleeves.
I and the government owe a debt to the fortitude and forbearance of the Irish people as we pursued this course.
Howlin added that when the government produced the seven-year financial plan next week "there will be certainty".
Riots
Both Ministers said Ireland had not seen any rioting similar to that see in Germany because of what Howlin dubbed "our own democratic revolution" – the 2011 general election.
"People had their voice and they used it in the polling booth. And that is not lost on any of us," he said.
"That is to their credit that they were not beguiled by the idea that we could stick our head in the sand and make it go away."