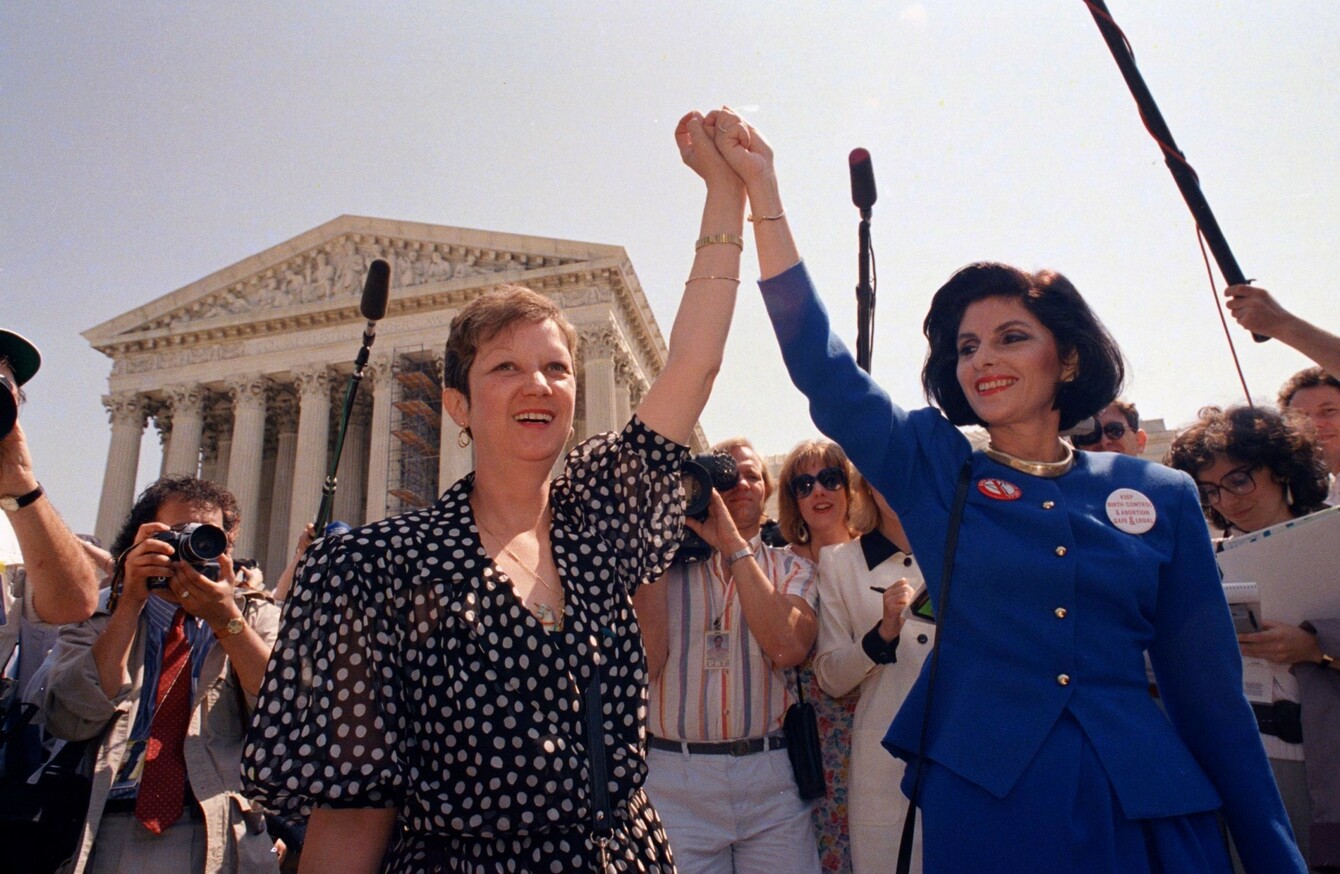 McCorvey (left) pictured here in 1989.
Image: J. Scott Applewhite AP/Press Association Images
McCorvey (left) pictured here in 1989.
Image: J. Scott Applewhite AP/Press Association Images
NORMA MCCORVEY, THE plaintiff in the case that led to the Supreme Court's landmark Roe v. Wade ruling that legalised abortion in the United States in 1973, died yesterday.
She was 69.
She died of heart failure in a Texas assisted-living facility, said Joshua Prager, a New York journalist who has written about her in Vanity Fair magazine.
McCorvey was known as "Jane Roe" in the case as she fought for the constitutional right to an abortion, a social issue that has divided the American public roughly in half for decades.
She became a hero to abortion rights supporters but a villain to those seeking to outlaw abortion. Years later, in 1995, she announced she had switched her allegiance to the pro-life movement.
The Roe v. Wade decision was handed down on 22 January 1973 with seven justices backing it and two dissenting.
In the four decades since the Supreme Court ruling, tens of millions of legal abortions have been performed in the country.
The ruling ended a lengthy legal drama that had begun in the state of Texas three years earlier, where abortions were permitted only in cases in which pregnancies endangered the mothers or children.
A single mother who had had a rough childhood, McCorvey was pregnant for a third time and wanted an abortion.
Encouraged by two feminist lawyers, she filed a suit against Dallas district attorney Henry Wade over the Texas law under the pseudonym Jane Roe.
Although her child was born, the case took on a life of its own, becoming one of the most important and best-known decisions ever made by the Supreme Court.
Change of heart
Throughout the 1980s and into the 1990s, she remained an ardent supporter of abortion rights and worked for a time at a Dallas women's clinic where abortions were performed.
Her 1994 autobiography, "I Am Roe: My Life, Roe v. Wade, and Freedom of Choice," included abortion-rights sentiments along with details about dysfunctional parents, reform school, petty crime, drug abuse, alcoholism, an abusive husband, an attempted suicide and lesbianism.
But a year later, she was baptised before network TV cameras by a most improbable mentor: The Reverend Philip "Flip" Benham, leader of Operation Rescue, now known as Operation Save America.
McCorvey joined the cause and staff of Benham, who had befriended her when the anti-abortion group moved next door to the clinic where she was working.
She recounted her evangelical conversion and stand against abortion in the January 1998 book "Won by Love," which ends with McCorvey happily involved with Operation Rescue.
But by August of that year, she had changed faiths to Catholicism and had left Operation Rescue. Though she was still against abortion, she said she had reservations about the group's confrontational style.
McCorvey formed her own group, Roe No More Ministry, in 1997 and traveled around the U.S. speaking out against abortion.
In 2005, the Supreme Court rejected a challenge by McCorvey to the 1973 Roe v. Wade ruling.
In May 2009, she was arrested on trespassing charges after joining more than 300 pro-life demonstrators when President Barack Obama spoke at the University of Notre Dame.
She married at the age of 16, but separated shortly after while she was pregnant. She gave custody of her daughter to her mother.
She gave a second child up for adoption, but when she got pregnant a third time she decided to have an abortion. She said she couldn't afford to travel to one of the handful of states where it would have been legal.
Her first child, Melissa, was the only one of the three who was a part of her mother's life, according to Prager. Melissa was with McCorvey when she died.
With reporting from Associated Press.