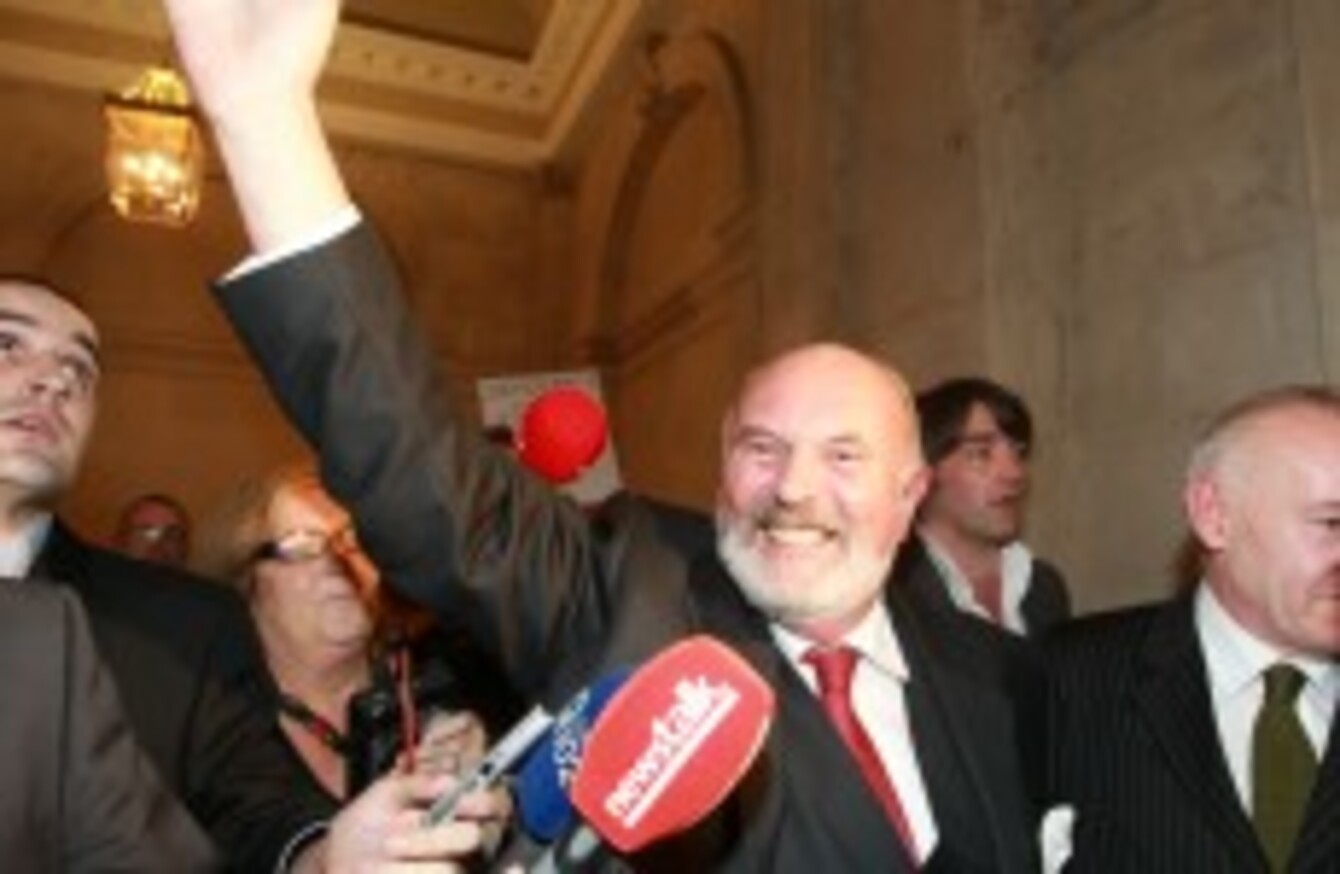 David Norris this evening after winning the support of Dublin City Council.
Image: Leon Farrell/Photocall Ireland
David Norris this evening after winning the support of Dublin City Council.
Image: Leon Farrell/Photocall Ireland
DAVID NORRIS'S LONG quest for a place on the presidential election ballot paper has come to a successful end after he secured the fourth local authority nomination he needed this evening.
The independent senator becomes the seventh name on the ballot paper and one of four independents running for the presidency after Dublin City Council voted in favour of a motion to nominate him.
In total 30 councillors voted in favour, six voted against and there were 11 abstentions.
In a message on his Twitter page, Norris thanked the council for its support and said: "I am looking forward to the campaign!"
Earlier, Labour's presidential candidate Michael D Higgins urged the 19 Labour Party councillors sitting on Dublin City Council not to obstruct his former Oireachtas colleague's bid to be nominated by the local authority. Norris also thanked Higgins for his backing.
Added to support from councils in Fingal, Laois and Waterford City, it means that Norris has the required backing to formally submit his candidacy before tomorrow's 12 noon deadline.
Turnaround
It is a remarkable turnaround from the beginning of August when the Trinity scholar pulled out of the race following the emergence of letters he wrote appealing for clemency for his former partner Ezra Nawi who was convicted of the statutory rape of a 15-year-old boy in the 1990s.
Norris had also come under fire for comments he made in an interview with Magill magazine in 2002 in which he commented on the ancient Greek practice of pederasty.
He returned to the race ten days ago, telling the Late Late Show that it "would be the biggest comeback in Irish political history" were he to win a place on the ballot paper.
Over the past week or so, he has frantically lobbied independent Oireachtas members and local authorities in a bid to win support.
He secured 18 of the 20 signatures he needed but was unsuccessful in rallying more TDs and Senators to his cause forcing him to seek support from local authorities across the country.
He joins fellow independents Mary Davis and Seán Gallagher on the ballot paper along with former MEP and Eurovision winner Dana Rosemary Scallon who earlier secured sufficient support from local authorities in Offaly, Carlow, Roscommon and Donegal.
The four independents will join Labour's Higgins, Fine Gael's Gay Mitchell and Sinn Féin's Martin McGuinness on the ballot paper for the election which takes place exactly a month from today.