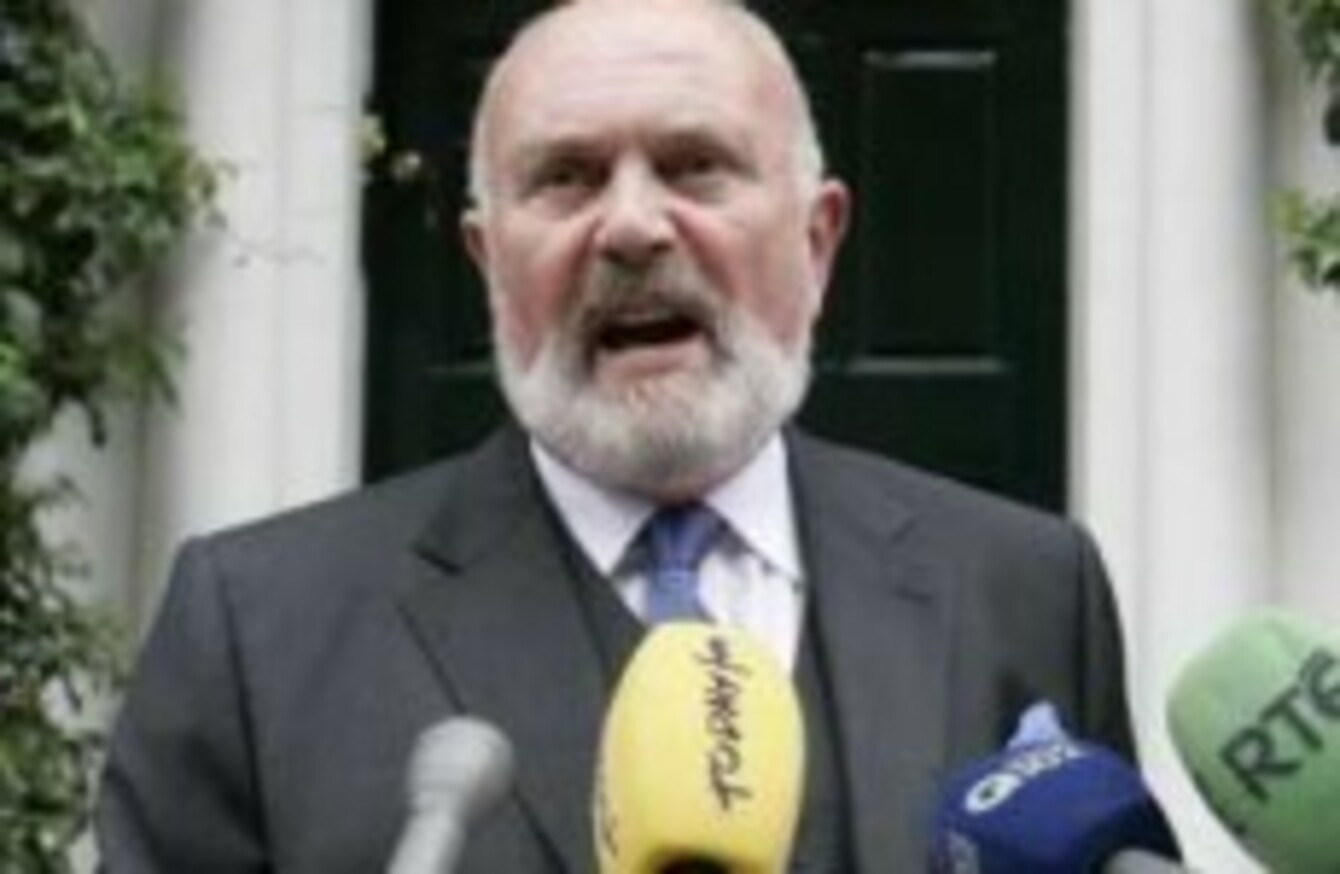 Image: Sam Boal/Photocall Ireland
Image: Sam Boal/Photocall Ireland
DAVID NORRIS HAS said he will continue in his role as a Senator. However, he has indicated that he may not stand again at the next election – something he explained by saying he will be 71 if the government runs its full four year term.
Norris was speaking to Anton Savage on Today FM's Last Word programme in his first full interview since this afternoon's announcement that he would not continue campaigning for the Presidency.
On the reason that he withdrew from the race:
I felt first of all that support was beginning to drain away from the nomination process, and I'm very much a realist. From an ethical point of view, it's very unfair to leave people out there hanging for me… if there are comments to be made, it is for me to address them. I could have struggled on, but I believe the situation would have become much nastier.
On his campaign staff:
I would like to thank all the members of my team, I was privileged and lucky to have worked with those people… they are not now so proud of me, because they believe that I deliberately concealed this information from them, and for that I would like to say I am extremely extremely sorry.
On whether the controversy might make it difficult for him to continue serving in the Seanad:
Time will tell. This Government may last for another four years, by which time I will be 71. Most people retire at 65, but I'm certainly not going to give up now.
On those who withdrew their support from the campaign
I have no resentment towards those who withdrew their support. I made mistakes. I think people thought I did it deliberately…
On suggestions that there was a deliberate vendetta against him
I don't think that's for me to say. I can say I don't think there is a deliberate hatred of me, but it became clear from reading press that there were a number of commentators who had come to believe that I represented what they called 'the liberal agenda' and that if I could be taken out, that agenda could be taken out.
On the ethics of sending the letter to the Israeli High Court
If that is a flaw or a fault, it's certainly not illegal, and it's not proscribed by the rules of the Oireachtas. If that is a flaw or a fault, then I am guilty not just in this instance, but in many instances, by virtue of the fact that I wrote on headed notepaper… I know for a fact that ten lives were saved by my actions (over the years). I believe that virtually all of my colleagues who have an interest in human rights will acknowledge that they have done the same (writing letters).
On Ezra Nawi
I mean in one sense I think he was the love of my life. And you don't stop loving someone because of their flaws or faults. Not that it excuses what happened, but (through) his work with Palestinians… we were able to build a clinic and put in water for villagers who were living in very primitive conditions.
On loving a man convicted of statutory rape
Well, I think without going into all the details… there was a certain level of police duplicity, but that would appear now to be trying to turn the whole thing around and blame the police. I am glad that Ezra never ever changed his plea, because it did mean that that young lad never had to go into court, never had to have his sex life examined… It certainly didn't improve my view of Ezra. He had deep deep flaws, he would not have been an appropriate person for me to spend the rest of my life with.
On concealing information from his campaign team
It never came up. We went back ten years, I thought that was enough. Just to say that if this matter had crossed my mind, which in fact it didn't – I was in the middle of a very busy campaign, working 20 hours a day – I would have seen this as a desperately sad incident. …I suppose (it was forgotten) partly because of the context, the long period, and perhaps because I compartmentalised it. It simply never arose.
On the media
I don't say I enjoyed that (negative publicity), but I read it at an intellectual level. I think you would be very foolish if you let the views of other people register on an emotional level. The only thing that I regretted was was I read at the lower end of the journalistic scale, the attacks were not of a quality I would appreciate. I would prefer a degree of Swiftean satire, rather than the sort of heavily loaded headlines and smutty suggestions I really felt to be beneath me.
#Open journalism No news is bad news Support The Journal

Your contributions will help us continue to deliver the stories that are important to you

Support us now