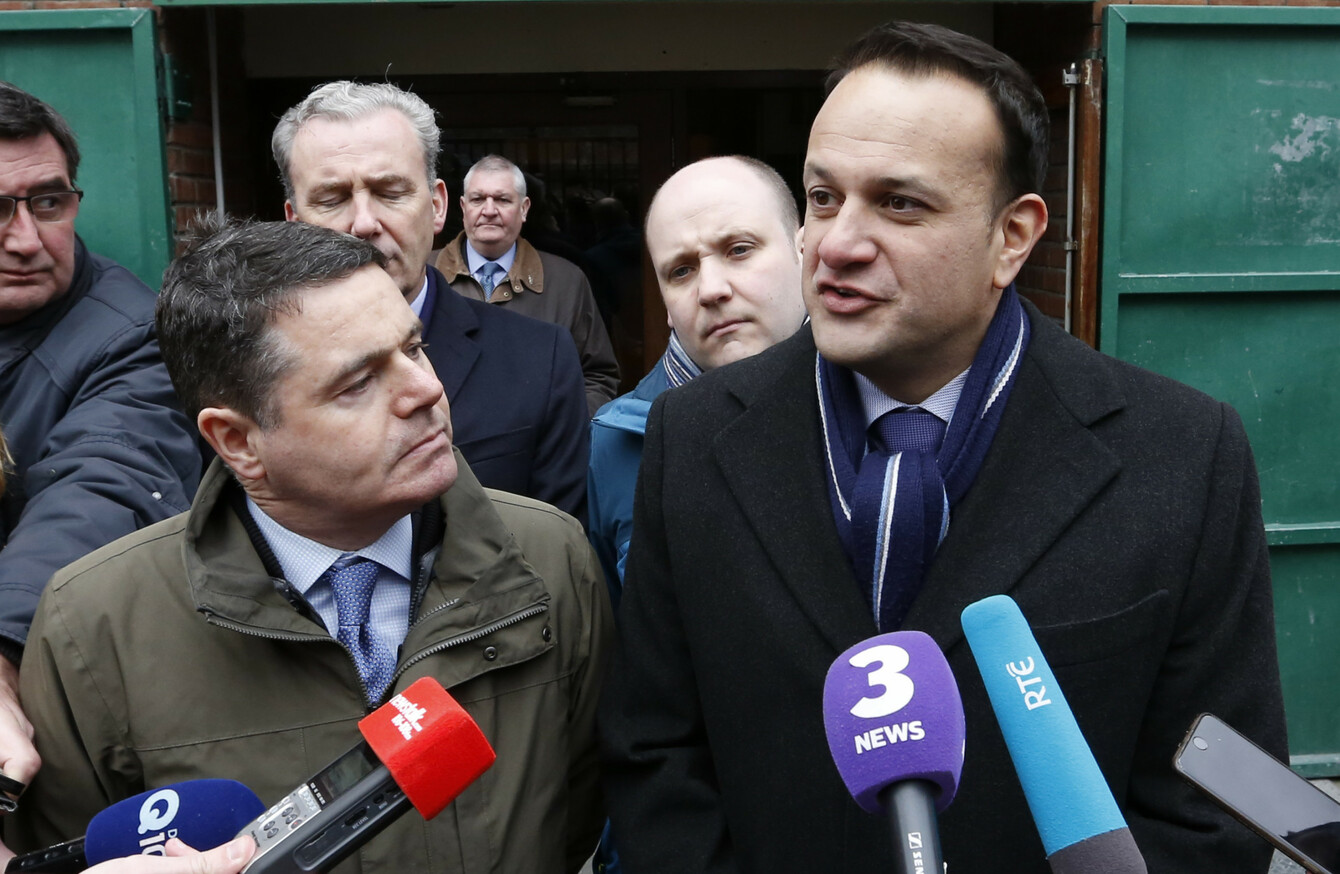 Taoiseach Leo Varadkar and the Minister for Finance and Public Expenditure and Reform, Paschal Donohoe visiting Dublin's North East Inner City today.
Image: RollingNews.ie
Taoiseach Leo Varadkar and the Minister for Finance and Public Expenditure and Reform, Paschal Donohoe visiting Dublin's North East Inner City today.
Image: RollingNews.ie
COMPANIES WITH THEIR headquarters in the IFSC have "a duty" to give back to Dublin's north inner city, said Finance and Public Expenditure Minister Paschal Donohoe.
Speaking at the launch of the progress report on the north inner city task force report today, Donohoe said it is essential companies in the area integrate their business into the community to ensure there are fair job opportunities and training for local people.
Taoiseach Leo Varadkar also acknowledged that government departments located in and around the Sheriff Street could do more to employ people from the local community.
The task force, launched last year by former Taoiseach Enda Kenny, is a major initiative focused on the development of north-east inner city. It was rolled out following a spate of gangland shootings in the region.
IFSC businesses
Earlier this year, the minister said he invited all of the key employers from the area to Government Buildings to highlight what they could do to help. These include companies in the tech, finance and insurance sectors.
"They do have a duty back to the community which they are located," said Donohoe, who added that many companies have begun to offer internships, training programmes and jobs to locals.
Taoiseach Leo Varadkar said it is important to recognise that many companies are doing a lot for the Sheriff Street locality.
"A number are offering internships and roles in the company and it is not just working in the post room, it is positions in good jobs with prospects," he said, adding that IFSC businesses are also offering funds to give young people experience in sales training as part of a youth diversion programme.
However, he said:
That's not to say that more can't be done.
The minister said the government working group has identified individuals from the area they believe if "brought into mainstream work in this part of the city would thrive in it and would be really successful for themselves and the companies".
Donohoe name-checked accountancy firm PWC and insurance company AIG as leading the way in this respect.
"We have seen a real response back from them [IFSC firms] at the moment, and a key action called out in the report is that we will continue with this work across 2018, with companies like PWC and AIG leading the way in investing and employing people here in the local community who are going to thrive in those kind of environments," said the minister.
Giving jobs to local people 
The Department of Housing, Planning and Local Government, the Department of Social Protection, and the Department of Education are all located in the north inner city.
"It would be useful for us as a government, as well as asking businesses to play their part, to see what part what the departments who have their headquarters could do to provide employment opportunities," said Varadkar.
While visiting a number of community groups this morning, the Taoiseach announced a further €3.5 million in funding for the regeneration of the area.
These funds will be used to roll out some major infrastructure projects such as a new primary care centre to be located at Summerhill (due to be opened in mid 2018), the refurbishment of Fitzgibbon Street Garda Station and the development of a new community hub at Rutland (currently at design stage).
#Open journalism No news is bad news Support The Journal

Your contributions will help us continue to deliver the stories that are important to you

Support us now
Gangland violence 
The Taoiseach also spoke about gangland violence in Dublin's north inner city, stating his predecessor, Enda Kenny, asked him to pay close attention to progress of the task force.
Varadkar said gangland violence had a "devastating" impact on local communities and pledged that his government is going to "redouble" its efforts for 2018.
He was also asked if he is confident the gardaí can bring an end to the Hutch-Kinahan feud.
I am, but I am not naive to the enormous challenge that it is. These are violent people, they operate not just in this part of the city, but internationally as well and I think we all understand the challenge the gardaí have in that.
He thanked the gardaí and "decent" local people for their work to date.
"We should never forget that people who live in this neighbourhood are honest, decent people and they don't deserve to have violence on their doorstep in the way they have had for the last number of years. We are doing all that we can," said Varadkar.
The Taoiseach said the government is taking a two-pronged approach by tackling crime with a strong justice element, while also trying to tackle some of the underlying causes of crime, which he said are rooted in disadvantage.
Ensuring that young people growing up in the area given all the opportunities possible to make sure they don't "get lured into a life of crime" is key, said Varadkar.