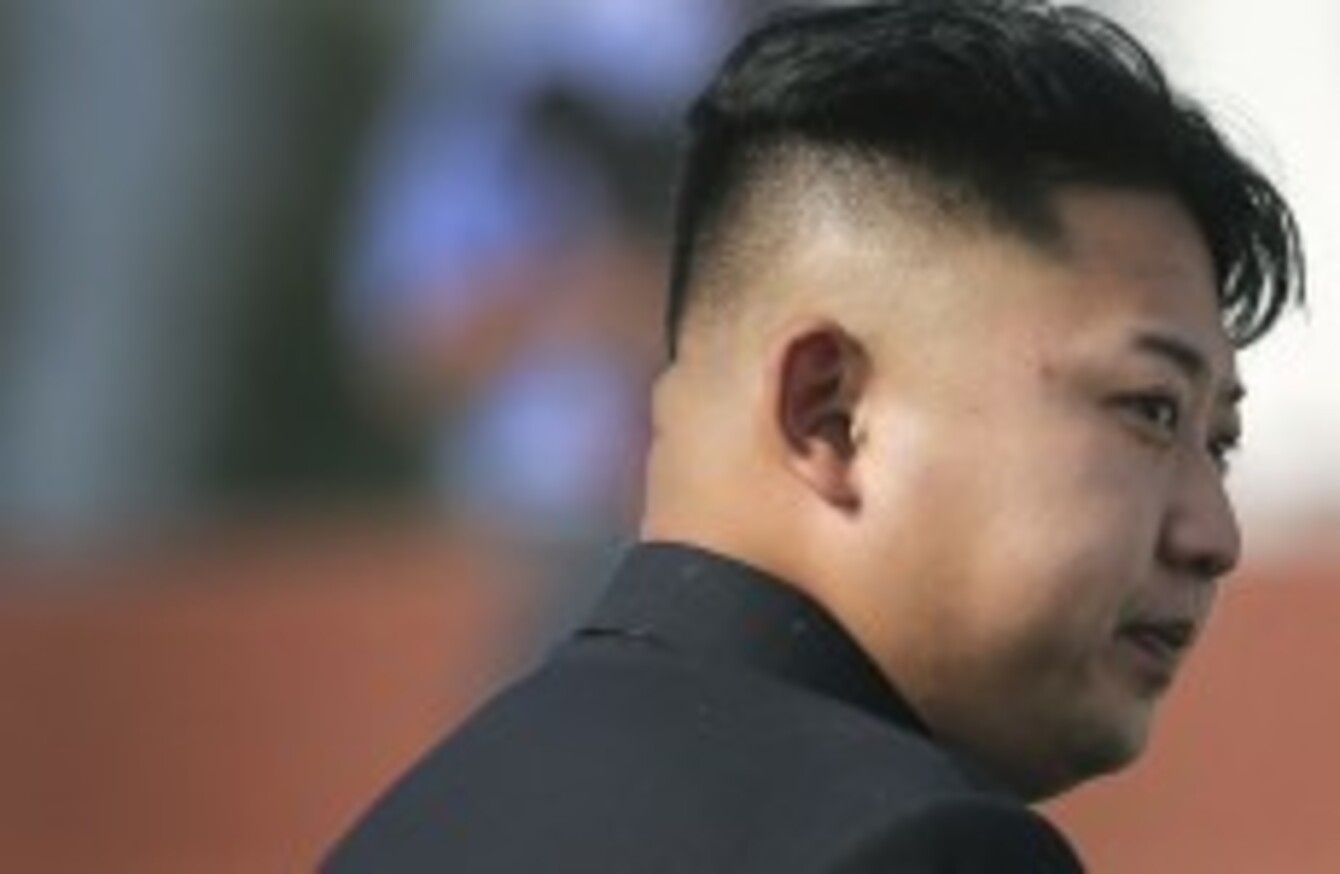 North Korean leader Kim Jong Un.
Image: Wong Maye-E/AP/Press Association Images
North Korean leader Kim Jong Un.
Image: Wong Maye-E/AP/Press Association Images
SENIOR NORTH KOREAN officials have publicly apologised for an "unimaginable" accident at an apartment construction site, state media said yesterday, a rare admission of culpability by the secretive hardline state.
South Korean officials said the incident involved the collapse of a 23-storey apartment building in Pyongyang's Pyongchon district, which already had close to 100 families in residence.
It is extremely unusual for the North to report negative news of this type, and its official KCNA news agency also reported equally rare apologies from top officials.
Leader Kim Jong-Un "sat up all night, feeling painful" after being told about the accident, the agency said.
The accident happened last Tuesday and was the result of "irresponsible" supervision by officials in charge of construction, KCNA reported.
An intensive operation had been mounted to rescue survivors and treat the wounded, it said.
It did not give a figure for the number of dead or injured but said the accident left Pyongyang citizens "greatly shocked".
The agency carried lengthy public apologies by senior officials including the Minister of People's Security, Choe Pu-Il.
"(Choe) repented of himself, saying that he failed to find out factors that can put at risk the lives and properties of the people and to take thoroughgoing measures, thereby causing an unimaginable accident," it said.
- 'Considerable death toll' -
A South Korean official, speaking on condition of anonymity, said the incident involved the collapse of a 23-storey apartment complex.
"It is common in North Korea that people move into a new apartment building before construction officially ends," the official told AFP.
The official said 92 families were believed to be living in the collapsed building, and the final death toll was likely to be "considerable".
Among those making a public apology were Kim Su-Gil, chief secretary of the city committee of the ruling Workers' Party.
He said Kim Jong-Un had "instructed leading officials of the party, state and the army to rush to the scene, putting aside all other affairs and command the rescue operation".
The state-run Rodong Sinmun newspaper also published a rare photo of an unidentified official bowing deeply in apology towards hundreds of people who gathered at what appeared to be a construction site.
'Sincere leader'
The rare official apology appears to be aimed at portraying Kim as a "sincere leader who pays great attention to public sentiment", said Kim Yong-Hyun, professor of North Korean studies at Seoul's Dongguk University.
The North in 2009 announced plans to build 100,000 new high-rise apartments in three districts of its showpiece capital to mark the 100th anniversary in 2012 of the birth of its founder Kim Il-Sung, grandfather of the current leader.
The project went ahead despite chronic food shortages elsewhere in the impoverished nation.
North Korean officials stand among the families of victims of the accident.
In July 2011 a South Korean news outlet reported that students and soldiers had been drafted in to help complete the projects on time, after delays caused by shortages of funds and of building materials.
About 2.5 million people — mostly the ruling elite or those considered politically trustworthy — are believed to live in Pyongyang.
They enjoy priority access to electricity, food and other goods and services.
Kim — since taking power after the death of his father Kim Jong-Il in December 2011 — has launched a flurry of high-profile construction projects of his own.
He last year celebrated the opening of a new water park, an equestrian club and apartments for scientists, teachers and athletes in the capital, and a massive ski resort in the northeast.
Guidance
KCNA last December praised the "miraculous" pace of construction, saying many of the facilities were built within a year thanks to the guidance of the young leader.
Analysts say such projects, launched despite a chronic shortage of materials, were aimed at solidifying the image of the inexperienced ruler.
The secretive nation has rarely made public the details — especially death tolls — of major accidents.
But in one exceptional case, the North announced in April 2004 a massive train explosion in the northwestern county of Ryongchon had left 154 — including dozens of schoolchildren — dead and some 1,300 injured.
The accident — caused by damaged electric wires — devastated many nearby towns, prompting Pyongyang to make a rare plea for help from the international community.