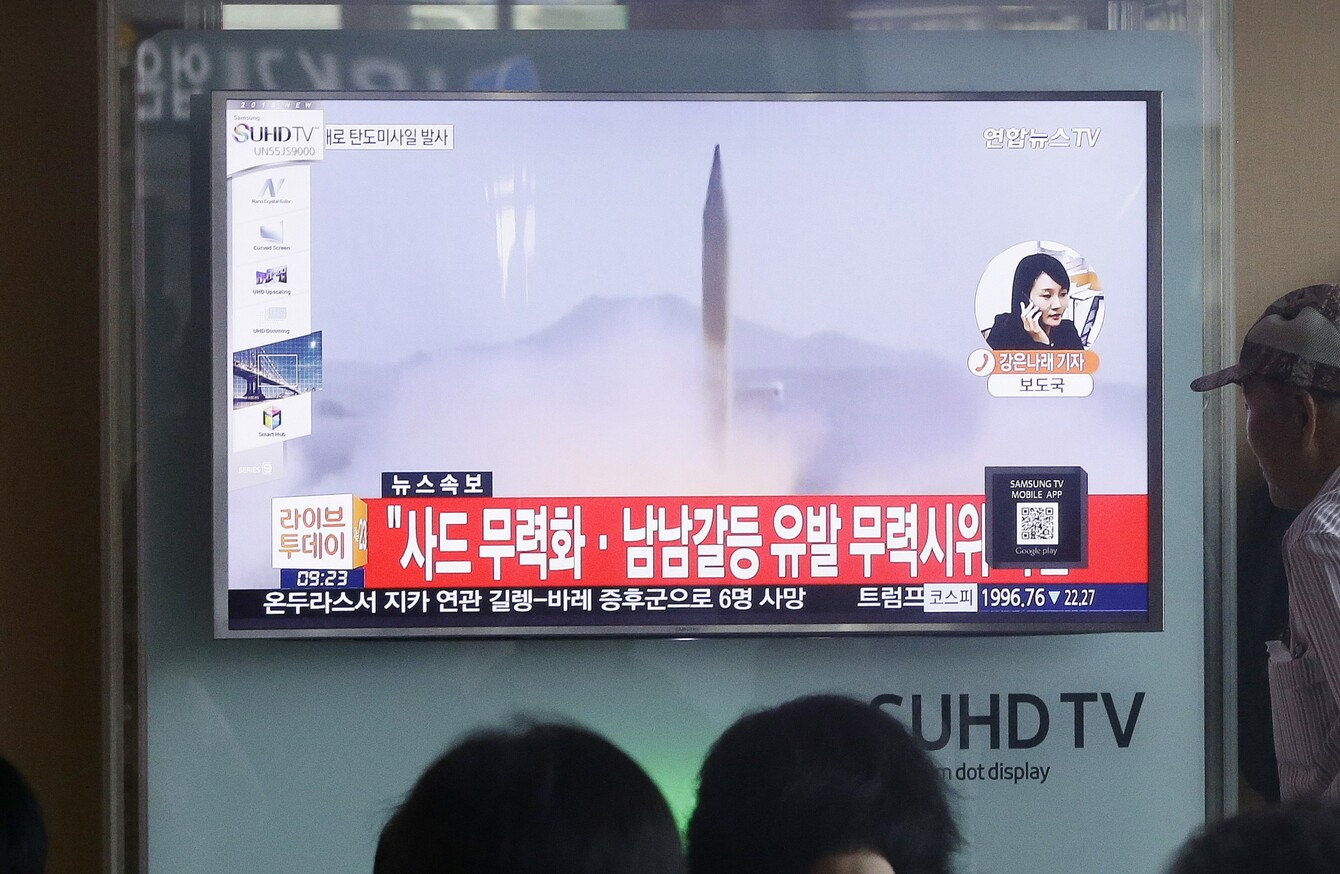 A man passes by a TV news program with a file footage about North Korea's rocket launch yesterday.
A man passes by a TV news program with a file footage about North Korea's rocket launch yesterday.
NORTH KOREA FIRED a ballistic missile into the sea off northern Japan, drawing an outraged response from Tokyo and ramping up already elevated tensions with the United States and South Korea.
The US military said the North had actually launched two Rodong intermediate-range missiles simultaneously, but one appeared to have exploded on takeoff.
The launches came after North Korea threatened "physical action" in response to the planned deployment of a sophisticated US anti-missile system in South Korea, and just weeks before the start of annual joint South Korea-US military exercises.
Japan said the one missile had landed 250 kilometres off its northern coast and within the country's Exclusive Economic Zone (EEZ).
"It's a serious threat against our country's security," Prime Minister Shinzo Abe told reporters.
This is an outrageous act that cannot be tolerated.
The United States condemned what it called a clear violation of UN Security Council resolutions explicitly prohibiting North Korea's use of ballistic missile technology.
"This provocation only serves to increase the international community's resolve to counter (North Korea's) prohibited activities," said Pentagon spokesman Gary Ross.
Two missiles
US Strategic Command said the two missiles were launched from a site in western North Korea at around 22:50 GMT Tuesday.
"Initial indications reveal one of the missiles exploded immediately after launch, while the second was tracked over North Korea and into the Sea of Japan."
It was the first time since 1998 that a North Korean missile had landed inside Japan's EEZ and top government spokesman Yoshihide Suga said there had been no advance warning.
"From the perspective of the safety of aircraft and ships, it is an extremely problematic, dangerous act," Suga said.
The Rodong is a scaled-up Scud variant with a maximum range of around 1,300 kilometres.
Pyongyang has conducted a series of missile tests this year in defiance of UN sanctions imposed after its fourth nuclear test in January.
On July 19 it launched three ballistic missiles – including one Rodong – in an exercise that the North said simulated a nuclear strike on the South.
Elevated tensions
That came just days after Washington and Seoul announced an agreement to deploy the US Terminal High Altitude Area Defence, or THAAD, system in South Korea by the end of next year – a move condemned by Pyongyang and also vehemently opposed by China and Russia.
And tensions on the divided Korean peninsula are also building up ahead of a large-scale South Korea-US military exercise that begins on 22 August and involves tens of thousands of troops.
North Korea says the annual drills are a provocative rehearsal for invasion, while Washington and Seoul insist they are purely defensive in nature.
"Our commitment to the defense of our allies, including the Republic of Korea and Japan, in the face of these threats, is ironclad," Ross said today.
We remain prepared to defend ourselves and our allies from any attack or provocation.
There are nearly 30,000 US troops permanently stationed in South Korea.
North Korea-US tensions had already been stoked by Pyongyang's fury at Washington's recent decision to personally target leader Kim with sanctions related to human rights abuses.
Pyongyang has repeatedly warned of pre-emptive nuclear strikes against the South and US targets there and elsewhere, although the main focus of its nuclear weapons programme is to develop a credible strike threat against the US mainland.
Since its fourth nuclear test, North Korea has claimed a series of technical breakthroughs for its weapons programme.
It said it had miniaturised a nuclear warhead and successfully tested an engine designed for an inter-continental ballistic missile that could reach the US mainland.
While some experts say the claims are exaggerated, most acknowledge that the North's nuclear and ballistic missile programmes have made significant strides.