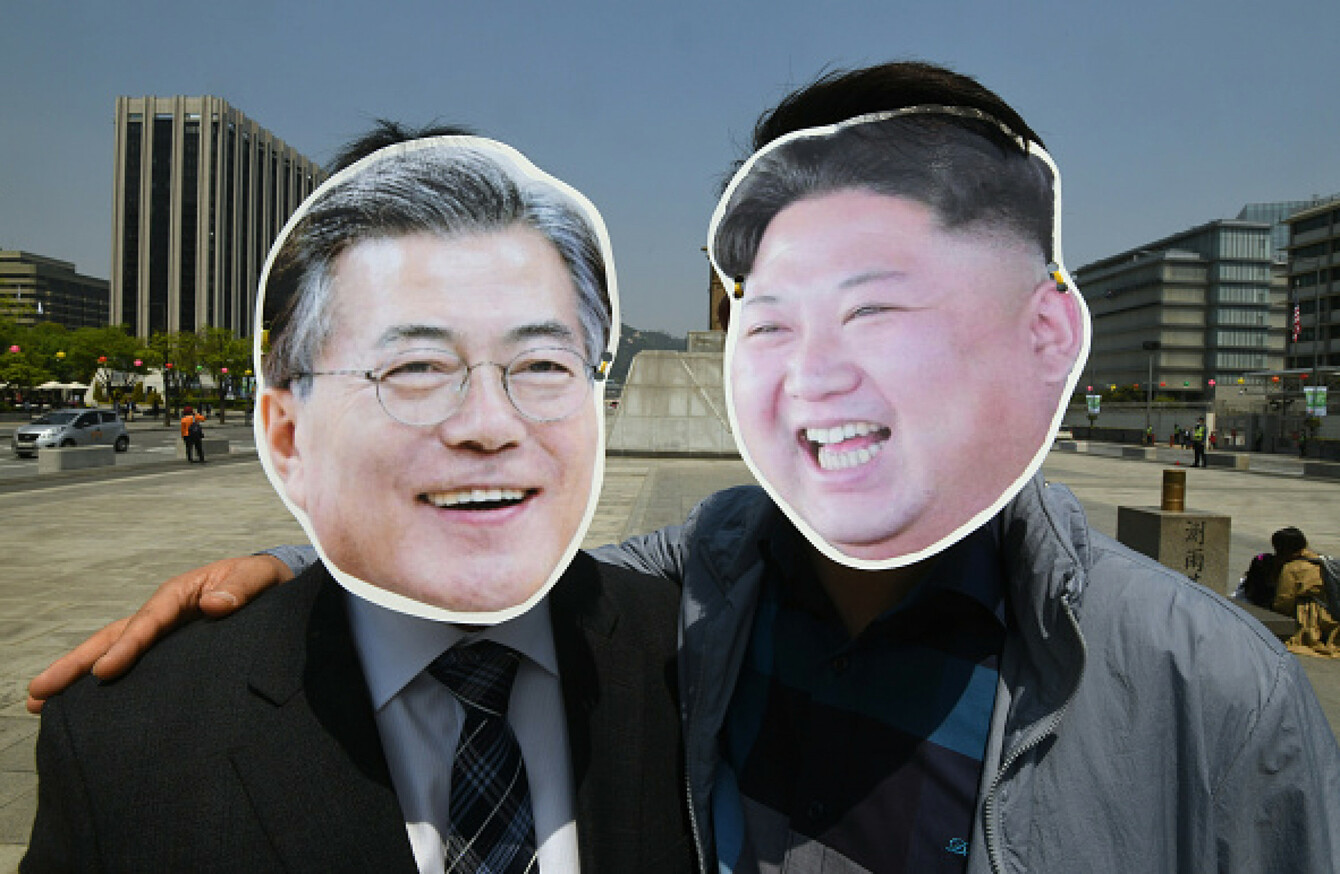 South Korean activists wearing masks of South Korean President Moon Jae-in (left) and North Korean leader Kim Jong-un (right) at a rally yesterday to support the upcoming Korean summit
Image: JUNG YEON-JE/AFP/Getty Images
South Korean activists wearing masks of South Korean President Moon Jae-in (left) and North Korean leader Kim Jong-un (right) at a rally yesterday to support the upcoming Korean summit
Image: JUNG YEON-JE/AFP/Getty Images
NORTH KOREA'S UNDERGROUND nuclear test site has partially collapsed following a massive bomb blast last year, making it unusable, Chinese seismologists have concluded.
North Korean leader Kim Jong-un last week declared that his regime would halt nuclear and long-range missile tests and shut down its nuclear site at Punggye-ri, under Mount Mantap, in the country's northeast.
The offer came ahead of his summit with South Korean President Moon Jae-in tomorrow, which is scheduled to be followed by a summit with US President Donald Trump.
North Korea conducted five of its six nuclear tests at the site, with the biggest blast, on 3 September 2017, triggering a 6.3-magnitude earthquake that was felt across the northern border with China.
The North claimed it tested a hydrogen bomb.
Landslides and earthquakes following the explosion led to speculation that the site was suffering from "tired mountain syndrome".
Two studies involving Chinese experts have found that a 4.1-magnitude aftershock that took place eight-and-a-half minutes after the first quake caused the collapse of rock inside the mountain.
"It is necessary to continue monitoring possible leaks of radioactive materials caused by the collapse incident," the University of Science and Technology of China said in a statement.
The university said its study would be published in Geophysicial Research Letters, a journal of the American Geophysical Union.
Site now 'unusable'
An English-language abstract by the study's authors concluded: "The occurrence of the collapse should deem the underground infrastructure beneath mountain Mantap not be used for any future nuclear tests."
The line about the site being unusable does not appear in the Chinese-language summary and it was unclear whether it would be included in the journal.
A second study led by Chinese scientists, including experts from the China Earthquake Administration, also concluded that the September aftershock had caused a collapse.
"The aftershock was neither a secondary explosion nor a triggered tectonic earthquake," the second study, published last month in Geophysicial Research Letters, said.
It occurred due to a process comparable to a 'mirror image' of the explosion, that is, a rock collapse, or compaction, for the first time documented in North Korea's test site.
The second study, however, did not determine whether the site was unusable or leaking radiation.
"Seismic models, like in this paper, provide only partial understanding of the underground explosions," it said, adding that further studies are necessary to look at radioactive leaks or possible groundwater contamination.
The two studies reached their conclusions by looking at data from seismic monitoring stations.
China has deployed radiation monitoring stations along its border with North Korea. A state-run newspaper in the northeastern province of Jilin last year published a list of tips on how civilians can protect themselves in the event of a nuclear attack.