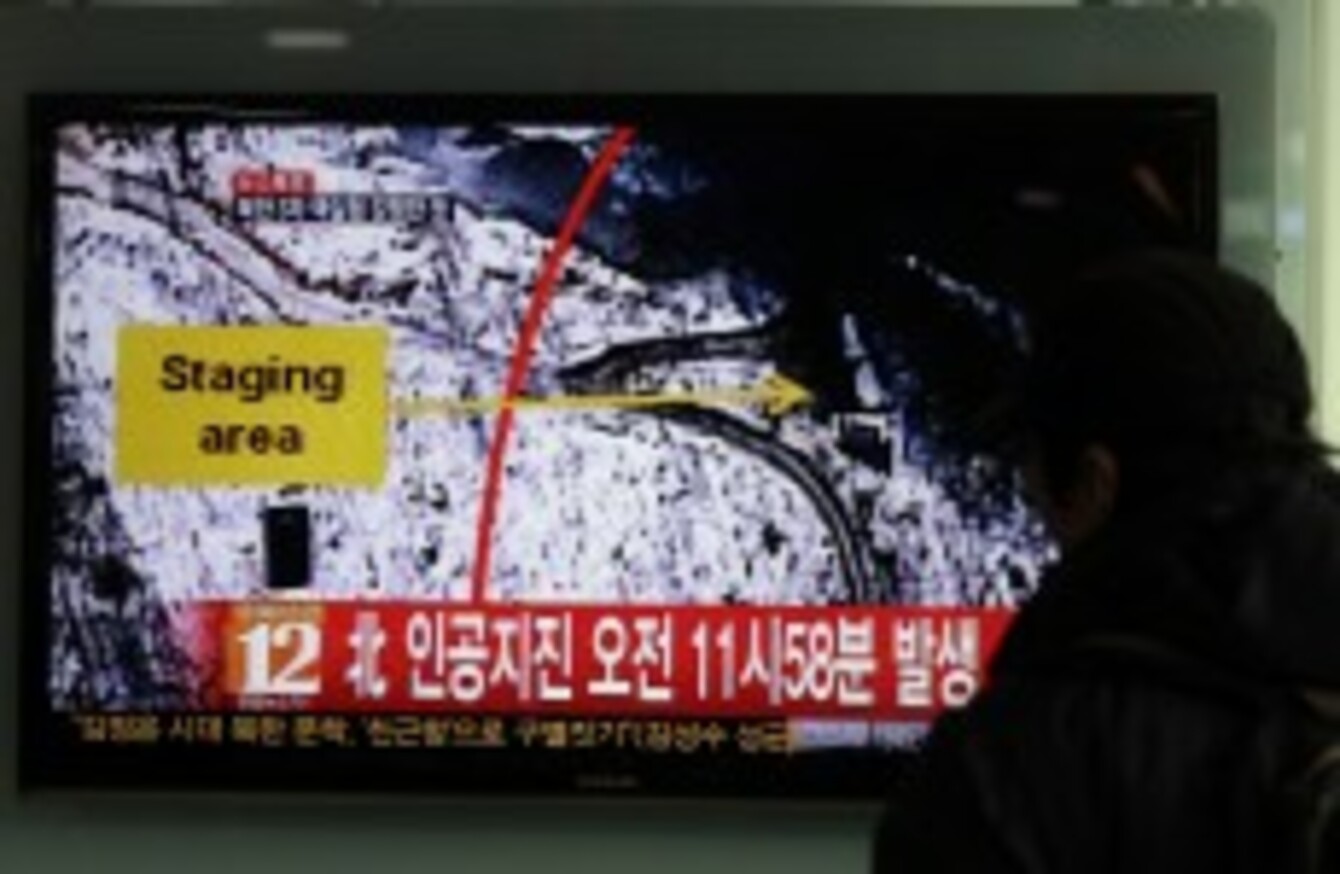 A South Korean passenger watches TV news reporting an earthquake in North Korea as a result of the nuclear test
Image: AP Photo/Lee Jin-man
A South Korean passenger watches TV news reporting an earthquake in North Korea as a result of the nuclear test
Image: AP Photo/Lee Jin-man
NORTH KOREA HAS staged its most powerful nuclear test yet, claiming a breakthrough with a "miniaturised" device in a striking act of defiance to global powers including its sole patron China.
The communist state said it had staged its third test with a "successful" underground detonation, in a riposte to what it said was US "hostility". Its claim of miniaturisation suggests that it is a step closer to fitting a nuclear warhead onto a ballistic missile.
The confirmation from North Korean news agency KCNA came nearly three hours after seismic monitors detected an unusual tremor at 0257 GMT in the area of the country's Punggye-ri nuclear test site, close to the Chinese border.
Analysts said the timing appeared to be an attention-grabbing calculation from a state well versed in provocative acts, coming just ahead of US President Barack Obama's State of the Union address at the start of his second term.
Obama said that North Korea's "provocative" nuclear test did not make it more secure and called for "swift" and "credible" international action in response.
Obama also vowed in a written statement that Washington would remain vigilant in the face of the underground nuclear test by the Stalinist state and steadfast in its defence commitments to its allies in Asia.
Two previous tests
North Korea's two previous tests in 2006 and 2009 triggered waves of UN sanctions, and the Security Council is set to meet in emergency session this morning in New York in response to the third detonation.
The UN secretary general Ban Ki-moon condemned the underground test as "a clear and grave violation of the relevant Security Council resolutions," said his spokesman Martin Nesirky.
"It is deplorable that Pyongyang defied the strong and unequivocal call from the international community to refrain from any further provocative measures," Ban added in the comments.
On a technical level, along with the miniaturisation aspect, experts are hungry to know if North Korea used up more of its scarce reserves of plutonium, or exploited uranium in a new and self-sustaining path to atomic detonations.
The test came after North Korea earlier had called for "high-intensity" action and further long-range rocket launches, after incurring UN wrath for firing a ballistic rocket in December.
Tuesday's explosion yielded six to seven kilotons, South Korean defence ministry spokesman Kim Min-Seok told reporters, significantly more than the 2006 and 2009 tests.
He said it was unclear yet whether uranium was used.
Hiroshima comparison
The explosive yield compared with 15 kilotons in the world's first atomic bomb dropped by the United States on the Japanese city of Hiroshima in 1945.
North Korea's first test yielded less than one kiloton and was widely seen as a dud. The second test yielded between two and six kilotons, according to Seoul.
Pyongyang's promise of a "higher-level" test had fuelled speculation it would be of a uranium device.
#Open journalism No news is bad news Support The Journal

Your contributions will help us continue to deliver the stories that are important to you

Support us now
A uranium test would confirm suspicions that the North has been secretly enriching weapons-grade uranium for years and open a path for Pyongyang to significantly expand its small nuclear arsenal.
There will be particular concern at any sign that the North has made progress in the technically complex process of "miniaturising" a bomb to fit on the head of a long-range missile.
Proven miniaturisation ability would take on added significance in the wake of December's rocket launch, which marked a major step forward in ballistic prowess, and provoked still-tighter UN sanctions.
At the UN Security Council, the United States and its allies will push hard for China to get tough with its erratic ally.
But China's leverage is limited, analysts say, by its fear of a North Korean collapse and the prospect of a reunified, US-allied Korea directly on its border.