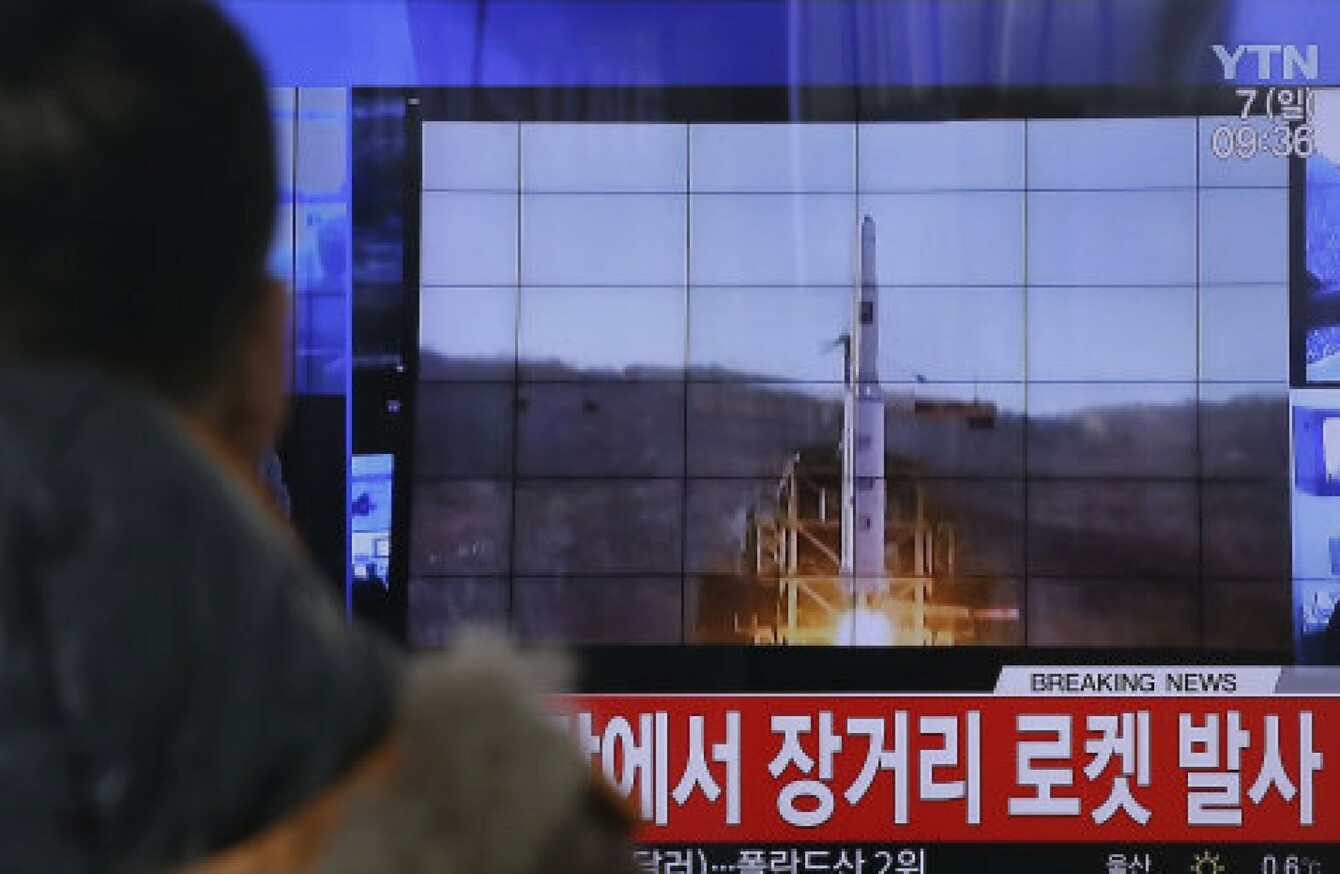 Image: Associated Press
Image: Associated Press
Updated 2:20pm.
THE EUROPEAN UNION has lashed North Korea's launch of a long-range rocket as "yet another outright and grave violation" of its obligations and urged Pyongyang to engage in dialogue with the international community.
The launch breached multiple UN resolutions aimed at preventing North Korea from acquiring a missile capable of carrying out a long-range strike, in addition to its suspected quest to build a nuclear arsenal.
The Minister for Foreign Affairs and Trade, Charlie Flanagan, has expressed Ireland's condemnation of this morning's launch.
"The launch using ballistic missile technology conducted earlier today by the Democratic People's Republic of Korea is a serious and direct threat to peace and stability in the region and beyond.
I condemn these actions unequivocally and once more call on the DPRK to refrain from any action that could further increase tension or destabilize the region and to comply fully with its international obligations.
"These irresponsible actions demonstrate once again the urgent need for engagement on nuclear disarmament by all stakeholders. I urge the North Korean authorities to cease all nuclear testing and to re-engage with the Six Party Talks on the denuclearisation of the Korean Peninsula, immediately and without preconditions".
In a special state TV broadcast, a female North Korean announcer, wearing a traditional Korean hanbok dress, hailed the "epochal" launch, personally ordered by leader Kim Jong-Un.
While stressing that it represented the legitimate exercise of North Korea's right to the "peaceful and independent" use of space, she also noted that it marked a breakthrough in boosting national "defence capability."
EU foreign affairs chief Federica Mogherini said the use of "ballistic missile technology" came on the heels of North Korea's "extremely serious and illegal nuclear test" on January 6.
In a statement on behalf of the 28-nation EU bloc, Mogherini said:
These actions represent a direct threat to international peace and security in the region and beyond, and they further aggravate tensions on the Korean Peninsula to the detriment of all.
She added that the operation "is yet another outright and grave violation of its international obligations, as set out in several UN Security Council Resolutions".
"The DPRK must refrain from any action that could further increase regional tensions and I call once again for the DPRK to engage in a credible and meaningful dialogue with the international community, in particular in the framework of the Six-Party Talks."
Mogherini added that the EU will work with the UN Security Council – which is meeting today to discuss the launch.
UN chief Ban Ki-moon called the launch "deeply deplorable" while US Secretary of State John Kerry denounced a "flagrant violation" of UN decisions.
Among the other permanent Security Council members, Britain, France and Russia expressed anger and concern, while North Korea's main diplomatic protector China voiced "regret".
Originally published at 7am.