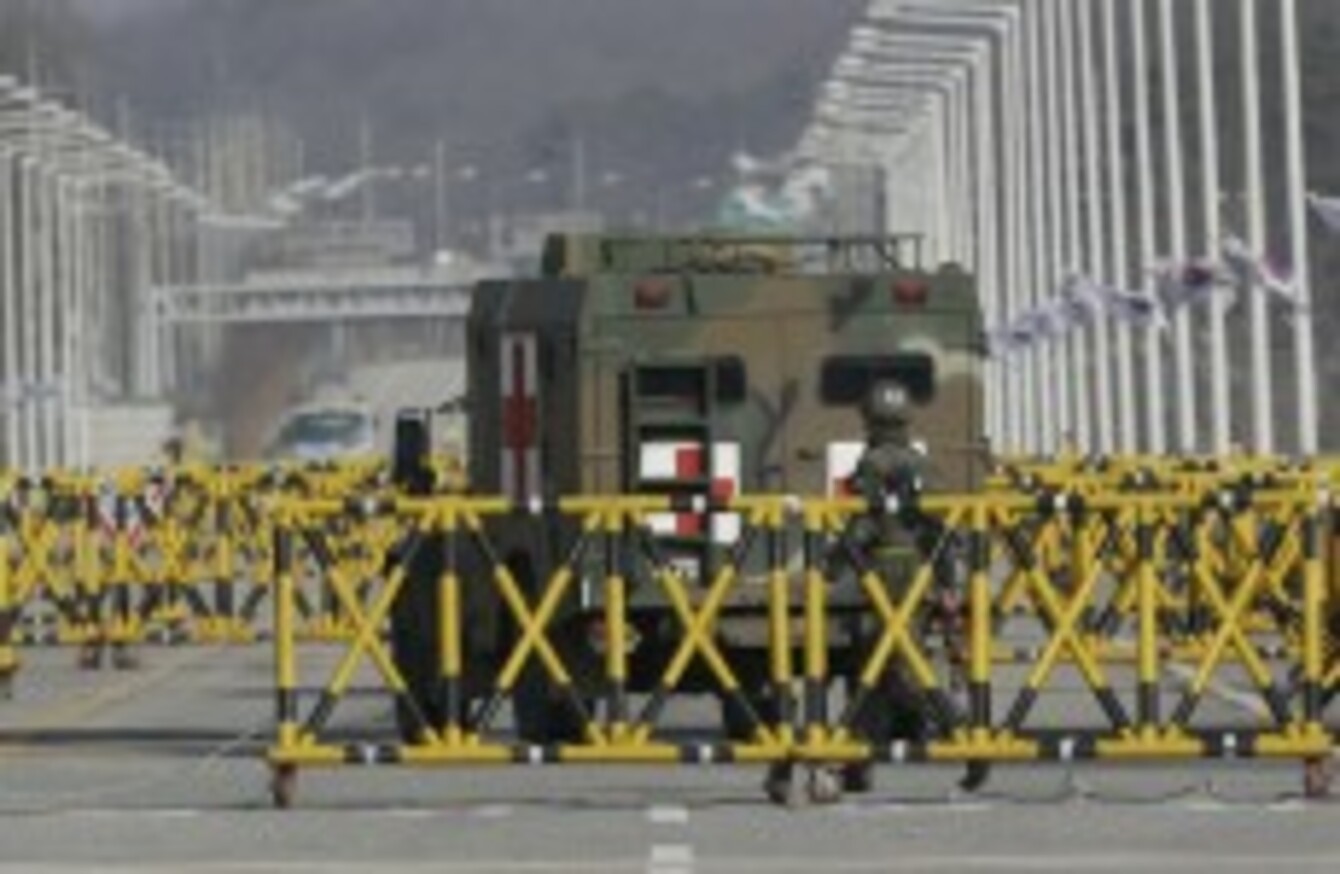 Image: Lee Jin-man/AP/Press Association Images
Image: Lee Jin-man/AP/Press Association Images
NORTH KOREA SAID Tuesday the Korean peninsula was headed for "thermo-nuclear" war and advised foreigners to consider leaving South Korea, as the UN chief warned of a potentially "uncontrollable" situation.
Tuesday's advisory – greeted largely with indifference – followed a similar one last week to foreign embassies in Pyongyang, to consider evacuating by 10  April on the grounds war may break out.
"The situation on the Korean Peninsula is inching close to a thermo-nuclear war," the Asia-Pacific Peace Committee said in a statement carried by the North's official Korean Central News Agency.
Saying it did not want to see foreigners in South Korea "fall victim", the statement requested all foreign institutions, enterprises and tourists "to take measures for shelter and evacuation".
The committee blamed the heightened war risk on the "warmongering US" and its South Korean "puppets" who were intent on invasion.
The US dismissed the warning as "unhelpful" on Tuesday. White House spokesman Jay Carney criticised Pyongyang for more "unhelpful rhetoric that serves only to escalate tensions".
The "thermo-nuclear war" threat has been wielded several times in recent months – most recently on 7 March – despite expert opinion that North Korea is nowhere near developing such an advanced nuclear device.
"It is our current assessment that there is no immediate risk to British nationals in South Korea," a British embassy spokesman said, echoing similar statements from the US, French and other missions.
UN Secretary-General Ban Ki-moon answers reporters' questions during a media briefing at a hotel in Rome following his private audience with Pope Francis at the Vatican. He described the tensions between the two Koreas as "very dangerous," and said that any small incident caused by miscalculation may "create an uncontrollable situation." (AP Photo/Alessandra Tarantino)
Last week's warning to embassies in Pyongyang was also largely dismissed as empty rhetoric, with most governments making it clear they had no plans to withdraw personnel.
From Pyongyang, Brazil's ambassador Roberto Colin told Agencia Brasil news agency that life in the city was continuing as normal, but added that he had prepared a sort of bunker in the embassy, in case of emergency.
The Korean peninsula has been locked in a cycle of escalating military tensions since the North's third nuclear test in February, which drew toughened UN sanctions.
Pyongyang's bellicose rhetoric has reached fever pitch in recent weeks, with near-daily threats of attacks on US military bases and South Korea in response to ongoing South Korean-US military exercises.
Yonhap news agency Tuesday cited South Korean intelligence as saying the North had completed preparations for an expected missile test-launch – possibly to coincide with 15 April celebrations for the birthday of late founder Kim Il-Sung.
Japan, where the armed forces have been authorised to shoot down any North Korean missile headed towards its territory, said Tuesday it had deployed Patriot missiles in its capital as a pre-emptive defence measure.
A top US military commander said Tuesday that he favoured shooting down a North Korean missile only if it threatened the United States or Washington's allies in the region.
When asked by lawmakers if he supported knocking out any missile fired by North Korea, Admiral Samuel Locklear, head of US Pacific Command, said: "I would not recommend that."
But he told the Senate Armed Services Committee he would "certainly recommend" intercepting an incoming North Korean missile "if it was in defence of our allies" or the United States.
#Open journalism No news is bad news Support The Journal

Your contributions will help us continue to deliver the stories that are important to you

Support us now
UN secretary general Ban Ki-moon said during a visit to Rome he had spoken to the Chinese leadership to try to calm tensions, and would discuss the issue with President Barack Obama on Thursday.
"The current level of tension is very dangerous, a small incident caused by miscalculation or misjudgement may create an uncontrollable situation," he said.
However Tuesday's threat was unlikely to worry South Korea's foreign community of around 1.4 million that has calmly weathered the rhetorical storm thus far.
Earlier Tuesday North Korean workers followed Pyongyang's order to boycott the Kaesong joint industrial zone with South Korea, signalling the possible demise of the sole surviving symbol of cross-border reconciliation.
The North announced Monday it was taking the unprecedented step of pulling out its 53,000 workers and shutting the complex down indefinitely.
Established in 2004, Kaesong has never closed before. Pyongyang's move reflects the depth of the current crisis, which has otherwise been notable more for fiery rhetoric than action.
Kaesong, 10 kilometres (six miles) inside North Korea, is a crucial hard currency source for the impoverished North, mainly through its cut of the workers' wages.
South Korean President Park Geun-Hye said the North's action was "very disappointing" and displayed a total disregard for investment norms that would return to haunt Pyongyang in the future.