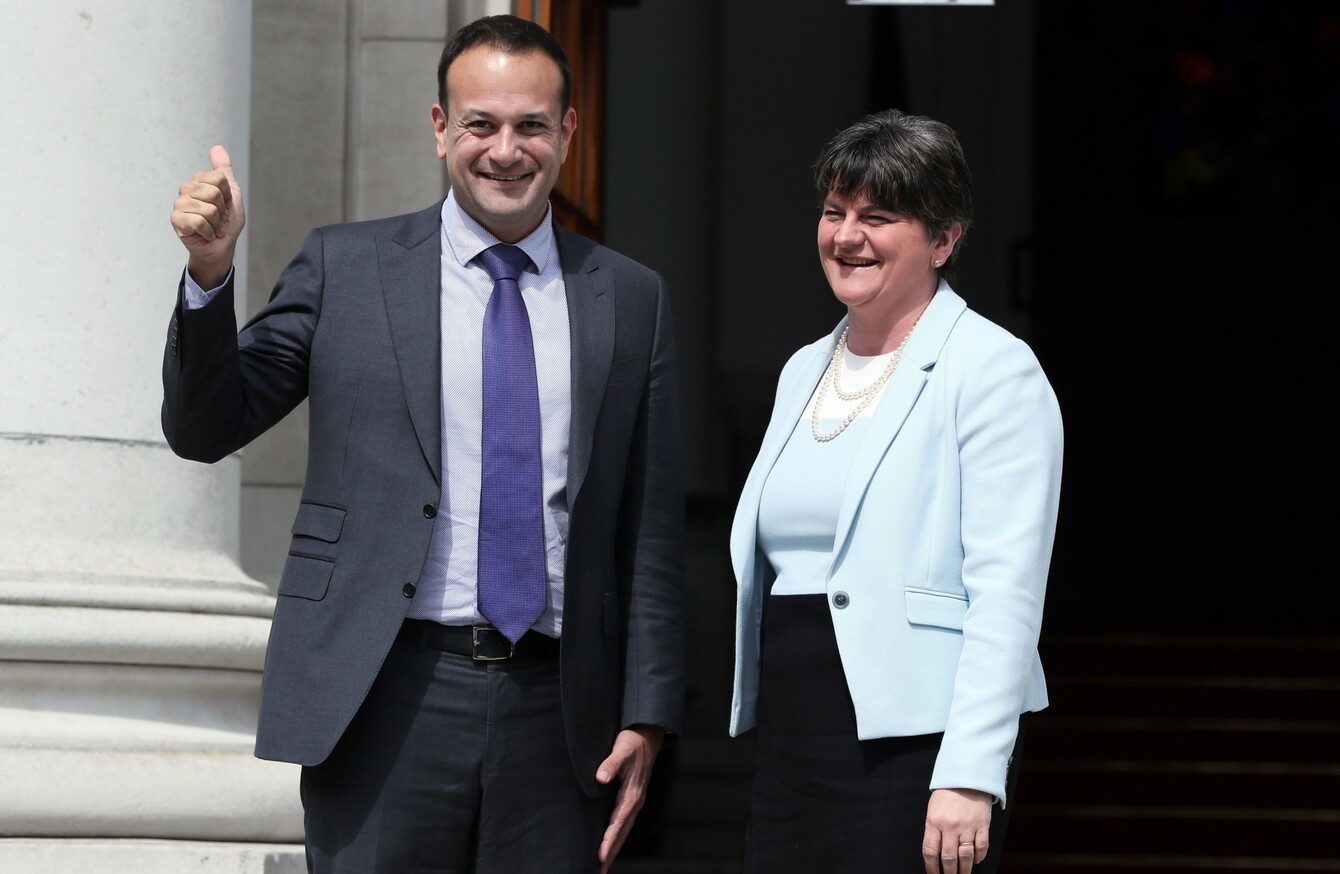 Image: Brian Lawless/PA Images
Image: Brian Lawless/PA Images
Updated Mar 14th 2020, 2:57 PM
THE NORTH-SOUTH Ministerial Council held a special meeting today to discuss the outbreak of Covid-19 on the island of Ireland.
The meeting, taking place in Co Armagh, was attended by Taoiseach Leo Varadkar, Tánaiste Simon Coveney, and Minister for Health Simon Harris. 
The Northern Ireland Executive's First Minister Arlene Foster, Deputy First Minister Michelle O'Neill, and Stormont's Minister for Health Robin Swann were also in attendance.
Both executives were joined by their respective Chief Medical Officers at the meeting.
On the way into meeting, Varadkar said: "This virus knows no borders, no nationality. It is a problem for all of us.
Our response to it is made more difficult as we do have two jurisdictions on this island.
He later warned against complacency and said that Covid-19 "cannot be stopped".
The Taoiseach urged people living in both jurisdictions to follow Department of Health guidelines.
He said: "The only slight concern that I have at the moment is that there may be a degree of complacency slipping in that because of the actions that were taken in terms of closing schools or banning mass gatherings, that people think that everything is going to be OK.
I would really like to restate the public health advice that's being given north and south by both chief medical officers. If you have a new and persistent cough, or a high temperature, you need to stay at home and ring your GP and get further medical advice.
Tánaiste Simon Coveney said the country is faced with a challenge many could not have imagined.
"The way in which we live, the way in which we move around, the way in which we work, is all going to be challenged and changed in the weeks ahead as we try and protect vulnerable communities from a virus that is here and is going to spread through our population," he said.
Sinn Féin's O'Neill called for decisive action from political leaders on her way into the meeting.
"People are very anxious, they are very fearful and they want leadership and guidance," she said.
"The political divisions have to be healed, we need a joined-up approach. We have to be level-headed and calm and give people reassurance."
Different measures have been implemented in response to the coronavirus pandemic on both sides of the border.
On Thursday, Taoiseach Leo Varadkar announced that schools, colleges and childcare facilities, as well as cultural institutions, would close until 29 March.
The government also recommended working from home where possible, and said indoor gatherings and outdoor events should be cancelled. However, the North has not yet introduced such measures.
Sinn Féin's Michelle O'Neill had said that she would prefer the approach taken south of the border, but yesterday, Arlene Foster rejected the call for the need for schools to close.
However, following last night's announcement in the UK that mass gatherings could be banned from next week and that more workers may be encouraged to work from home, the North may soon take more stringent measures to combat the pandemic.
With reporting from Sean Murray, PA