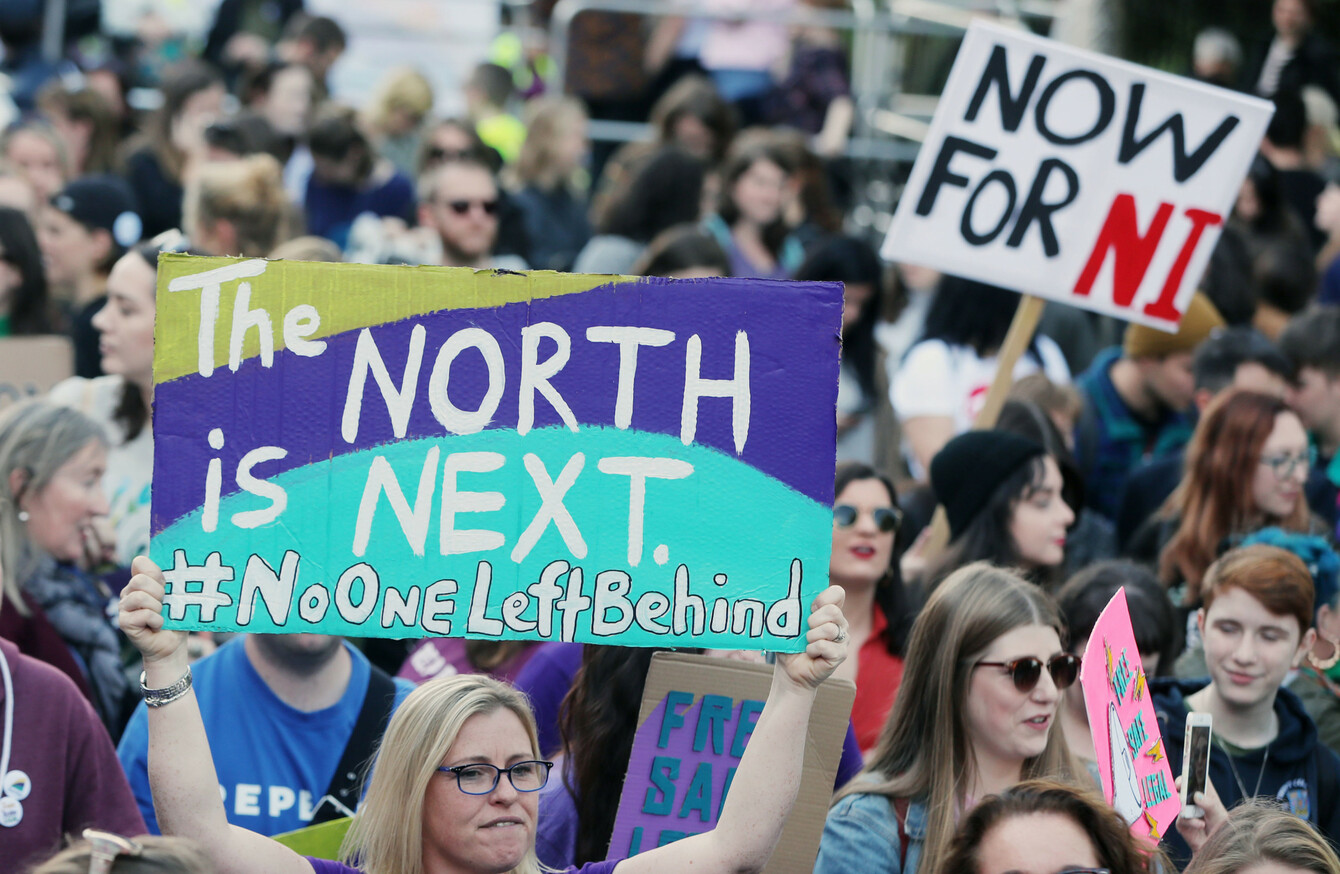 Demonstrators from Northern Ireland take part in the Abortion Rights Campaign's annual March for Choice In Dublin
Image: Niall Carson/PA Images
Demonstrators from Northern Ireland take part in the Abortion Rights Campaign's annual March for Choice In Dublin
Image: Niall Carson/PA Images
MORE THAN 60 high-profile women from across the UK and Ireland have written a letter to British Prime Minister Theresa May calling on her to decriminalise abortion in Northern Ireland.
Irish actors Aisling Bea and Sharon Horgan, both of whom are based in the UK, are among those to have signed the letter ahead of the reading of a Private Members' Bill on the decriminalisation of abortion in the House of Commons on Friday.
The bill has been brought to Westminster by Labour MP Diana Johnson amid an ongoing lack of government in Northern Ireland, where abortion is illegal in all but a limited number of circumstances.
If passed, the bill would decriminalise abortion in England, Wales and Northern Ireland.
Others to have signed the letter, which has been submitted on behalf of Amnesty International, include Kate Beckinsale, Claire Foy, Jodie Whittaker, Vanessa Redgrave, Meera Syal and Olivia Colman.
It has called on May to give time for the Bill in parliament, saying that women will be waiting with "anxiety and fear as their reproductive rights are debated".
"Give us choice and control over our own bodies," it reads.
"Show women from Northern Ireland that you won't stand for them being governed by one of the harshest and cruellest abortion laws in the world.
"Show us that you value and champion the rights of all women, no matter which part of the UK they're from."
Earlier this month, MPs voted to pass the first reading of the bill in the House of Commons, where it was opposed by members of the DUP, among others.
Commenting on the second reading of the bill, Diana Johnson said the situation for women requiring an abortion in Northern Ireland "grave and urgent".
"The government must give it the time it needs to progress," she said.
"Women need this change. Abortion is a healthcare and human rights issue. It's time it was treated as such."