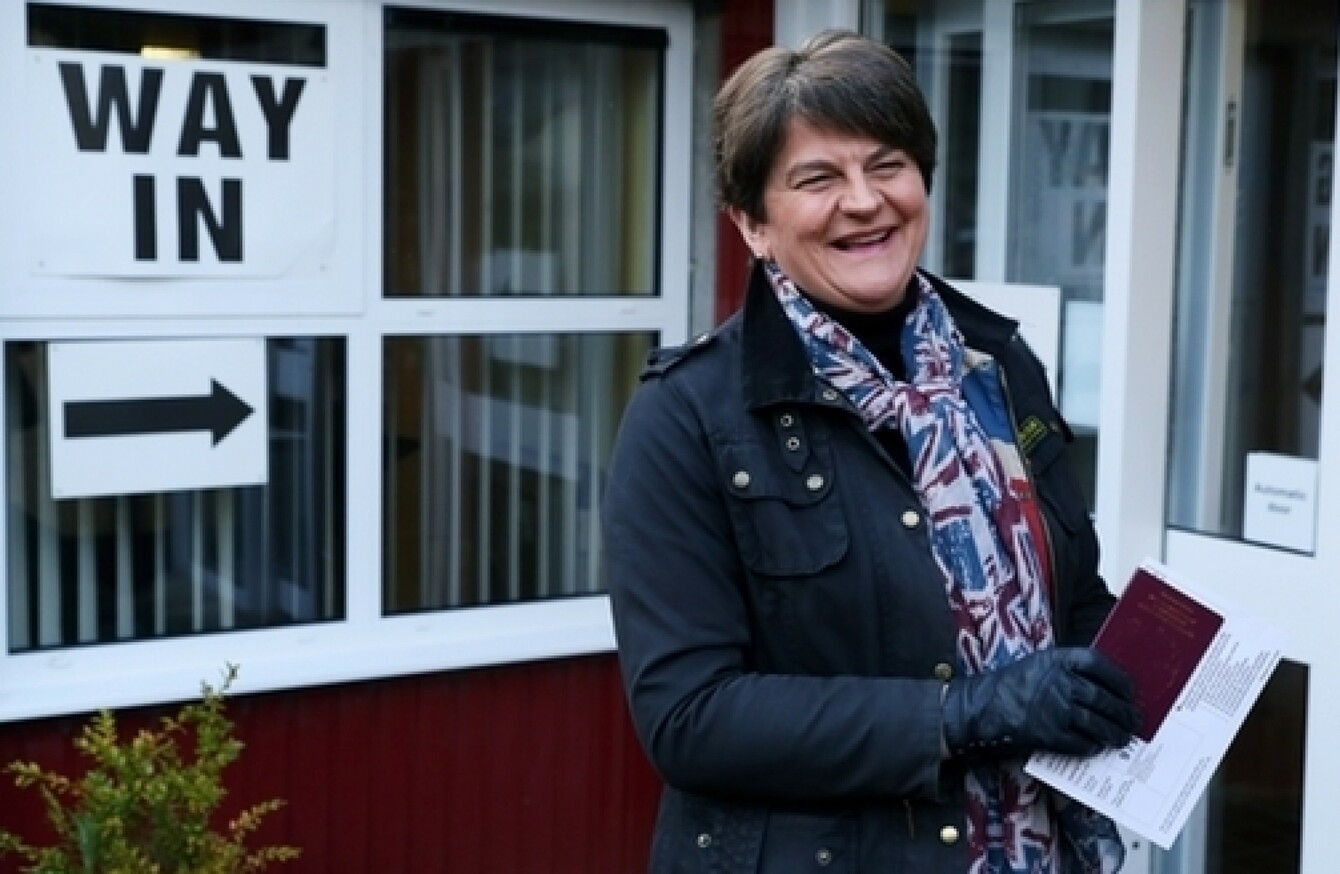 Arlene Foster's DUP could be in for a long night.
Image: Brian Lawless/PA Wire/PA Images
Arlene Foster's DUP could be in for a long night.
Image: Brian Lawless/PA Wire/PA Images
Updated Dec 13th 2019, 12:28 PM
ALL OF THE North's constituencies have declared their results – and for the first time there are now more nationalist and republican MPs than unionist MPs. 
There are eight unionist MPs, nine nationalist MPs and one alliance MP. 
Here's how the breakdown looks:
Belfast East
The DUP's Gavin Robinson, the party's youngest MP, defeated Alliance Party leader Naomi Long. Robinson received 20,874 votes to Long's 19,055. 
Belfast North
Sinn Féin's John Finucane unseated the DUP's Nigel Dodds in a major election shock. Finucane defeated Dodds by 23,078 votes to 21,135 – a larger gap than expected. 
Belfast South
The SDLP's Claire Hanna defeated the DUP's Emma Little Pengelly by 15,401 votes. The DUP took the seat with a 2,000-vote majority at the last election in 2017. 
Belfast West
Sinn Féin's Paul Maskey has been comfortably re-elected with nearly 21,000 votes. 
East Antrim
The DUP's Sammy Wilson was re-elected, defeating the Alliance Party by 6,000 votes. The Alliance's Danny Donnelly received 10,165 votes. 
East Derry
Gregory Campbell was re-elected in East Derry for the DUP with 9,607 votes – a small increase on 2017. 
Fermanagh and South Tyrone
Sinn Féin's Michelle Gildernew won in what was widely seen as a two-horse race between her and Tom Elliott of the Ulster Unionists. In total there were five candidates contesting the election in this area.
Foyle
SDLP leader Colum Eastwood won back Foyle for the party, defeating Sinn Féin's Elisha McCallion by 17,110 votes – a huge increase on the party's vote share in 2017. 
Lagan Valley
The DUP's Jeffrey Donaldson was re-elected in Lagan Valley, but on a lower share of the vote. He only defeated the Alliance's Sorcha Eastwood by 6,500 votes, a drop from nearly 20,000 votes in 2017. 
Mid Ulster
Francie Molloy has been re-elected to Mid Ulster for Sinn Féin with over 20,000 votes. 
Newry and Armagh
Mickey Brady for Sinn Féin was re-elected, albeit with a decreased majority – he defeated the DUP's William Irwin by over 9,000 votes. 
North Antrim
The DUP's Ian Paisley was re-elected, defeating the UUP's Robin Swann by over 12,000 votes. 
North Down
The Alliance Party's Stephen Farry has been elected. He will replace independent unionist and Remain supporter Lady Sylvia Hermon, who stepped down unexpectedly before the election. 
South Antrim
Paul Girvan retained his DUP seat, winning 15,000 votes. The UUP candidate received around 12,500 votes. 
South Down
Sinn Féin's Chris Hazzard has been re-elected with 16,137 votes. Hazzard defeated the SDLP candidate by 1,620 votes. 
Strangford
The DUP's Jim Shannon has retained his seat, albeit with a decreased majority compared to the 2017 election. 
Upper Bann
Carla Lockhart has won in Upper Ban for the DUP. The party's former MP David Simpson had announced he wouldn't be contesting this election. She defeated Sinn Féin's John O'Dowd by 8,210 votes – an increase on the party's vote in 2017. 
West Tyrone
Órfhlaith Begley has been re-elected for Sinn Féin. In the safe seat for the party, Begley received over 16,000 votes – her nearest rival, the DUP's Thomas Buchanan, received 9,066 votes.