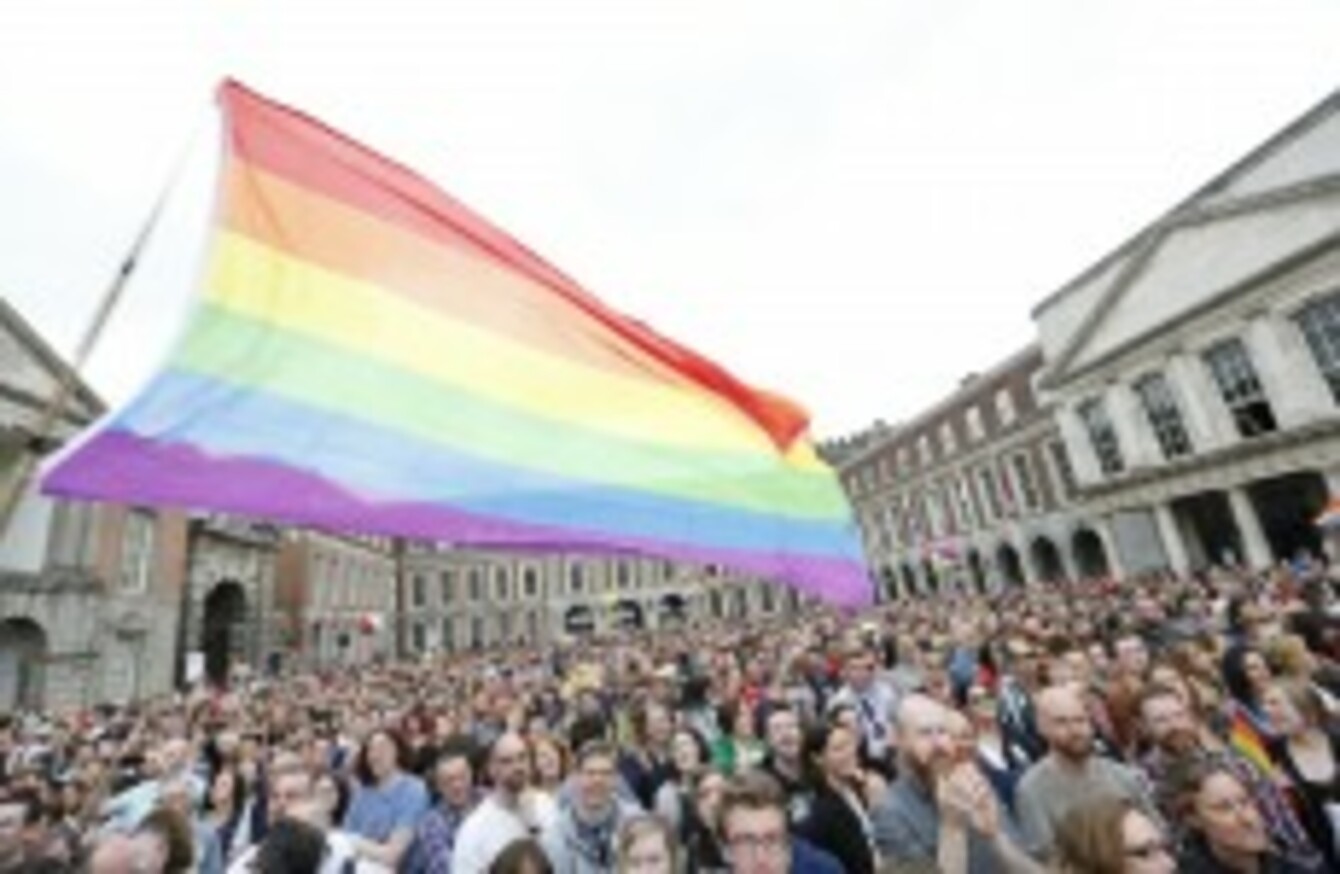 Image: Photocall Ireland
Image: Photocall Ireland
PRESSURE IS MOUNTING on Northern Ireland politicians to catch up with the Irish Republic and the UK in relation to same-sex marriage.
"We need to get this into the North now."
That's what the Sinn Féin Leader Gerry Adams had to say this weekend following the same-sex marriage result in the South.
"The marriage equality rights that will now be enjoyed by citizens in the south must be available to all in the north. Sinn Féin will continue to campaign for equal rights for all."
As it stands, Northern Ireland is the only region in western Europe where same-sex marriage is not permitted.
Right to marry 
Equality campaign groups, backed by Amnesty International and the Irish Congress of Trade Unions, are calling for the right to marry to be extended to LGBT members over the border.
A rally is being organised on 13 June by The Rainbow Project in Writers' Square in Belfast, where it is expected over 2,000 people will attend.
John O'Doherty, Director of The Rainbow Project said while they are "elated" at "stunning landslide victory for our sisters and brothers in the Republic", the law needs to extend to everyone in Ireland.
"However, for us, this sweet victory is tinged with sadness. Northern Ireland is now the only region in western Europe where marriage equality is not a reality. This is a shameful injustice which cannot be allowed to continue."
"We will continue our fight to ensure that Equality becomes a reality for all the peoples of these islands."
The 'last bastion of discrimination'
Amnesty International has branded the north the "last bastion of discrimination" following Saturday's result.
"People in Northern Ireland are sick of living in a discriminatory backwater for gay people," said Amnesty International's Northern Ireland Programme Director, Patrick Corrigan.
"The Northern Ireland Executive should waste no more time in fulfilling its first duty to its people – to ensure that none are treated as second-class citizens."
Amnesty International states that the majority of people in Northern Ireland believe gay marriage should be made a reality in the region, citing the 2013 the 2013 Northern Ireland Life and Times Survey of over 1,200 people, which showed 59% were in favour and 29% against legislating for equal same-sex marriage in Northern Ireland.
You might wonder what the hold up is in the north if the UK has allowed gay marriage, and now the Republic of Ireland.
England, Scotland and Wales had their first same-sex weddings in 2014, but the Northern Ireland Assembly refused to introduce similar legislation in the region.
Whether gay marriage is passed by law is something only the Northern Ireland Assembly.
There have been attempts to have it recognised.
DUP
Previous attempts to legislate to allow gay marriage have been vetoed by the DUP and a majority of Ulster Unionists at Stormont.
#Open journalism No news is bad news Support The Journal

Your contributions will help us continue to deliver the stories that are important to you

Support us now
Last month, a Sinn Féin put down a motion on marriage equality. However this fell after 47 Stormont assembly members voted in support, while 49 unionists voted against.
There is another obstacle to overcome on this issue.
Even if a majority did vote in favour of gay marriage in Northern Ireland, a special veto, know as the Petition of Concern, could bring it to a halt.
Brought about during devolution, the Petition of Concern allows any party to veto legislation if it does not have sufficient cross-community support. This means that even if a majority votes in favour it may not progress any further than that.
The Belfast Telegraph reports that the DUP said it is "opposed to the redefinition of marriage and a majority of MLAs have agreed with that position each time the issue has been debated in the Assembly". 
"We note the result of the Republic's referendum, which was required because of the need to amend their constitution. There is no need for this in Northern Ireland. It is a devolved matter for the Northern Ireland Assembly to decide."
The next option for gay rights groups may be the courts.
The Guardian reports states that The Rainbow Project has confirmed that an English couple are challenging the gay marriage ban in Northern Ireland.
That case is expected to reach the courts in Belfast by November.