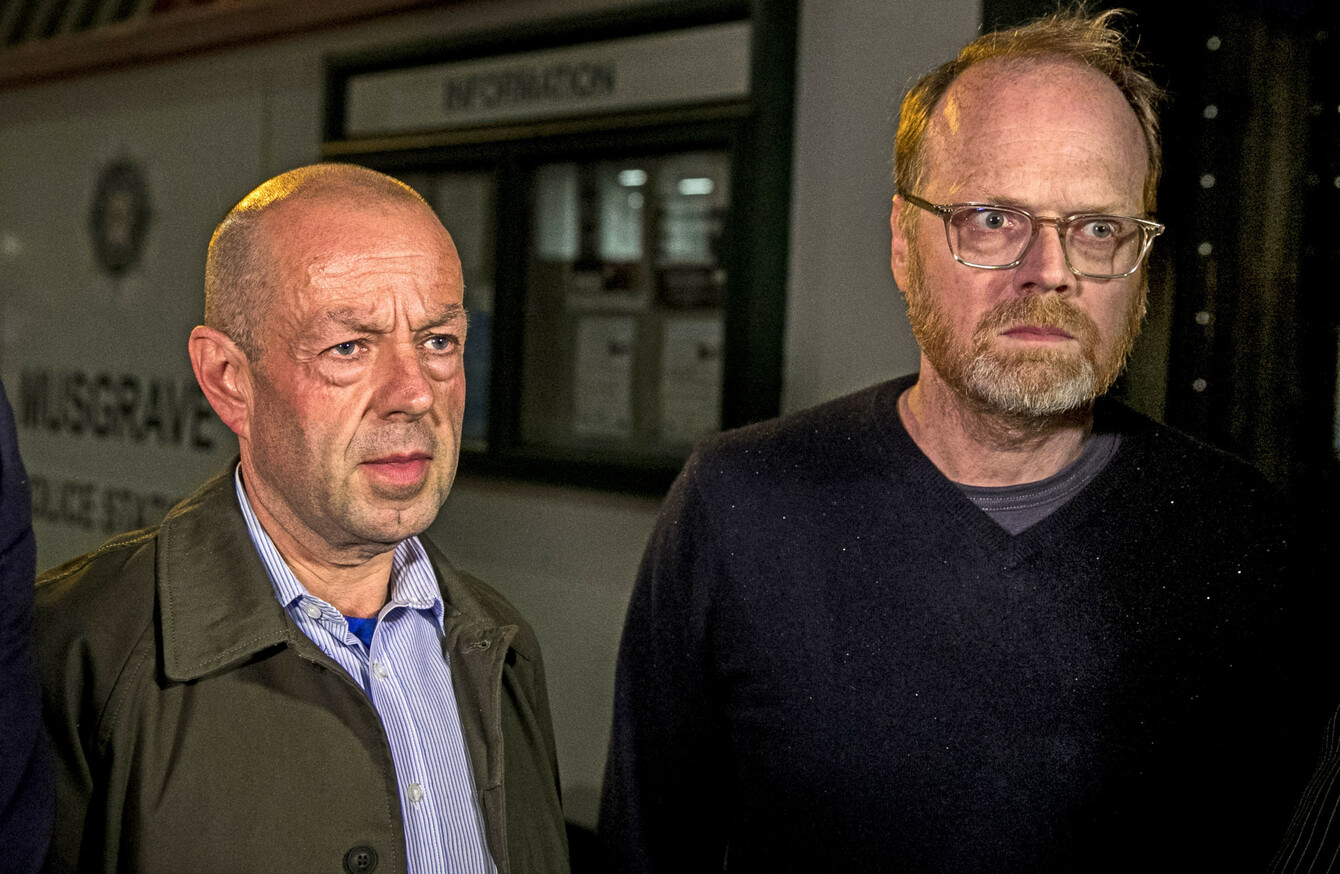 Journalists Barry McCaffrey, left and Trevor Birney, right, after their release last night.
Image: Liam McBurney/PA
Journalists Barry McCaffrey, left and Trevor Birney, right, after their release last night.
Image: Liam McBurney/PA
TWO JOURNALISTS IN Northern Ireland have been released on bail after their arrest by police investigating the alleged theft of confidential documents relating to the Loughinisland massacre.
Detectives from Durham Constabulary, supported by officers from the Police Service of Northern Ireland (PSNI), yesterday executed search warrants at three properties in the Belfast area.
They arrested Trevor Birney, 51, and Barry McCaffrey, 48, two journalists involved in a documentary about the murders of six men in a Loughinisland bar in 1994.
On the day in question members of the loyalist paramilitary group the Ulster Volunteer Force (UVF) entered the Heights Bar and started shooting as football fans watched the Republic of Ireland team play in the 1994 Fifa World Cup. Six men were killed and five others were injured.
The police inquiry centres on the suspected theft of sensitive material held by the office of the Police Ombudsman of Northern Ireland (PONI) which was used in the No Stone Unturned documentary re-examining the 1994 murders.
Last night Birney and MacCaffrey were released on bail pending further inquiries. Speaking to Press Association reporter David Young, MacCaffrey said the arrests were "an attack on the press". 
"It's us today, tomorrow it could be you," he said. 
His solicitor John Finucane said MacCaffrey's arrest is "a cause of grave concern":
The National Union of Journalists has also condemned the action by police. Seamus Dooley, acting general secretary of the union in the UK and Ireland said the documentary had "raised serious questions about the police investigation into Loughinisland".
He said it is "deeply worrying" that the focus of police attention should now be on journalists rather than on the issues raised in the documentary.
"The protection of journalistic sources of confidential information is of vital importance and journalists must be free to operate in the public interest without police interference. These journalists are entitled to claim journalistic privilege and to seek the protection of the legal system  if there is any attempt to force them to reveal sources.
We note the confiscation of computers and data held by Trevor Birney and Barry McCaffrey. Every step must be taken to ensure that data held on computers is not compromised and that the confidentiality of the sources are not put in jeopardy.
A spokesman for Durham Constabulary yesterday said the arrests are "a significant development in what has been a complex investigation".
"The terms of reference given to our inquiry were clear in that the investigation is solely into the alleged theft of material from PONI.
"The theft of these documents potentially puts lives at risk and we will follow the evidence wherever it leads us."