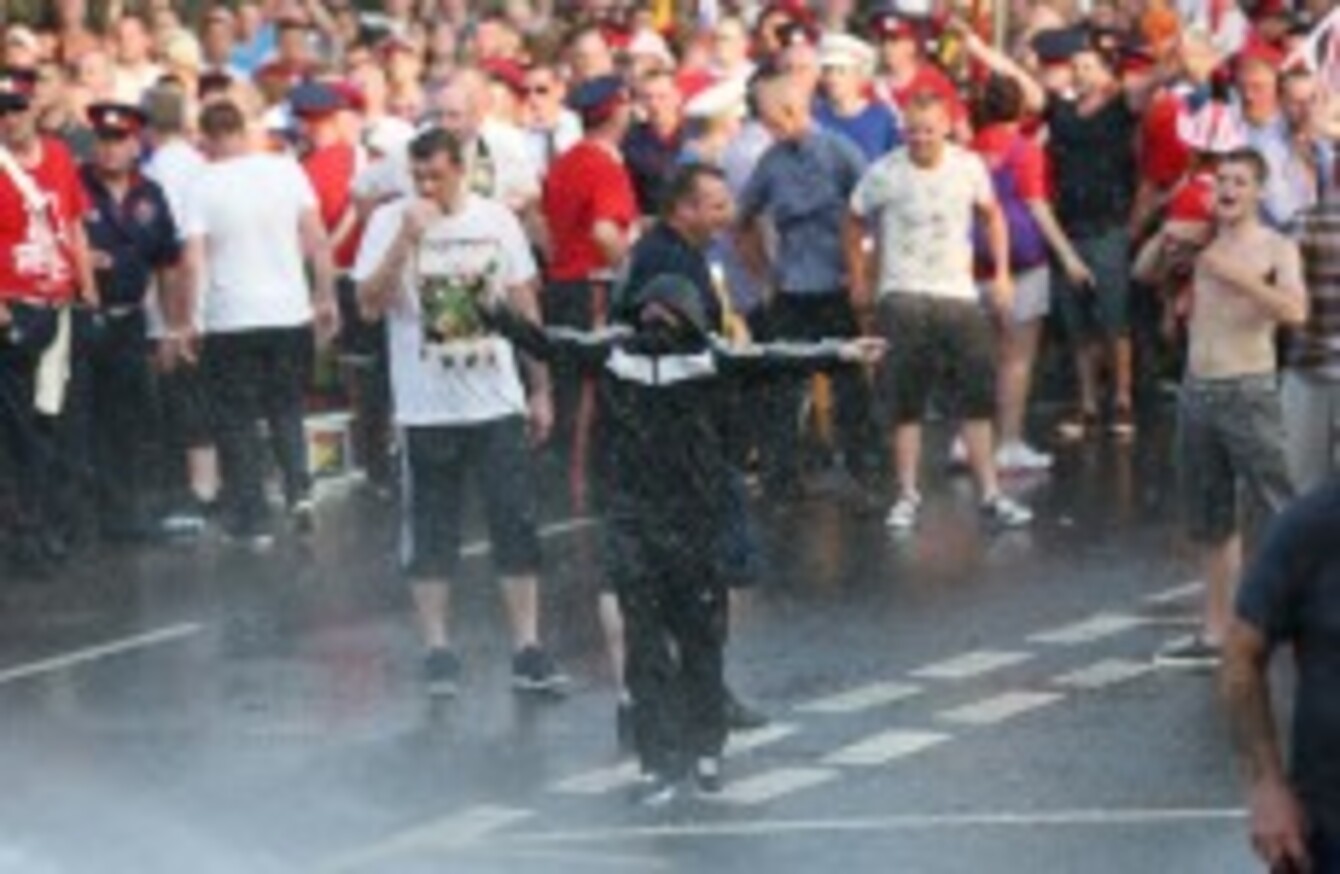 Disorder during last year's Twelfth of July commemorations.
Image: PA Archive/Press Association Images
Disorder during last year's Twelfth of July commemorations.
Image: PA Archive/Press Association Images
Updated at 8.15pm
FIVE UNIONIST PARTIES involved in Northern Ireland talks have all walked out in the wake of a decision to block a contentious parade route in Belfast.
The parties say that continuing to participate in the talks would be "fruitless", adding that the Parades Commission has treated their views with "contempt".
The cross-party negotiations began yesterday and were the first that sought to directly address the outstanding issues from the Haass-O'Sullivan talks which failed to reach agreement last December.
There was consensus achieved on a number of issues during those talks but flags and parades proved to be a major sticking point with both the DUP and UUP rejecting the final proposals.
Today's setback comes after the Northern Ireland Parades Commission decided to barr the Orange Order from marching back down the Crumlin Road in north Belfast on 12 July. The commission decided that the parade could march along the road on the outward leg of the parade but not return down it later that evening.
The commission made a similar determination last year and its blocking by police led to several nights of rioting in Belfast.
As his party staged a walkout alongside the UPP, TUV, PUP and UPRG, the DUP's Jonathan Bell called for a reasoned response from the community:
The leaders of unionism who have now looked at a failed Parades Commission can no longer see any point of having any discussion with this failed body who have not taken on board any of the reasonable, logical or peaceful suggestions that were made to them.
Speaking to BBC News at Stormont, Bell said that the parties will now "produce a graduated response to this as a combined unionist group". 
We emphasise that any response should be peaceful and should be lawful…As a result of all of the issues, the leaders of unionism have decided that there is no longer any prospect of success, the political talks as they stand are now fruitless and we will take no further part in them.
The decision by the main unionist parties to end negotiations has been criticised by both nationalist politicians and the moderate Alliance Party.
Alliance leader David Forde said that the decision of the Parades Commission should be respected.
"The only response to a Parades Commission ruling is to accept it as the lawful determination," he said. "These talks were never about one parade this summer, they were about agreeing to change the legislation for future years."
Deputy First Minister Martin McGuinness said that unionist politicians are not showing leadership, but rather "playing to the lowest common denominator:
I am disappointed but not surprised that the unionist parties have decided to withdraw from an important talks process. Prior to the talks I asked all party leaders to issue a statement calling for calm on our streets. That did not happen. Unionists need to show leadership, respect the determination of the parades Commission and support the rule of law.
#Open journalism No news is bad news Support The Journal

Your contributions will help us continue to deliver the stories that are important to you

Support us now
SDLP leader Alasdair McDonnell expressed his disappointment at the unionist decision saying that there is now a desperate need for people to keep calm.
"If we have learned anything in 40 years it is that you can make all the threats you like, you can destabilise what you like but at the end of the day you have to come back to the institutions," he said.
In a statement released this afternoon the PSNI's new chief constable George Hamilton said that the police will uphold the Parades Commission's decision while working with communities to find solutions.
"Violence and disorder in relation to the twelfth is not inevitable – individuals have choices to make about how they conduct themselves," he said.
In a statement this evening, Tánaiste and Minister for Foreign Affairs Eamon Gilmore described the development as 'disappointing', and noted that an effect of the walk is that tomorrow's North South Ministerial Council plenary meeting in Dublin Castle has been postponed.
"Successive Irish Governments have fully supported the Parades Commission in its difficult work and have consistently called for its legally binding determinations to be respected and upheld," he said.
Originally published 3.44pm