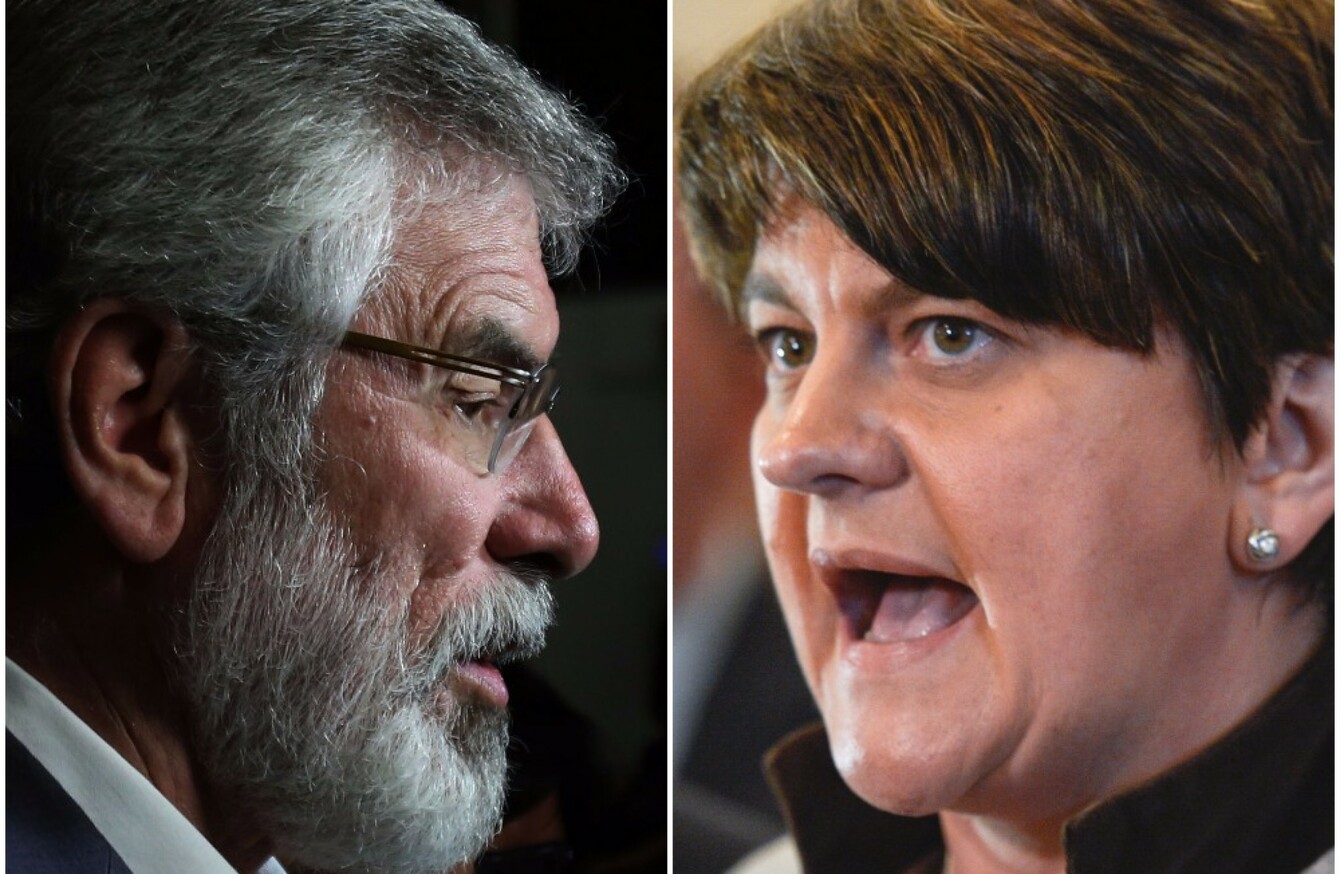 Image: PA Images/Photojoiner
Image: PA Images/Photojoiner
FOR THE PAST three months, the DUP and Sinn Féin have been discussing how they might form an alliance during a stormy period for politics in Northern Ireland.
Now their deadline is due to run out tomorrow at 4pm and negotiations are still ongoing – with Sinn Féin's request for an Irish Language Act, legalisation of same-sex marriage and DUP leader Arlene Foster's resignation three of the greatest obstacles left in talks to form a deal.
Sinn Féin pulled out of the Assembly agreement with Foster and her elected colleagues over the 'cash-for-ash' scandal which Arlene Foster was directly involved in.
Sinn Féin repeatedly called for Foster to stand aside until an investigation was completed, but the DUP leader repeatedly refused, leading Sinn Féin to collapse the Stormont Assembly.
An election was called for March of this year, with Sinn Féin increasing its support significantly. Talks began between the two parties, stopping only briefly in the run-up to the UK's snap election on 8 June.
Since March, civil servants in various departments have been running government affairs while talks on forming a plan between the two parties have rumbled on.
But what happens if there's no agreement before the deadline? And how likely is it that they will come to an agreement in the last 24 hours of their intense three-month-long talks?
Option 1: Extended deadline
When the rhetoric from political negotiators on both sides of the agreement is taken into account, it seems as though the two sides are willing to negotiate, but there's serious mistrust from both.
The DUP's Edwin Poots indicated talks were not running smoothly.
"I can't say they are easy but nonetheless we want to get Stormont up and running," he said. "I would encourage Sinn Fein to be mature. No high-wire acts: let's get down to work, knuckle down and find a way through this."
Sinn Féin, meanwhile, accused the DUP last night of refusing to budge on any of their demands.
"Discussions are continuing today and time is running short but the DUP have not yet moved on the basic rights issues which caused the collapse of the Executive," said party chairman Declan Kearney.
They haven't moved on ending the denial of rights to Irish speakers.
They haven't moved on ending the denial of rights to the LGBT community.
Having already failed to reach one deadline for an agreement, it's unlikely that the parties will be given more time to reach a deal again.
Option 2: Direct rule
Speaking to MPs in Westminster in March, Northern Ireland secretary James Brokenshire said he did "not want to see a return to direct rule".
But he said that in the absence of a deal, it was up to the government to provide political stability in the North.
He has said previously that if there was no deal reached, he would bring in legislation that would effectively ramp-up direct rule from London.
#Open journalism No news is bad news Support The Journal

Your contributions will help us continue to deliver the stories that are important to you

Support us now
This would be a hugely contentious issue, and could risk the peace process in Northern Ireland that's further complicated by a Brexit-caused hard border, and a controversial deal between the DUP and the Tories to form a UK government.
It's also been suggested that Northern Ireland could be governed from both Dublin and London, but this would require complex negotiations to decide who would be in control of what.
Option 3: Last-minute deal
A deal would need to be struck by the end of today to give the parties time to find ministers ahead of tomorrow's nomination session which begins at 12pm at the Stormont Assembly, but that's a small issue that could be solved if a deal is reached.
And there is additional incentive for this: the DUP's £1 billion agreement with the British government (which was agreed just three days before tomorrow's deadline for talks at Stormont) could push the parties to reach an agreement in order to secure that funding for their areas.
But even though both parties could have more funding to deliver the policies they want – the question is whether they can agree where that money will be spent in the short time left before the deadline.
With reporting from AFP