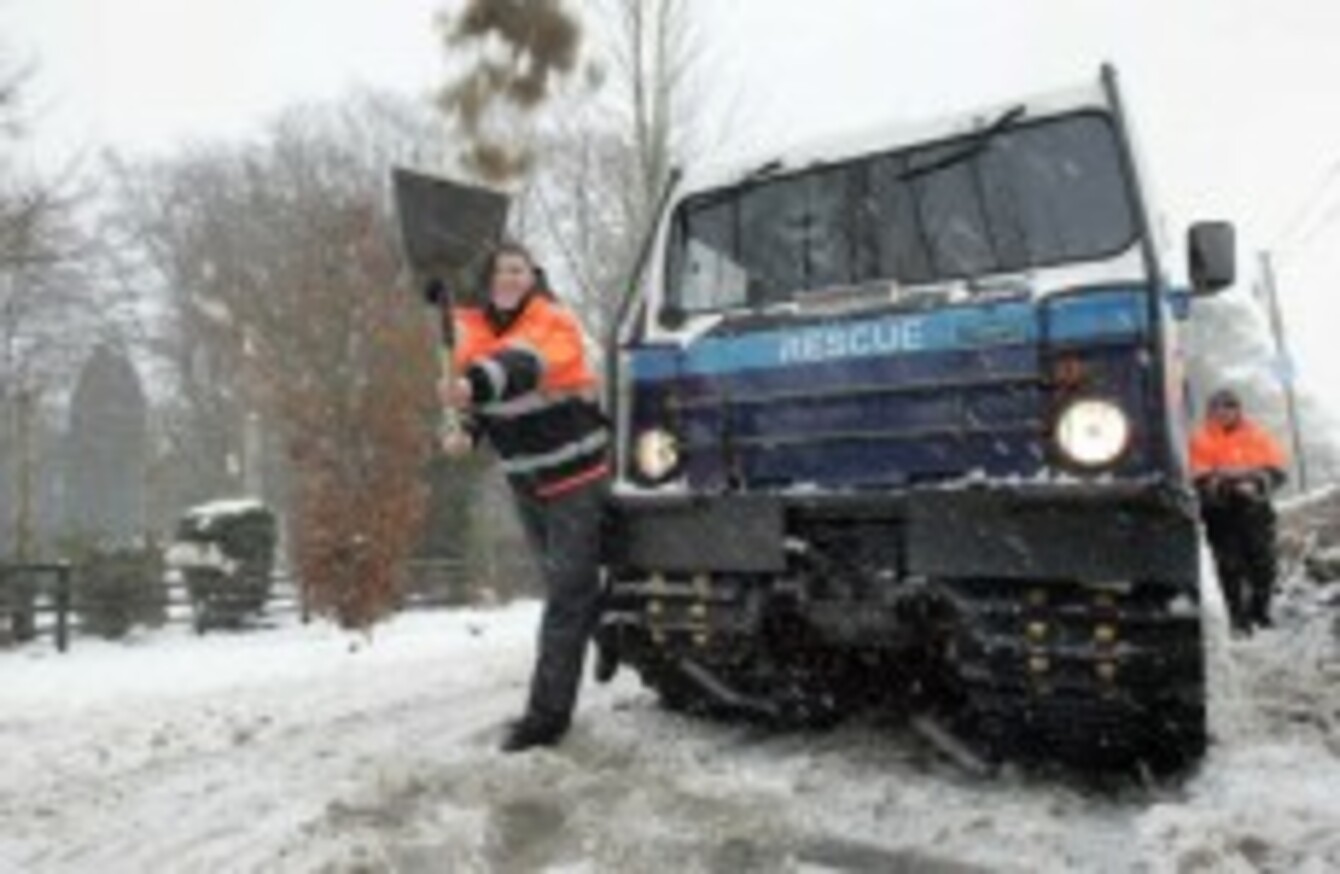 Dublin Civil Defence snow rescue last year.
Image: Mark Stedman/Photocall Ireland
Dublin Civil Defence snow rescue last year.
Image: Mark Stedman/Photocall Ireland
HEADING INTO THE cold winter months, the National Roads Authority has said it has enough salt in stock to cover nearly three normal seasons.
Last year, the NRA ran into trouble as its salt supply was not sufficient to grit the country's roads during the winter's ice and snow spells. However, speaking to TheJournal.ie , NRA communications officer Seán O'Neill said the authorities are prepared this time.
"There is about 80,000 tonnes of salt left over from last January and another 70,000 has been imported to cover national roads. A further 60,000 has been brought in for local and regional roads," he said.
In an average season – which last year was not – about 55,000 tonnes of salt are used. In 2010/2011, about 100,000 tonnes of the gritting substance was needed.
O'Neill said the key objective of the NRA was to ensure the national roads and key regional roads are safe for use. This covers about 50 per cent of all road traffic, explained O'Neill.
Local authorities have already received ample supplies of grit, he said.
"But everyone at the NRA is just hoping for a 'normal' winter," added O'Neill, who last year became known as the Saltman due to his various appearances on national media talking about Irish salt supplies and shipments.
Tomorrow, Dublin City Council is to meet to discuss measures to protect residents and businesses from any harsh conditions this winter.
Who should clear the paths?
A review of the response to last year's severe weather identified the need to consider bye-laws to give responsibility to Dublin city residents and business owners to clear snow from footpaths outside their own premises.
However, the Council's law agent found the matter "too complex" to be dealt with by such means.
There are particular issues around sick or elderly people who could not perform the work themselves and could not afford to contract it out, the agent Terence O'Keeffe explained.
Executive manager Tim O'Sullivan also said that problems could occur if people are on holidays or at work when the snow falls.
These considerations are "less relevant" if the bye-laws are confined to commercial premises.
A recommendation has therefore been given to council to approve the drafting of laws placing responsibility on individual businesses to clear the front of their premises. However, such laws would not be in place until at least mid-2012.
The recommendation will be discussed at Thursday's meeting, as will this year's proposed winter maintenance plan.
According to the proposals, the council will have 688 personnel available to it during any snow or ice events over the next four months.
Other resources include:
An on-call roster of four duty engineers;
26 salt spreaders (nine for roads, 17 for footpaths), one reserve salt spreader, 12 snow ploughs (10 for footpaths), salt-loading machinery and the option of calling hired plant;
Five storage barns which currently hold about 2,350 tonnes of salt;
A further 1,960 tonnes of salt;
The Dublin City BID Company has undertaken to provide resources for the clearance of snow and ice from footways in areas of the city centre.
Staff from the Roads Maintenance Division, Waste Management Services, Parks Department, Drainage Division will work with Dublin City Council contractors to clear snow and ice from footpaths.
The council says that not all of Dublin's 2,500km of pathways can be cleared during an ice and snow event but it will prioritise routes with high concentrations of pedestrian movements, specifically pedestrian crossings, bus stops, rail-stations, shopping areas, schools, hospitals and public buildings.
Stockpiles of salt will be kept at 22 locations across the city so people can manually lay the grit during peak-traffic times when the spreaders do not have access to the roads. About 300kms of Dublin's road network have been identified as "priority" routes.
Practical advice available
Earlier today, Defence Minister Alan Shatter launched the Winter-Ready information campaign.
Advice from Government departments, the Gardaí, the HSE, local authorities and transport providers will now be available on  the website www.winterready.ie.
The campaign aims to provide practical advice on how best to prepare for the winter and to assure the public that "arrangements have been put in place to ensure there will be a coordinated response to severe weather events".
Minister Shatter said that the main message that he wished to convey today is – to be prepared, stay safe and know where to find help if you need it.