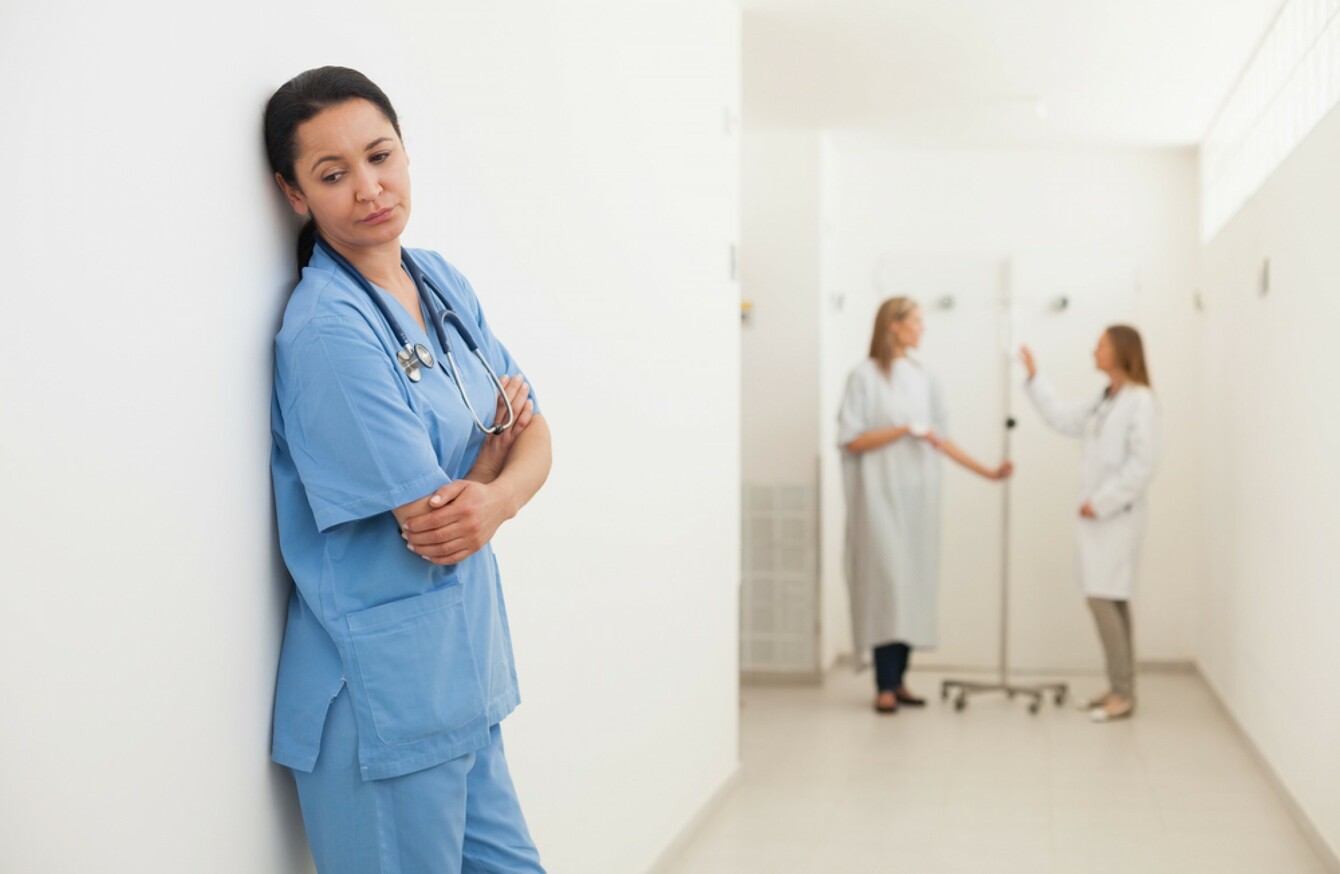 Image: nurse via shutterstock
Image: nurse via shutterstock
OVERCROWDED EMERGENCY ROOMS, staff subjected to physical and verbal abuse, patients on trolleys and beds closing – just some of the things that nurses say are wrong with Ireland's health service.
Nurses are warning that Ireland's health service is in a position of full blown crisis, and that emergency measures around staffing are desperately needed.
"Patient safety is in great jeopardy all of the time," Liam Doran, General Secretary of the Irish Nurses and Midwives Association (INMO), told TheJournal.ie.
"We would say that we have a full-blown crisis with nurses in the country.
We have 3,500 fewer nurses than we had in 2009. The call will go out that we have to close beds – and in a situation where we have patients already on trolleys, that is not good.
Doran was speaking ahead of the INMO's 97th Annual Delegate Conference taking place in Killarney tomorrow, where 350 nurses and midwives will gather to discuss the issues facing them.
Among other motions, the organisation is calling for the pay of nurses and midwives to be restored and a 37-hour working week to be enforced in order to help recruit new members to the workforce (and to keep existing members).
Abuse
Among other issues to be discussed will be the number of workplace assaults as well as calls for a zero tolerance approach to verbal and physical abuse.
"Verbal abuse is regular: being subjected to foul language and being accused of being lazy – that is commonplace," said Doran.
Particularly on a Thursday, Friday, Saturday night in emergency departments, due to alcohol.
Doran said that there is inadequate security in hospitals, and that abuse can be so commonplace without any proper response from management that many nurses have stopped reporting it.
On top of this, Doran said that emergency rooms are at capacity with admitted patients being sent there with no extra staff to cover for them.
"Then the depleted staff in the emergency department have to look after the walking wounded and the admitted patients – and you just can't do that," he said.
Every emergency department has INMO members in it who will clearly say that patients are being failed every day by the lack of staff, the lack of privacy, the lack of access to a bed.
Doran said that the incoming government would need to be fully committed to trying to address the crisis of Ireland's health service.
"We represent a group of health professionals who are tired because of what has happened to them for the last five or six years," he said
Ever lower levels of staff and ever higher levels of work.
The 97th Annual Delegate Conference of the Irish Nurses and Midwives Organisation (INMO) starts tomorrow and will take place for three days at INEC, Killarney, Co Kerry.