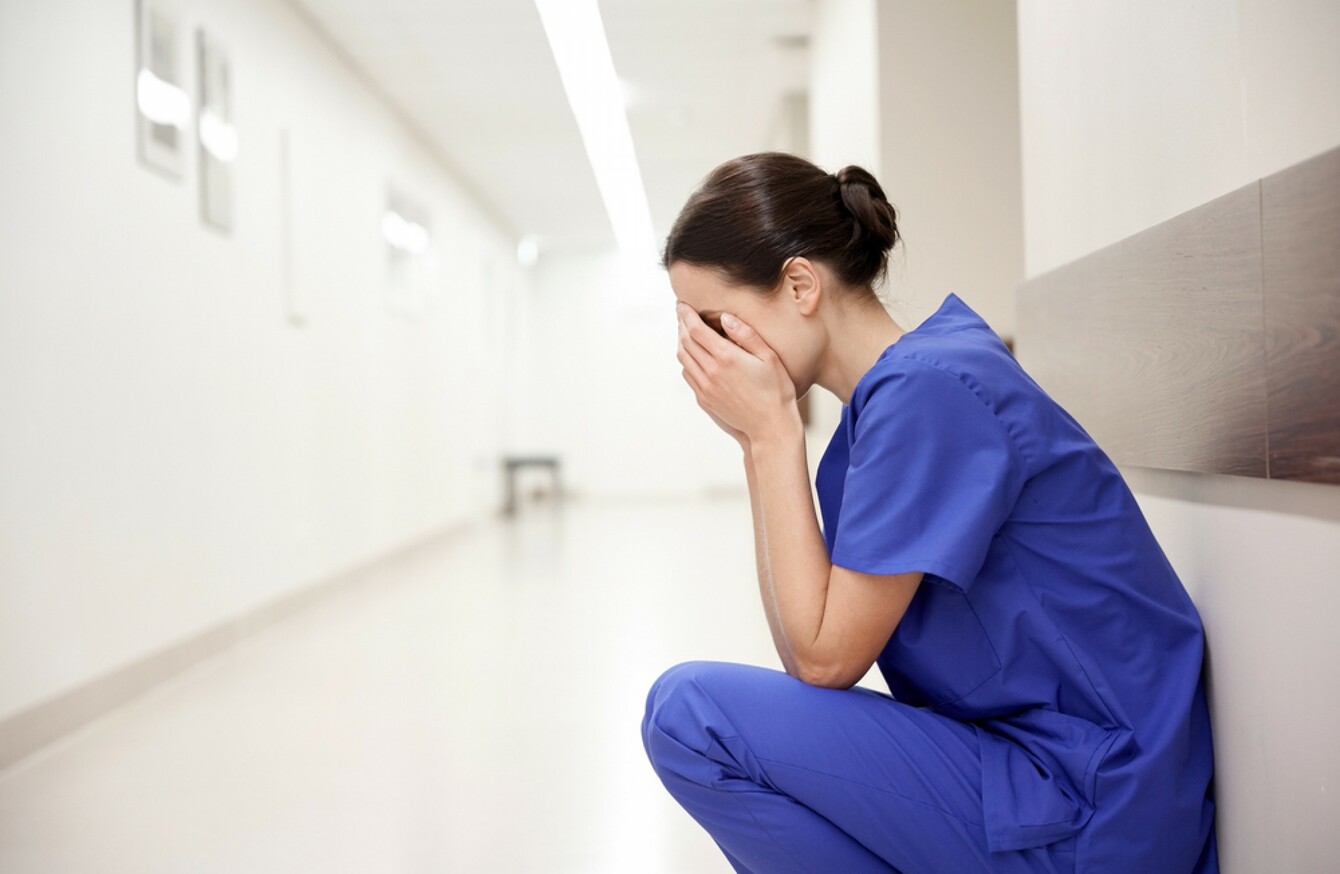 Image: Shutterstock/Syda Productions
Image: Shutterstock/Syda Productions
NURSES WITH YEARS of professional experience are being denied access to work in Ireland during a huge staffing shortage.
Irish nurses and others who trained in America are among those having difficulty accessing employment here, despite the HSE carrying out overseas recruitment drives.
According to HSE annual report figures for 2016, nursing staffing levels have fallen by more than 3,000 since 2007.
The HSE says it's trying to increase the nursing and midwifery workforce by more than 1,200 this year and is appealing to potential candidates both at home and abroad.
However, TheJournal.ie has spoken to a number of nurses who trained in the US and can't get a licence to work in Ireland – even though they have years of professional experience.
The figures
Marvel Williamson lived in Ireland for two years but had to return to the US when she couldn't get her nursing licence. She has a Master's degree in nursing from the US, a PhD, extensive clinical experience and was a nursing school professor and a dean for almost 20 years. She said her qualifications were given no consideration.
The Nursing and Midwifery Board of Ireland (NMBI) is responsible for evaluating overseas applications from nurses and midwives who want to work in Ireland.
Last year saw 2,055 overseas registrations.
Nurses from India made up 30% of this number with 616 registrations processed. The UK was the next most popular with 376 registrations (18%), while the Philippines (289), Romania (155) and Poland (108) came in third, fourth and fifth.
Just nine US nurses were registered last year, despite the NMBI dealing with 101 applications from the States. The NMBI also noted that some of the registrations may be from applications from the previous year.
The NMBI said "the protection of the public is at the heart of the registration system" and that some American applicants do not meet its standards due to the nursing programmes they undertook and how they compare with Irish standards.
However the nurses we spoke to dispute this.
Of the top 100 nursing schools in the 2017 World University Rankings, over a third (34) are in the US – including 16 in the top 50.
The QS World University Rankings 2017 puts four American colleges in the list of the top 10 nursing schools.
Ireland ranked just outside the top 35 with the nursing department in Trinity College Dublin coming in at 36th. The National University in Galway, University College Cork and University College Dublin are all placed outside the top 50.
India does not feature in the rankings which are based upon academic reputation, employer reputation and research impact.
How it works?
One of the requirements for nurses looking to get registered to work in Ireland is that they've completed 1,533 theoretical hours and 2,300 clinical hours. All three women that we spoke to were repeatedly questioned about their clinical and theory hours, even though they have been working as professionals for years.
Dr Williamson said the application process was solely focused on the contents from her basic nursing school curriculum from the 1970s and the NMBI wouldn't take how many years of nursing experience she had after graduation from nursing school into consideration.
The NMBI staff had no understanding of nursing education in the United States and assumed the licensure system was the same as Ireland's.
However, Dr Williamson explained to TheJournal.ie that the number of clinical hours in nursing school in each country are not always comparable.
"In Ireland 'clinical placement' means that a student serves in an apprentice-like role, supplementing nursing staff without a professor on site, whereas in the United States the professor is there at all times providing direct instruction.
"On average, a nursing student in the United States gets around 340 clock hours of 'theoretical' (classroom hours) and 1,000 hours of clinical instruction to earn a bachelor's degree in nursing."
She added, "A nursing graduate in Ireland is granted registration automatically upon completion of the university.
"In the USA we are required to pass a licensure exam after graduation to become registered, but can work as a graduate nurse until the exam is passed, which can take as long as several months.
"NMBI assumed I was illegally practicing without a license during the first few months after I graduated and kept challenging that, even though every nurse in the USA must do the same."
'Sending money to an organisation that has no intention of registering'
Irish woman Mary Taffe encountered the same problems.
She left Ireland for the US in 1989 and has been working as a nurse with a BA Degree in nursing since 2000. She has been employed in a hospital ICU and ER since 2012. Taffe applied to the NMBI in January 2016 but was denied because it said she didn't have the correct theory and clinical hours.
The decision was denied, stating I needed 1,533 theory hours in my education and 2,300 clinical hours. No US nursing programme has that.
"All nursing programmes in the US have to be accredited and are tightly controlled in conjunction with the nursing boards of each state. My college didn't even know how to fill out the documents properly.
Nurses from the US are sending money to an organisation that has no intention of registering them, and this has been going on for years.
Taffe said she spent €425 ($479) for her first application. She was then told time had run out after a year and then paid another €355 ($400) and a further €133 ($150) to appeal.
Williamson had a similar tale.
"The delay in response from NMBI each time I submitted additional documents or communications was extensive — many weeks to months each time," she said.
NMBI had a rule saying that if the process was not completed within a certain period of time, the applicant had to start over. Their delays in responding and constant new requests for more documents were responsible for the time running out. I gave up trying.
Marvel is now working in the US State of Kansas.
Experienced nurse forced to work in Irish nursing home
Another nurse, who is from the US but moved to Ireland with her Irish husband and children, is working in an Irish nursing home because she can't get accredited.
Marie* has a bachelor's degrees in sociology and nursing. She first applied for her nursing license from the NMBI more than two years ago. She said she made numerous calls but was unable to reach anyone.
I'm not sure that I can put into words the frustrations and roller coaster of emotions that the board has put us through these last two years. I have countless unanswered emails and a ridiculous amount of unanswered calls.
Marie was denied because of the difference in clinical hours but said this was not pointed out to her beforehand.
This is what kills me. This is a known issue. I have been in this country for two years sending in countless documents which they basically ask for piecemeal then wait three months and ask you for something else.
However, the NMBI says that incomplete applications by applicants is the issue.
"Incomplete applications remain an ongoing challenge for the board, with applicants in this respect all contacted," it told TheJournal.ie.
After appealing the decision at a cost of €150, Marie was told she lacked 400 supervised clinical hours.
She worked as a nurse for nine years in the US and trained at a high-tech urban academic hospital, becoming a wound and ostomy clinical specialist. However, none of that could be used toward the 400 hours.
Marie was recommended for the adaptation program but there were no placements available so she is now working in a nursing home for two years as that is the only way she can get into a course.
"I have a pretty good set of skills… I want to be able to use those skills to help people in my community but I am being told I have to contract to a nursing home or agency to get my registration… No one told me this when I applied.
You have highly trained and experienced American nurses sitting around this country unable to work, while you have Irish nurses drowning looking for more staff.
A spokesperson for the NMBI said, "Unfortunately some American applicants do not meet NMBI standards and requirements in terms of the nursing programmes they undertook when compared to Irish standards and requirements.
"Many programmes fall short of the hours required for registration with NMBI, resulting in either a period of adaptation/aptitude test or a refusal of registration."
US nurse numbers 
Of the 247 US applications received since 2013, less than 10% (24) were registered and 77 were refused.
TheJournal.ie asked the NMBI what the number one reason for US applications being refused registration is, but none was given.
Instead the NMBI said, "Each application is individually assessed on a case-by-case basis to include a full review of each applicant's education and training programmes.
"This review includes all pre-registration and post-registration nursing education programmes which are compared to Irish standards of education and training for nurses. The protection of the public is at the heart of the registration system."
The following table shows the number of US applications registered and refused US since 2013:
For a larger image of the above table, click here. 
When asked about the large gap between the number of applications and numbers of people registered or refused, an NMBI spokesperson said: "Those applicants who aren't registered or refused and whose applications are still in the system remain in a process of assessment which can result in a period of adaptation/aptitude test, or a requirement for them to submit further information/documents as part of a full, completed application.
"A decision letter recommending adaptation/aptitude test is valid for 12 months after the date of decision. If the process has not been completed and NMBI has not had any contact from the applicant for six months, the file is closed."
Recruitment drives
The new figures emerge as the HSE is sending staff on overseas recruitment drives to try to recruit nurses.
Nursing and midwifery numbers at the end of April this year stood at 36,549 whole-time equivalents.
The HSE has committed to increasing the nursing and midwifery workforce to deliver 1,208 additional permanent posts this year.
Just last month Health Minister Simon Harris described how additional funding is being provided to achieve this.
He described how "a broad range of retention measures" are being implemented. He said the HSE recently went to Glasgow to a nurse recruitment fair where it met 27 Irish nurses who are working in Scotland.
It is right, and indeed moral, that as a country we would go to some of the destinations where many of our best and brightest left to go to during the economic recession, meet them, make it easier for them to come home and let them know about the opportunities. Certainly, we are getting a positive response in relation to that.
The recruitment measures include careers days, HSE attendance at national and international recruitment fairs and a communication from the national director for HR to all nursing and midwifery graduates telling them how to apply for a full-time permanent post in the Irish health service.
Harris added that key retention measures include enhanced maternity leave cover, a career break scheme and offering nurses and midwives improved educational opportunities and career pathways.
*Marie is not the name of the nurse we spoke to, but she wants to remain anonymous.