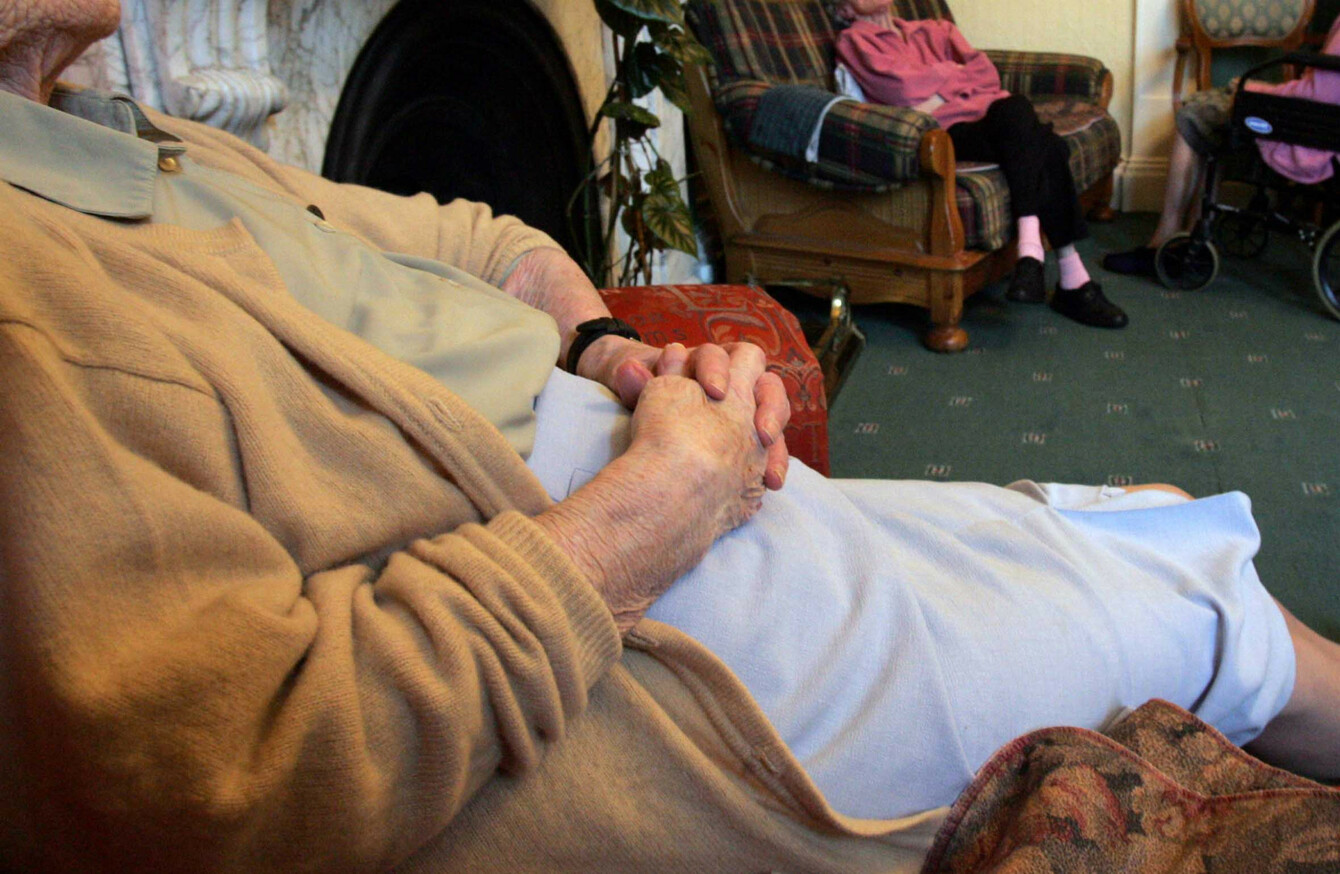 Image: RollingNews.ie
Image: RollingNews.ie
DIGNITY. RESPECT. INDEPENDENCE. These are the top priorities for older people living in Irish nursing homes, according to a major research study which, for the first time, analysed the lived experiences of residents.
The two-year study by Ulster University was commissioned by Nursing Homes Ireland and has highlighted the desire of nursing home residents to be involved in the decisions about their longterm care arrangements.
Researchers spoke to a number of staff and resident focus groups as part of the study and interviewed a further 92 people – 48 residents and 44 staff to talk about their concept of 'home' and their experiences in the care setting.
Authors said residents provided deeply personal accounts of their move into the nursing home environment, with many telling them they needed more help or were unable to cope at home by themselves.
"I was living with my sister who was born in 1919 and died at the age of 91, and I wasn't myself, little nervous and upset about different things, so they thought it would be better to come to a nursing home so I came here," one resident told them.
Another said:
I was living at home and I fell. I had two broken shoulders and I went into hospital…I had a choice of going home or go into a nursing home. My family wanted me to go to live with them…but I decided it wasn't fair to any of them so I came here.
One woman said her family are all gone from home and her husband has passed away. She had a fall and when she returned from hospital she "couldn't walk very well and could not do very much". She became nervous and depressed.
"My daughter told me about this place and I'm happy, thank God," she told researchers.
Decisions
In some cases, it appeared the residents had not been involved in the decision-making process.
"I had been in hospital after a bad fall at home, was in hospital for months. They (my sister) wouldn't let me come back to my own home. She told me it would only be for four weeks," one resident who took part in the study said.
The concept of dignity and respect was central for residents in this study and many spoke about the importance of staff truly knowing them as a person.
"Staff should be very proud of themselves, all so patient. Sometimes an individual can be a little bit trying, but I have never seen them lose their temper; it's a miracle sometimes," one resident said.
Another said:
Yes, [name] really knows me, my ups and downs. I don't even have to speak, she just knows. But then she's been at it a long time and has a sixth sense, very intuitive and caring. I feel her love and compassion for me as a person not just one of her residents. She can see past my crippled body in this wheelchair. Sometimes when I am just pondering the day, she'll just come and sit with me, hold my hand, share her experiences over a cuppa and a bit of home-made scone bread. Days like these, I can survive my pain.
The study found many residents considered the care centres as 'a home from home' and spoke positively about their lives after they moved out of their own homes.
Not only is this our home, our families are made so welcome when they come, it's like it's their home as well. My sister has her dogs with her and nobody tells her to take them out.
Well I lived alone and I see more people here during the day than many a day at home and I like doing my own thing and I'm allowed to do it.
First of all, the surroundings. Inside you have the warmth of the rooms and the care that the girls give us. And a doctor coming in every week and a hairdresser every week, chiropodist when we want one. What more could you want? I didn't have this kind of caring in my own home.
#Open journalism No news is bad news Support The Journal

Your contributions will help us continue to deliver the stories that are important to you

Support us now
Staff turnover
However, some suggested ways of improving their experience with one citing a "lack of activities" which they said was "linked to the turnover of staff".
"Staff are like our family, you grow to care about them and you love them and then they're gone," they added.
Bingo, the little things we used to do and we had a book club and we came down to the back-sitting room and had singing and that, not now, so many staff have left. Sad really because it affects us. Now it's my iPad – I use my iPad all day.
Ulster University's Professor Assumpta Ryan, report co-author, said the report found residents wanted to be involved in decisions about their long-term care arrangements and particularly valued the safety and security of the nursing home environment where they had regular contact with other people.
"This fulfilled a need that many felt had not been previously met when they lived alone in their own homes. Others took a more philosophical perspective of their current life trajectory, demonstrating a capacity for adaptation and change," she said.
"The residents portrayed a picture that emphasised that they were making the most of their later life, embracing their new relationships both with staff and residents and feeling a sense of belonging in their new nursing home community.
Make residents central to decision-making
The report has made a number of recommendations, which include:
The focus should be on creating a new home, rather than replacing the residents' interpretations of home as experienced before admission.
There is an immediate need for effective systems to ensure greater communication and cooperation between HSE staff and nursing.
Fair Deal placement officers should ensure residents are central to the decision-making process about their choice of nursing home.
Discussions about moving to nursing homes should not be deferred until the older person becomes ill, but should comprise part of regular contact with GPs, public health nurses and other stakeholders.
The creation of a homely environment depends on staff knowing the person, but turnover rates can impact on this.
Residents should be more actively involved in the inspection process.
Commenting on the publication of the report, Minister of State for Older People Jim Daly said it is fundamentally important that residents' rights and dignity are respected and valued and that their "voice is loudly heard, listened to and acted upon".