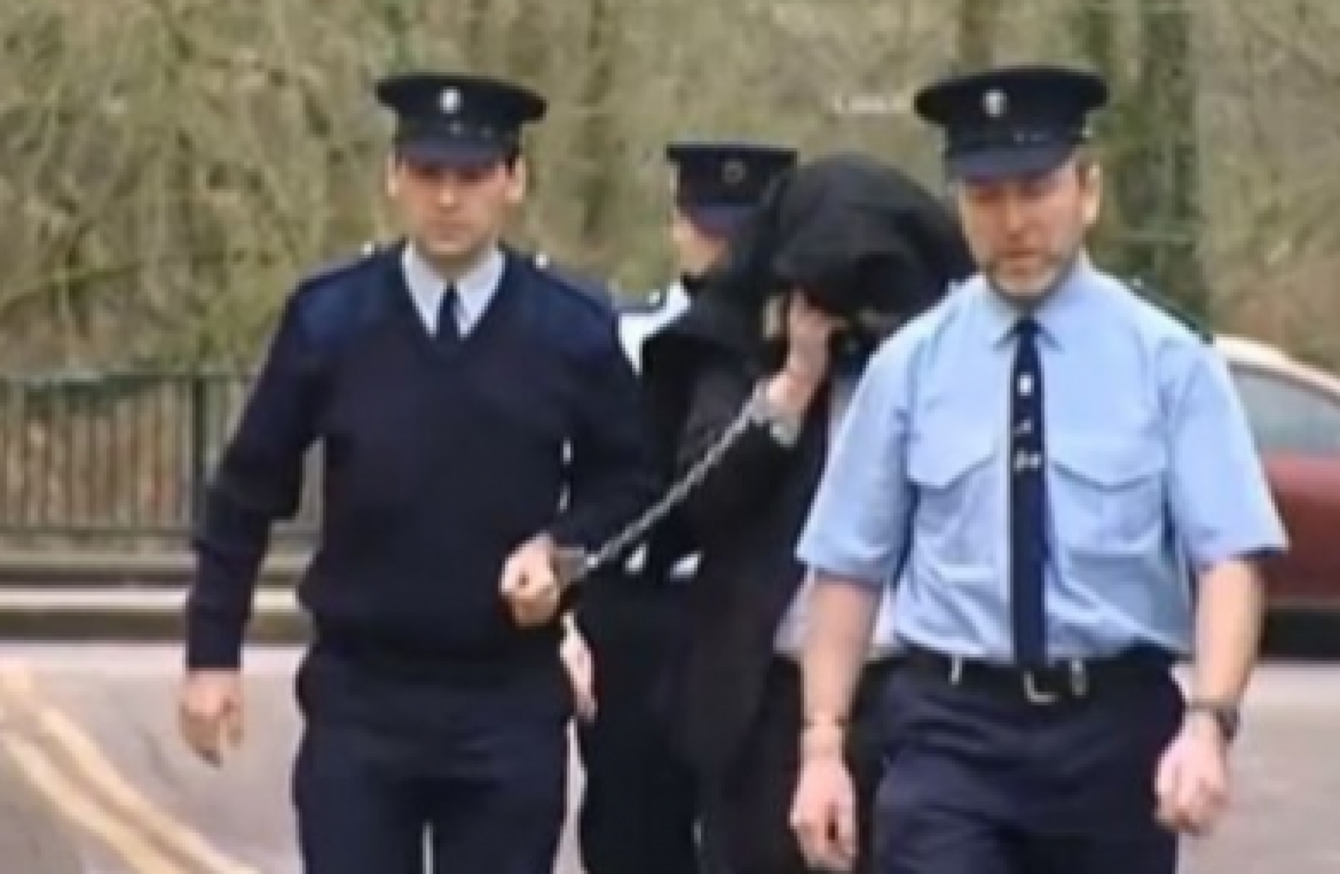 McGrath being led away from court during the murder case of Sylvia Roche Kelly.
Image: RTÉ Screengrab
McGrath being led away from court during the murder case of Sylvia Roche Kelly.
Image: RTÉ Screengrab
THE GOVERNMENT SAYS it does not know when it will publish the completed report into allegations made by garda whistleblower Maurice McCabe.
The investigation was commissioned by the previous administration and while some of its contents have been leaked, it has not yet been published.
Among other things, RTÉ News reports that the O'Higgins commission found  "not a scintilla of evidence" to support an allegation of corruption made against former garda commissioner Martin Callinan.
Leaked details of the report's findings into alleged malpractice in the Cavan/Monaghan division of An Garda Síochána have led to calls for it to be made public.
This afternoon, Fianna Fáil's Niall Collins TD said it was unacceptable that Dáil deputies have yet to see the report a fortnight after it was delivered to Justice Minister Frances Fitzgerald.
"It's not good enough that the contents of such an important report are leading news bulletins while elected representatives have yet to see it. I would urge the minister to publish the report as soon as possible," he said.
Asked about the status of the report on RTÉ's News at One programme this afternoon, government Chief Whip Regina Doherty said that she doesn't know when its contents will be officially published.
"We don't know, what we do know is that it was referred to the Attorney General under Section 38 of the Investigations Act and that she and her team are ascertaining whether the publication of it would have any impact on criminal proceedings," Doherty said.
The minister is in communication and consultation with the Attorney General in order to arrange for the publication, but on when this will be I don't know yet.
Sylvia Roche-Kelly 
The 2007 murder of Sylvia Roche Kelly by Jerry McGrath is among the most serious of the cases of alleged mismanagement the commission investigated.
The 33-year-old woman was murdered by McGrath while he was on bail for a number of other serious crimes and it's been suggested that her death could have been prevented had his bail been opposed or had he been charged with more serious offences.
Speaking to RTÉ's Seán O'Rourke programme earlier today, her widowed husband Lorcan Roche Kelly said that he thinks the investigation needed to be broader.
"The thing that disappoints me about the commission is that it looked at what happened, it didn't look to what happened afterwards," he said.
My biggest issue is with the obfuscation and what felt like a cover-up by the gardaí afterwards. It's taken nine years to get to where we are now, to get to this report, and the reason we've got to this point is because the gardai have been incredibly uncooperative throughout this whole process.