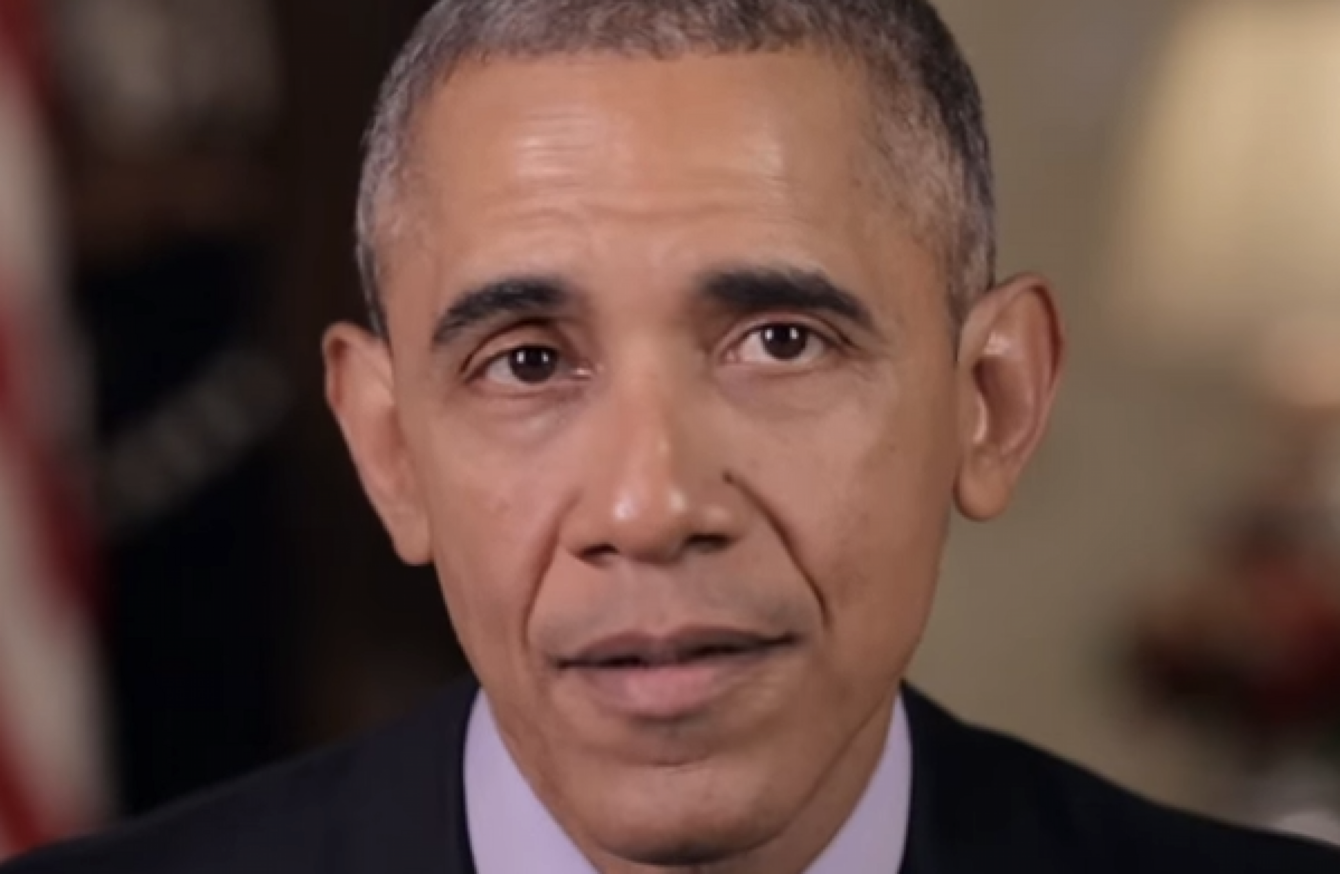 Image: Screengrab/YouTube.com
Image: Screengrab/YouTube.com
BARACK OBAMA HAS vowed to make tackling gun violence a priority during his last year in office.
The US President discussed the issue in his first weekly address of 2016.
He described the governmental inaction on the "epidemic of gun violence" as "unfinished business".
"Last month, we remembered the third anniversary of Newtown. This Friday, I'll be thinking about my friend Gabby Giffords, five years into her recovery from the shooting in Tucson. And all across America, survivors of gun violence and those who lost a child or a parent or a spouse to gun violence are forced to mark such awful anniversaries every single day.
"And yet Congress still hasn't done anything to prevent what happened to them from happening to other families. Three years ago, a bipartisan, commonsense bill would have required background checks for virtually everyone who buys a gun.
"Keep in mind, this policy was supported by some 90% of the American people. It was supported by a majority of NRA households. But the gun lobby mobilized against it. And the Senate blocked it.
Since then, tens of thousands of our fellow Americans have been mowed down by gun violence. Tens of thousands. Each time, we're told that commonsense reforms like background checks might not have stopped the last massacre, or the one before that, so we shouldn't do anything.
We know that we can't stop every act of violence. But what if we tried to stop even one? What if Congress did something – anything – to protect our kids from gun violence?
"A few months ago, I directed my team at the White House to look into any new actions I can take to help reduce gun violence. And on Monday I'll meet with our Attorney General, Loretta Lynch, to discuss our options. Because I get too many letters from parents, and teachers and kids to sit around and do nothing.
"I get letters from responsible gun owners who grieve with us every time these tragedies happen, who share my belief that the Second Amendment guarantees a right to bear arms, and who share my belief we can protect that right while keeping an irresponsible, dangerous few from inflicting harm on a massive scale."
Source: The White House/YouTube
The Associated Press has reported that any move to introduce stricter gun controls would be "staunchly opposed by Republicans and likely to spark a legal fight".
State of the Union address 
After a two-week Christmas holiday in his native Hawaii, Obama is now focusing on his State of the Union address on 12 January.
The address to Congress is a high-profile opportunity for the president to try to reassure the public about his national security stewardship after the terrorism attacks in Paris and San Bernardino, California. Advisers say Obama will also look for other opportunities to keep security issues at the forefront as he tries to ease Americans' concerns.
"Over the coming weeks and months, the American people should expect the president to continue to communicate directly about his commitment to fighting terrorism and protecting the homeland," spokesman Eric Schultz said.
#Open journalism No news is bad news Support The Journal

Your contributions will help us continue to deliver the stories that are important to you

Support us now
Republicans 
Congressional Republicans have outlined a competing agenda for January, saying they'll spend the first days of 2016 taking another crack at eliminating keys parts of the president's health insurance law and ending federal funding for Planned Parenthood. The legislation is unlikely to become law, but it is popular with the GOP base in an election year.
The debate over Obama's gun actions will quickly spill over into the presidential campaign. Democratic front-runner Hillary Clinton has already called for more aggressive executive actions on guns, while Republican candidates largely oppose efforts to expand background checks or take other steps that curb access to guns.
Republican presidential candidate Donald Trump, who is against stricter gun controls, weighed in on Clinton's comments today, tweeting:
- Contains reporting from AP