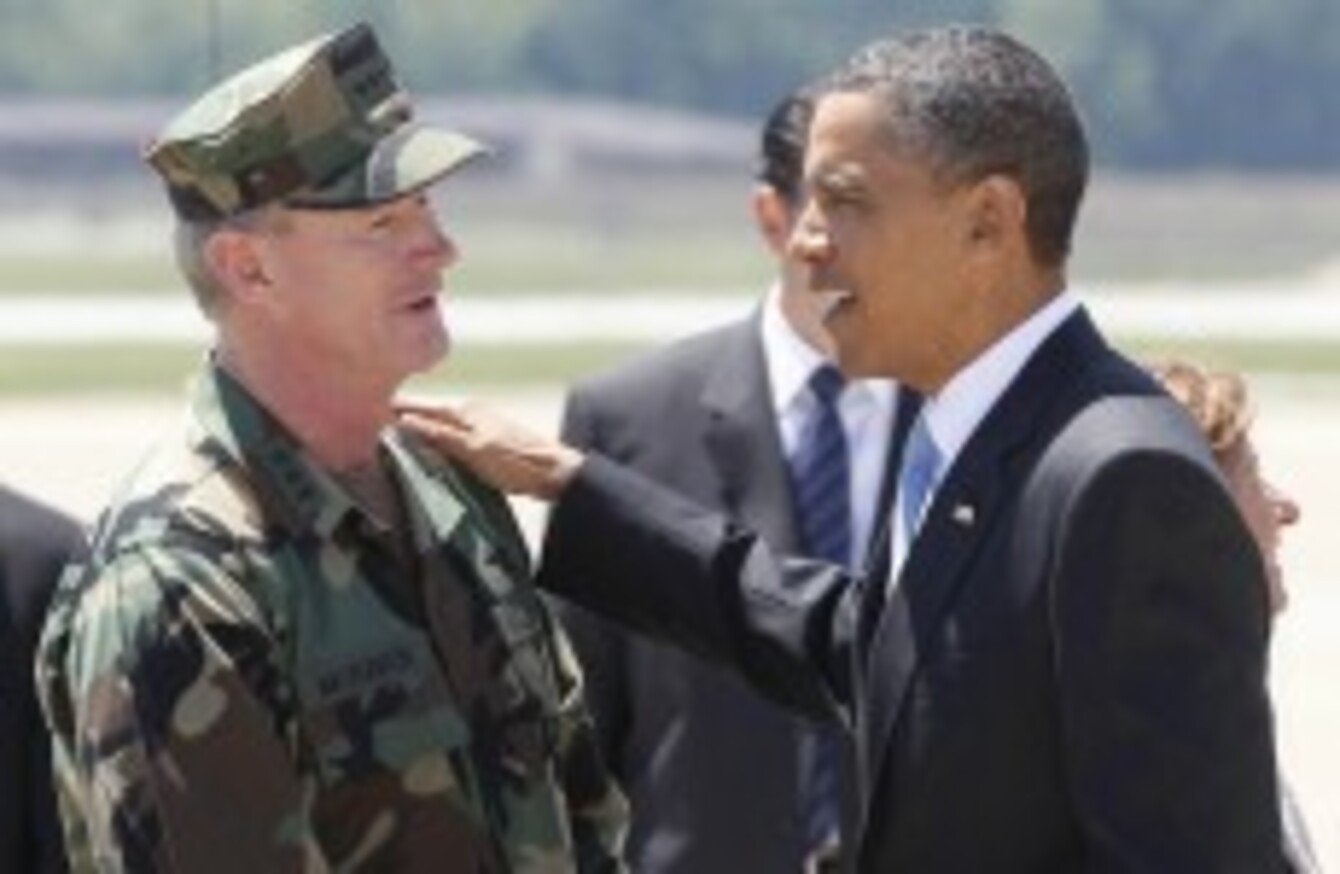 PreBarack Obama talks with US Navy Vice Admiral William H. McRaven who had operational control of the mission to get Bin Laden
Image: Charles Dharapak/AP/Press Association Images
PreBarack Obama talks with US Navy Vice Admiral William H. McRaven who had operational control of the mission to get Bin Laden
Image: Charles Dharapak/AP/Press Association Images
US PRESIDENT BARACK Obama met with the commandos who staged the raid that killed Osama bin Laden last Sunday, thanking them on behalf of the American people for a "job well done".
Obama and his vice president Joe Biden spoke with helicopter pilots and Navy SEALS at Fort Campbell in the state of Kentucky yesterday and awarded the units involved a Presidential Unit Citation, reports Bloomberg.
The president said:
Thanks to the incredible skill and courage of countless individuals, intelligence, military, over many years, the terrorist leader who struck our nation on 9/11 will never threaten America again.
It had already been reported that the highly secretive operations team would be honoured in a way only such a group can be – in private.
Meanwhile, it is being reported that bin Laden could have been caught much sooner if suspects linked to terrorism in US custody had been interrogated properly and not tortured as some allegedly had been.
Experts have told the Huffington Post that several detainees in US custody had key information pertaining to the Al Qaeda courier who eventually led the US to bin Laden's compound in Pakistan, but they may have withheld this information as they were tortured.
One US Air Force interrogator told the Huffington Post:
I think that without a doubt, torture and enhanced interrogation techniques slowed down the hunt for bin Laden.
This contradicts statements in the immediate aftermath of bin Laden's death that enhanced interrogation techniques had directly led to the information which would be crucial in tracking down and killing bin Laden.
Earlier this week, former US defence secretary Donald Rumsfeld told WMAL Radio in the US that such interrogation techniques were critical in the process.
Elsewhere, Americans are expected to get a glimpse of bin Laden's daily life with the disclosure of home videos later today.
The videos show him strolling around his secret compound along with propaganda tapes that have never been made public.
They are among the wealth of information collected during the US raid that killed bin Laden and four others.
The information suggests bin Laden played a strong role in planning and directing attacks by Al Qaeda and its affiliates in Yemen and Somalia, two senior US officials told AP.
- additional reporting from AP