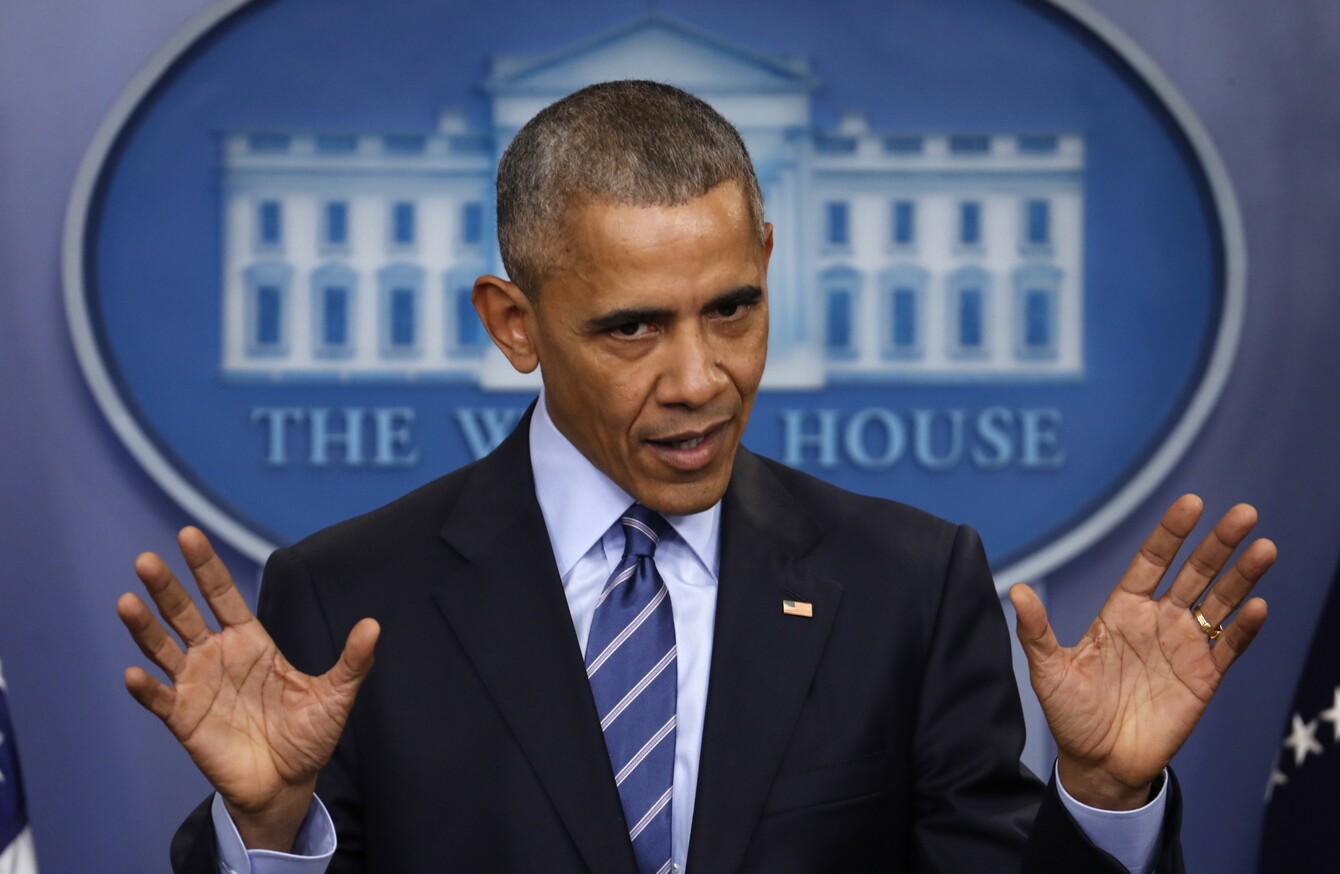 Image: Pablo Martinez Monsivais AP/Press Association Images
Image: Pablo Martinez Monsivais AP/Press Association Images
Updated 9.30pm
THE OBAMA ADMINISTRATION has hit back at Russia, amid claims that the country tried to interfere in the recent US presidential election, by expelling 35 diplomats and closing two Russian compounds in the country.
"All Americans should be alarmed by Russia's actions," President Barack Obama said.
In response, the Kremlin has said that it "categorically" rejects "unfounded" US vote hacking claims.
Russia has pledged "adequate reprisals" over the US sanctions and accused Washington of trying to destroy ties.
The United States wants to "definitively destroy US-Russia relations which have already reached a low," Kremlin spokesman Dmitry Peskov said. He added that Russia will "react in an adequate manner based on the principles of reciprocity".
It is understood that the diplomats have been given 72 hours to leave the United States.
The ejections form part of a series of wider sanctions against Russia, following the alleged hack ahead of the US presidential election.
Obama said that the sanctions imposed come as a response to Russia's efforts to harm US interests.
"I have ordered a number of actions in response to the Russian government's aggressive harassment of US officials and cyber operations aimed at the US election," Obama said.
"These actions follow repeated private and public warnings that we have issued to the Russian government, and are a necessary and appropriate response to efforts to harm US interests in violation of established international norms of behavior."
Washington accuses the Russian military's Main Intelligence Directorate (GRU) of hacking information with the intent to interfere with the US election — and says the Federal Security Service (FSB) has helped.
It will face sanctions, along with four individual GRU officers including agency chief Igor Valentinovich Korobov and three other entities.
In addition, the US Treasury slapped sanctions on two individuals, Evgeniy Mikhailovich Bogachev and Aleksey Alekseyevich Belan, for "involvement in malicious cyber-enabled activities."
The sanctions freeze any assets they may have in the United States and blocks US businesses from doing business with them.
A total of 35 Russian intelligence operatives based at the Russian embassy in Washington and the consulate in San Francisco have been declared "persona non grata" and ordered to leave the country within 72 hours.
The US government is also declassifying technical information on Russian cyber activity to help companies defend against future attacks.
"These actions are not the sum total of our response to Russia's aggressive activities. We will continue to take a variety of actions at a time and place of our choosing, some of which will not be publicised," Obama said.
"The United States and friends and allies around the world must work together to oppose Russia's efforts to undermine established international norms of behavior, and interfere with democratic governance."
The foreign affairs committee chairman of the Russian parliament's upper chamber says Russia will see what President-elect Donald Trump has to say about US. sanctions before stating retaliatory measures of its own.
Konstantin Kosachev tells the Interfax news agency that Russia "needs to consider the circumstances of the transition period and a possible reaction of the US president-elect."
It was claimed in recent weeks that Russian president Vladimir Putin was directly involved in the hacking of emails of US persons and institutions as a way to sway the election in favor of Republican Donald Trump.
Trump has previously dismissed the idea that Russia intervened to help him win the election as "ridiculous".
With reporting from AFP and Associated Press.