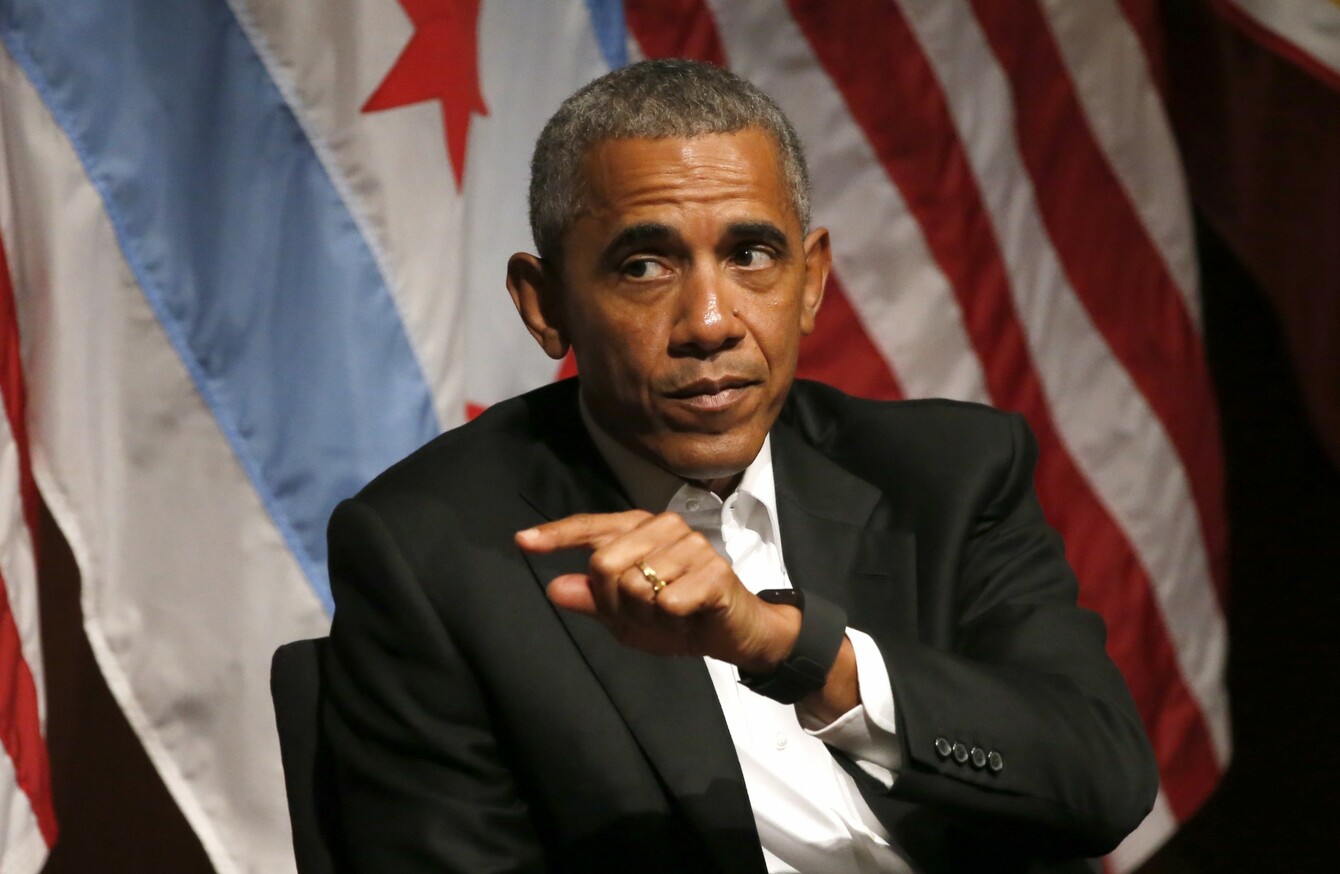 Image: Charles Rex Arbogast
Image: Charles Rex Arbogast
IMMIGRANTS IN THE US are experiencing treatment similar to that endured by the Irish in America in the wake of the Famine, Barack Obama has said.
The former US President, making a return to the public spotlight, said that America's immigration system had always been "a little bit haphazard".
After three months off, Obama broke his silence in his adopted hometown of Chicago, speaking to high school and college students about the need for greater civic engagement.
He said he was "incredibly optimistic" about the future, and that problems facing America could be solved.
He abstained from any substantive commentary on how Donald Trump is doing, in keeping with presidential protocol which dictates that past residents of the White House do not step on the toes of the current occupant.
"I always used to say in crowds where folks didn't want to hear it, it's not like everyone in Ellis Island had all their papers straight," Obama said, as he addressed immigration in a Q&A session.
The truth is the history of our immigration system has always been a little bit haphazard a little bit loose, a little bit determined by … did the country want more workers? Economic imperatives.
Sometimes it was driven by biases, he told the crowd.
If you look at what was said about Irish when they were coming here in the wake of the potato famine. They talked about them the same way that you hear people talking about immigrants today.
It was important for everybody to be able to see immigrants as people "not as some other," the former President said.
He told the crowd that people who were advocates on behalf of immigrants also had to have some respect for people who "you may be able to win over if you can argue that we're going to create an immigration system that is fair but still allows people to come here and achieve some sort of opportunity".
Said Obama:
It's important for those who support, like I do, immigration reform and pathways to citizenship for folks who are here not to assume that anybody who has problems with the immigration system is automatically racist.
Until yesterday, Trump's predecessor had not given a public speech or an interview since leaving the White House on 20 January.
He has tweeted a few times and issued a few statements through a spokesman, notably to defend his signature domestic policy achievement, health care reform – which Trump's Republicans are now hoping to dismantle.
Obama also spoke up when his successor accused him of personally ordering the wiretapping of Trump Tower during the 2016 presidential campaign.
But for now, he has abstained from any detailed commentary on the Trump presidency.
That silence comes in the face of accusations by Trump on everything from Syria, with the Republican all but accusing Obama of bearing responsibility for chemical weapons attacks by the Damascus regime, to gang violence in America.
With reporting from © AFP 2017