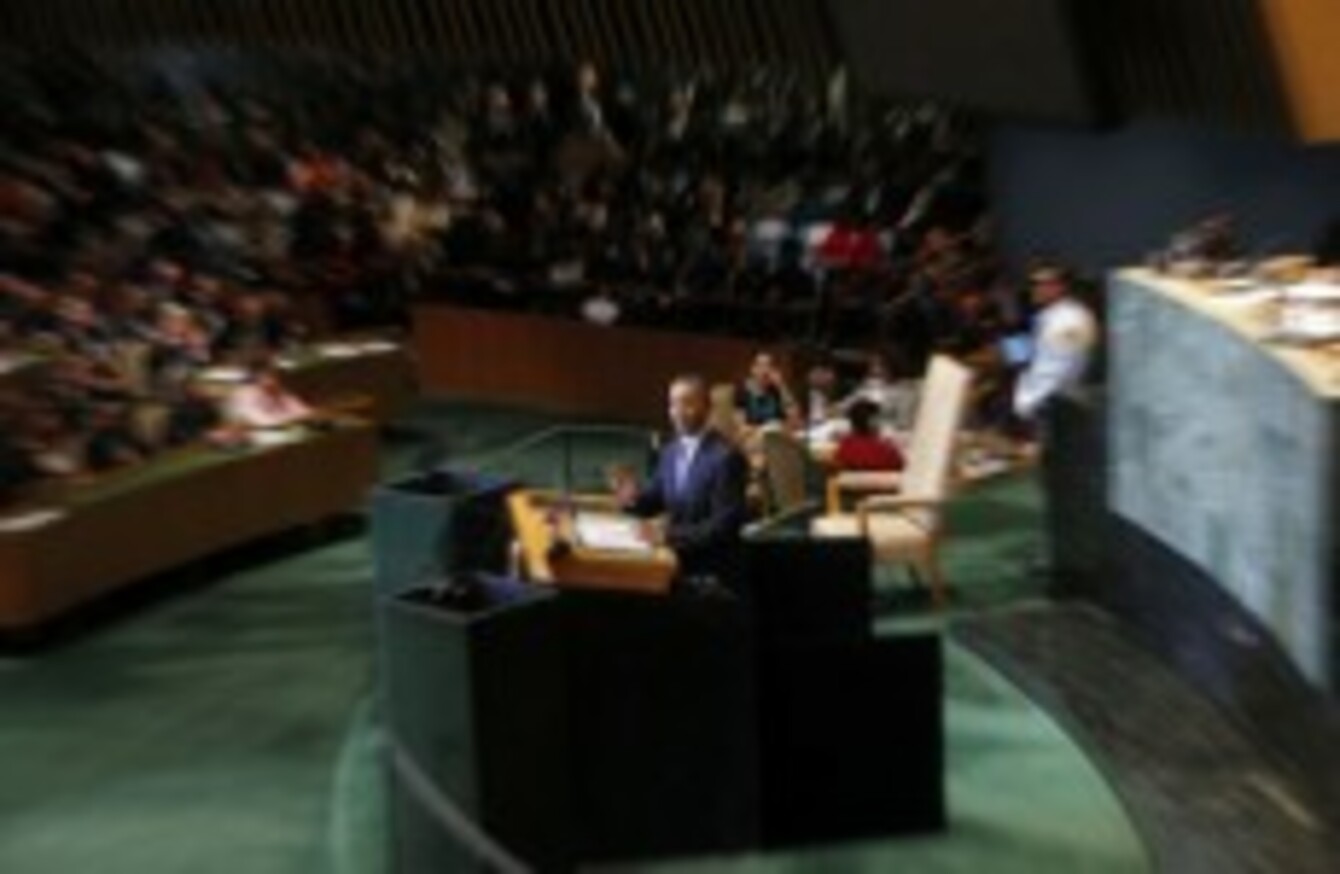 Obama during his address.
Image: Jason DeCrow/AP/Press Association Images
Obama during his address.
Image: Jason DeCrow/AP/Press Association Images
ADDRESSING THE UNITED Nations General Assembly today, US President Barack Obama said that peace in the Middle East will not come through UN statements and resolutions.
In declaring his opposition to Palestine's bid for statehood, he said there could be no shortcut to peace between Israel and the Palestinians.
"Peace will not come through statements and resolutions at the UN – if it were that easy, it would have been accomplished by now," he told delegates at the Assembly.
"Ultimately, it is Israelis and Palestinians who must live side by side. Ultimately, it is Israelis and Palestinians – not us – who must reach agreement on the issues that divide them."
According to the New York Times, Obama called on the international community to push Israel and Palestine's leaders to discuss the four "final status" issues, including the borders of a Palestinian state, security for Israel, the status of Palestinian refugees who left – or were forced to leave – their homes in Israel and possibilities for the capital Jerusalem.
His speech blamed a lack of movement toward peace on both Israel and Palestine.
"Despite extensive efforts by America and others, the parties have not bridged their differences."
During the 47-minute speech, he said that while Palestinians have a right to their own state, Israelis also have a right to security.
There is a need to pursue a two-state solution with a secure Israel next to an independent Palestine."
"The deadlock will only be broken when each side learns to stand in each others shoes," he added.
Behind-the-scenes
Obama and his administration have been working furiously to try avoid a diplomatic crisis for US policy in the Middle East as Palestinian President Mahmoud Abbas made clear his intention to deliver a formal letter of intent concerning a request for full Palestinian membership and statehood to the UN Security Council today.
The US President had been working behind-the-scenes to try and persuade Abbas to drop the bid.
His administration will veto any statehood plans but, in his speech, Obama stopped short of directly calling on Palestine to halt or downgrade their application.
Palestine's bid for statehood has been supported by some of America's other allies in the Arab world but the US has argued that only direct peace negotiations, and not a UN vote, will allow for Palestinians to actually benefit.
As American influence on the Arab world hangs in the balance, Obama called for little in his speech. However, he is due to hold talks with both Israeli and Palestinian leaders later today and it is understood he will try and persuade them to hold direct peace talks.
"Peace depends upon compromise among peoples who must live together long after our speeches are over, and our votes have been counted," Obama said. "That is the path to a Palestinian state."
Priority
Today's speech – as it corresponded with the statehood bid – was a major headache for a president who had previously declared his commitment to making peace between Israel and Palestine a priority during his time in office.
Last year, Obama signalled that the path could be cleared for full Palestinian membership.
"We should reach for what's best within ourselves," he said in September at the 2010 UN General Assembly. "If we do, when we come back here next year, we can have an agreement that will lead to a new member of the United Nations."
However, during today's speech, Abbas looked perplexed by Obama's new words, putting his hands to his face on numerous occasions:
Shortcuts
After the address, Israel's Prime Minister Benjamin Netanyahu echoed Obama's sentiments that there could be no shortcuts in the process.
Ahead of a meeting with the US President, Netanyahu condemned the Palestinian's move for statehood, stating it is an attempt to "shortcut this process" and not to "negotiate peace".
"I think the Palestinians want to achieve a state in the international community," he said, "but they're not prepared yet to give peace to Israel in return."
-Additional reporting by AP