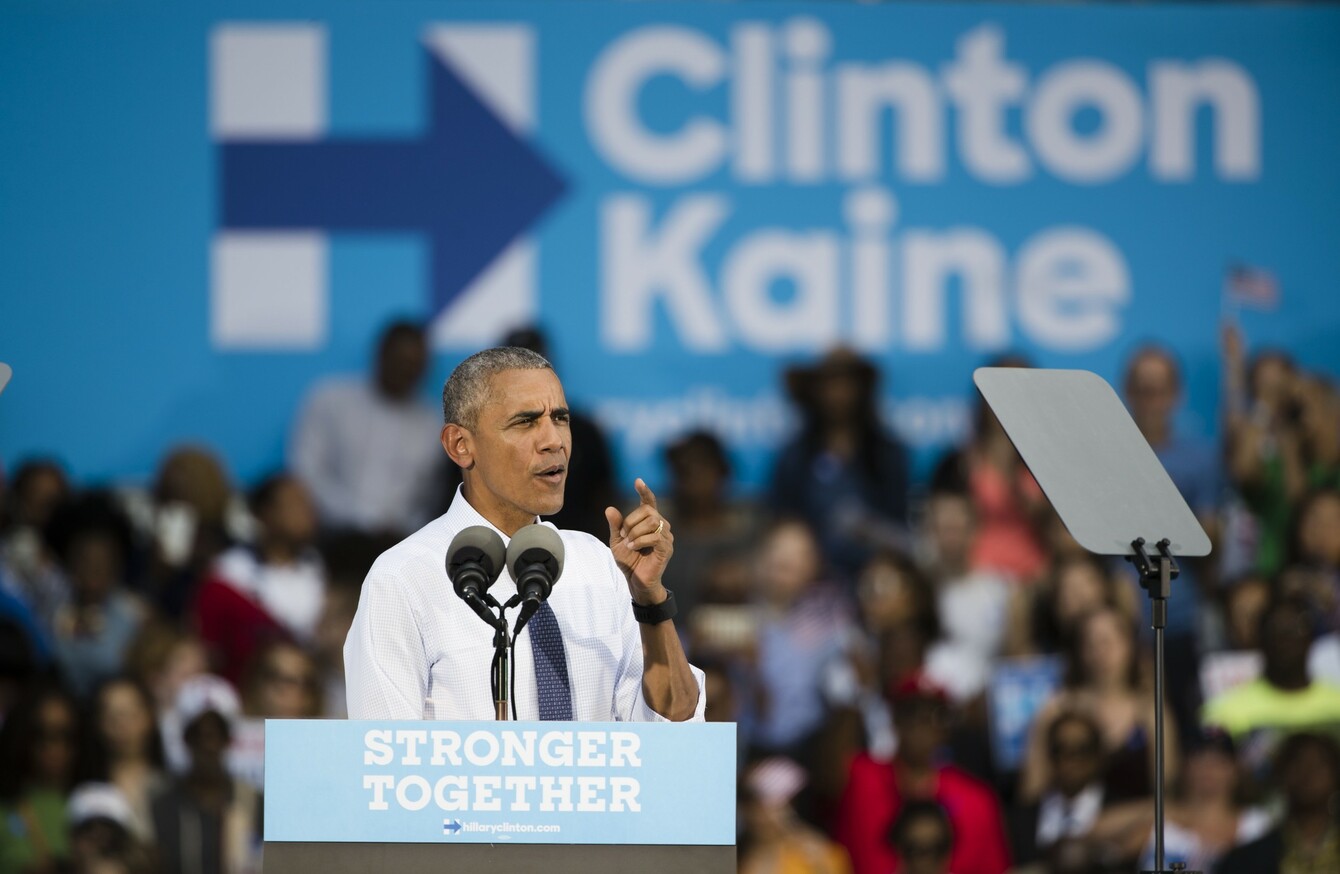 Obama: "This is not me just going through the motions here. I really, really, really want to elect Hillary Clinton."
Image: Matt Rourke
Obama: "This is not me just going through the motions here. I really, really, really want to elect Hillary Clinton."
Image: Matt Rourke
WHILE HILLARY CLINTON is recovering from a bout of pneumonia, her campaign trail duties went to her husband, former president Bill Clinton, and the current US President Barack Obama, who renewed his support for the Democratic presidential nominee in Philadelphia yesterday.
At his first appearance on the campaign trail for Hillary, Obama told the crowd bearing 'Love trumps hate' signs:
Can I just say I am really into electing Hillary Clinton? This is not me just going through the motions here. I really, really, really want to elect Hillary Clinton.
"And sometimes folks are surprised by that because they remember 'Man, you guys had a tough fight eight years ago'. And it was tough, because Hillary's tough. Every time I thought I had that race it was like going up the Rocky steps, I was about to celebrate, and then I look and she's right there! [sic]"
But I could see how tough she was, I could see how smart and savvy and tough she was.
The race there could come down to whether the coalition of voters that helped carry Obama to victory nearly eight years ago – young people, Hispanics and African Americans – turns out in force.
November's vote is also a high-stakes election for the 44th president, who could see much of his legacy, from climate deals to health care, eroded by a Republican-run White House.
Philadelphia is a pivotal city in deciding the presidential contest in Pennsylvania, seen as a must-win state for Trump on 8 November.
Clinton's husband Bill took over for duties in California, attending a fundraiser in Los Angeles, and campaigning today in Las Vegas.
Source: CNN/YouTube
Hillary returns tomorrow
Hillary Clinton is scheduled to return to the White House campaign fray tomorrow after a few days at home recovering from pneumonia in a health scare that rocked her bid to become America's first woman president.
The Democratic nominee's spokesman Nick Merrill said in a statement late last night that Clinton spent time at home "catching up on reading briefings, making calls," and watching Barack Obama's rousing speech in Philadelphia, in which the president offered unstinting praise of his former secretary of state.
The former first lady has just suffered perhaps the worst week of her 15-month quest to become the first female US president.
She was forced to leave a 9/11 memorial event in New York on Sunday and was seen stumbling limp-legged into a Secret Service vehicle. Clinton's campaign initially said she had been suffering the ill effects of dehydration and "overheating."
The 68-year-old since then has been sidelined from the campaign trail by a bout of pneumonia – an illness diagnosed Friday, before the 9/11 event, that has raised broader questions about her health.
Source: CNN/YouTube
Clinton's stumble – captured on amateur video and seen by countless millions online and on television – gave her Republican rival Donald Trump, 70, a new opening to question the former top diplomat's fitness for the nation's highest office as the race intensifies.
On Friday, the day that she was diagnosed with pneumonia, Clinton called "half" of Trump's supporters a "basket of deplorables" because they were racist, misogynistic and xenophobic – drawing criticisms from all sides of the race.
"This was a catastrophic insult to the American people," Mike Pence, Trump's running mate told reporters as he again demanded Clinton "retract those offensive statements and apologise."
Clinton has expressed regret for saying "half," but also said she would not back down from calling out "racist rhetoric" on the campaign trail.
"While my opponent slanders you as deplorable and irredeemable, I call you hardworking American patriots who love your country and want a better future for all of our people," Trump said in Iowa.
Obama to the rescue
Obama, meanwhile, made his 2016 solo debut in support of Hillary Clinton, hitting out at "unfair" criticism of the Democratic presidential nominee.
After an extremely rough few days for Clinton, Obama used a fiery appearance before a crowd of 6,000 in Philadelphia to try to turn the tables on Donald Trump.
Obama insisted that Clinton had "been subjected to more scrutiny and… more unfair criticism than anybody out here," while accusing the media of giving her Republican opponent a pass.
"Donald Trump says stuff everyday that used to be considered as disqualifying for being president. And yet because he says it over and over and over again, the press just gives up," Obama said.
With reporting from Gráinne Ní Aodha.