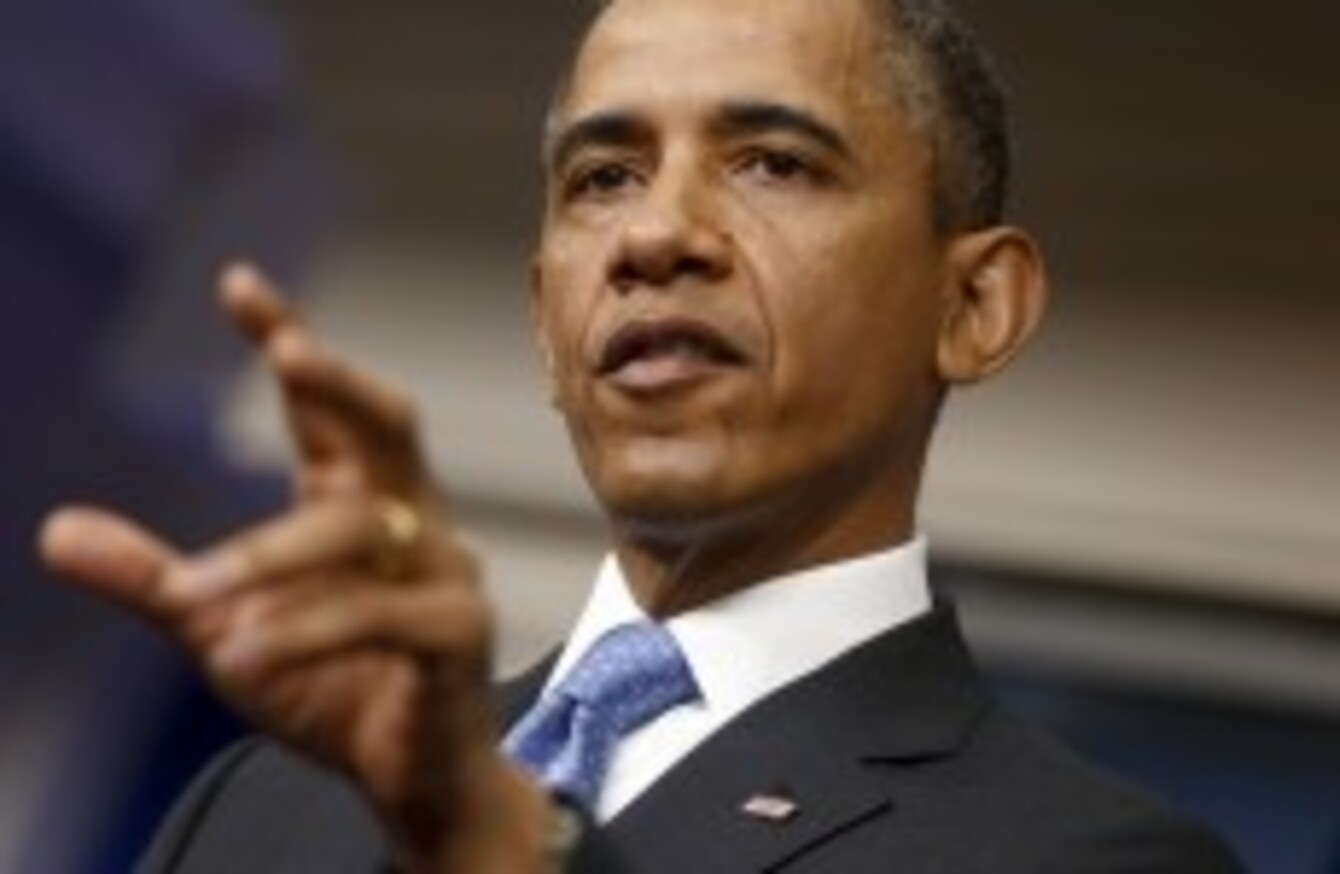 Barack Obama speaking from the White House earlier
Image: Charles Dharapak/AP/Press Association Images
Barack Obama speaking from the White House earlier
Image: Charles Dharapak/AP/Press Association Images
PRESIDENT BARACK OBAMA has warned against a rush to judgement on Syria's use of chemical arms, but said proof of their use would trigger a "rethink" of his reluctance to use military force.
As critics complain that he let Syria cross a US "red line," Obama said Washington believed chemical weapons had been used in the country's vicious civil war but did not know exactly who had fired them.
"What we now have is evidence that chemical weapons have been used in Syria," he told reporters. "We don't know how they were used, when they were used, who used them. We don't have a chain of custody that establishes [who used them]."
At a White House news conference, Obama also appeared to set the criteria for a US military intervention as established proof that President Bashar al-Assad's regime directly ordered the use of chemical weapons.
As more Guantanamo Bay inmates join a hunger strike, Obama also pledged to have another go at closing what he described as the "not sustainable" war-on-terror prison and blamed Congress for the deteriorating situation.
And he praised Russia for its help in investigating the Boston marathon bombings on April 15, which has been blamed on two attackers of Chechen origin, but said "old habits die hard" between US and Russian security services.
Guantanamo 'needs to be closed'
Obama faced the press amid rising political pressure over reports by US intelligence that Syrian forces used sarin gas against their foes, despite his previous warnings that deploying chemical weapons would be a "game changer."
"I've got to make sure I've got the facts. That's what the American people would expect."
"If I can establish in a way that not only the United States but also the international community feel confident in the use of chemical weapons by the Assad regime, then that is a game changer," he warned.
"By game changer, I mean we would have to rethink the range of options that are available to us."
"There are options that are available to me that are on the shelf right now that we have not deployed, and that's a spectrum of options," Obama said, saying he had asked the Pentagon for plans, but did not divulge them.
Possible Pentagon options include a risky operation to secure chemical weapons stocks to ensure they do not get into the hands of radical groups or to destroy them, either by an assault team or air strikes.
Obama's foes are also calling on him to directly send US arms to rebels, a step he has so far been reluctant to take, or to establish no-fly zones or safe havens to protect hundreds of thousands of refugees.
One of Obama's first acts as president was an order to close Guantanamo Bay. But four years on, the prison remains open, and a stain on the US image abroad, and is now plagued by multiple hungers strikes by despairing inmates.
"I am going to go back at this," Obama said, warning that the situation at the camp was "not sustainable" and blaming Congress for putting roadblocks in the way of its closure.
"It is expensive. It is inefficient. It hurts us in terms of our international standing. It lessens cooperation with our allies on counterterrorism efforts. It is a recruiting tool for extremists.
"It needs to be closed," Obama said.