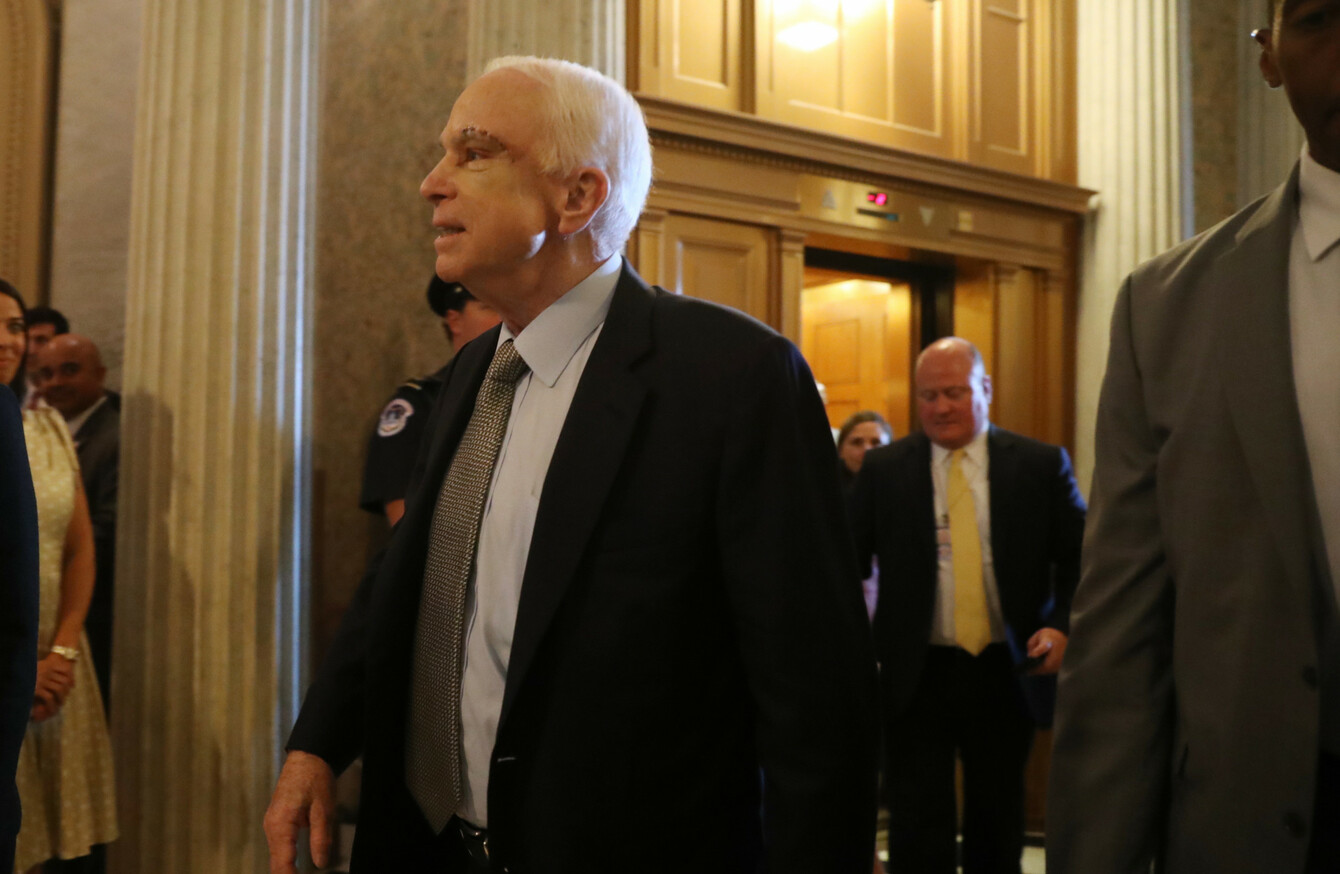 Senator John McCain arrives for the crucial healthcare vote.
Image: Andrew Harnik/AP
Senator John McCain arrives for the crucial healthcare vote.
Image: Andrew Harnik/AP
THE US SENATE has voted to proceed with a debate on Republican plans to repeal Barack Obama's healthcare reforms, thanks to a tie-breaking vote on the divisive issue from Vice President Mike Pence.
The vote was a victory for President Donald Trump, who had warned his party's senators that they would face strong repercussions if they failed to advance the measure, which has been stuck in Congress for months.
Senator John McCain, who announced last week he is suffering from brain cancer, cast a vote for the measure, leaving the total at 50-50. Pence broke the tie, as the US Constitution calls on him to do in the case of a tie.
McCain received a standing ovation from his colleagues as he entered the chamber.
Despite voting for the plan backed by the President, who called the vote a "big step", McCain delivered a strong rebuke of the commander-in-chief.
The 80-year-old McCain had a visible scar above his left eye after doctors removed a blood clot earlier this month. Days after the surgery, the senator disclosed that he had a brain tumour and had been diagnosed with an aggressive form of cancer.
McCain said in his speech that the Senate's branch of government is as important as the President's and that senators are not subservient to the President's wishes.
"Stop listening to the bombastic loudmouths on the radio, television and Internet. To hell with them. They don't want anything done for the public good. Our incapacity is their livelihood.
"Let's trust each other. Let's return to regular order. We've been spinning our wheels on too many important issues because we keep trying to find a way to win without help from across the aisle.
"Whether or not we are of the same party, we are not the president's subordinates. We are his equal!"
Many on Twitter, however, have pointed out that McCain made the speech before voting for a measure that could see millions lose the health insurance coverage, despite his insistence that he won't vote for the current repeal-and-replace plan.
The passage of the motion to proceed opens the door for 20 hours of debate on the issue, before amendments are voted on.
If those amendments pass, the bill to repeal Barack Obama's signature legislative achievement will move forward to final amendments, a final vote and a conference with the House of Representatives.
Like legislation Senate Majority Leader Mitch McConnell crafted mostly behind closed doors — and has since revised — it would eliminate Obama's tax penalties on people not buying policies, cut Medicaid, erase many of the law's tax boosts and provide less generous health care subsidies for consumers.
It also averted what would have been a blistering defeat for a party divided between fervent conservatives demanding the evisceration of Obama's statute and centrists intent on not pulling coverage away from millions of Americans.
Obama's law was enacted in 2010 over unanimous Republican opposition.
Since then, its expansion of Medicaid and creation of federal insurance marketplaces has produced 20 million fewer uninsured people.
It's also provided protections that require insurers to provide robust coverage to all, cap consumers' annual and lifetime expenditures and ensure that people with serious medical conditions pay the same premiums as the healthy.

With AFP and AP