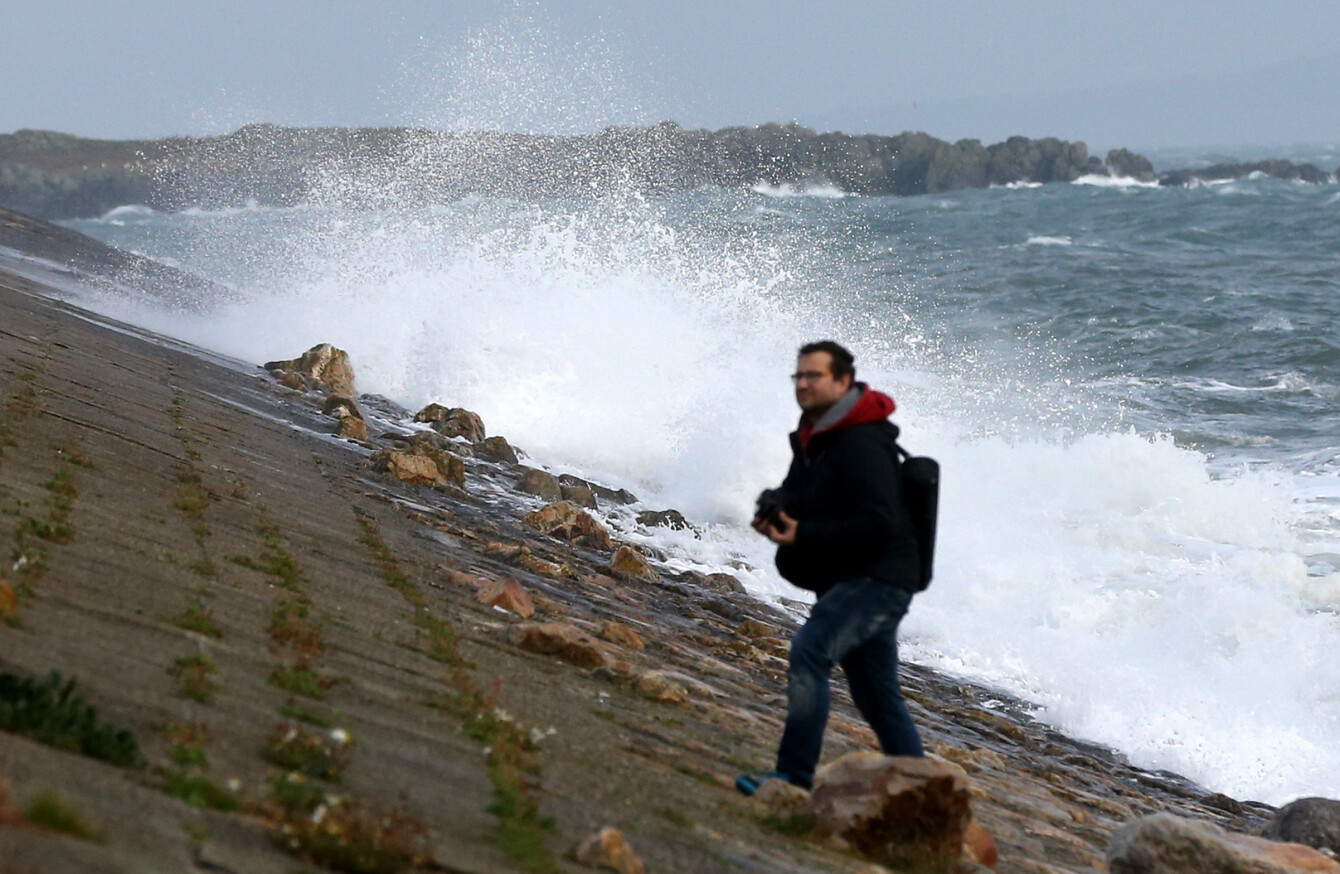 A man walking on Howth Harbour as large waves as Ex-Hurricane Ophelia battered Ireland
Image: Sam Boal via Rolling News
A man walking on Howth Harbour as large waves as Ex-Hurricane Ophelia battered Ireland
Image: Sam Boal via Rolling News
Updated 3.15pm
FIANNA FÁIL SPOKESPERSON on Foreign Affairs and Trade Darragh O'Brien is to draft a legislation to make it a criminal offence to recklessly endanger the lives of emergency workers.
Taoiseach Leo Varadkar told the Dáil today that he "very much agrees" with the sentiment of the legislation.
A status red weather warning was placed on the whole of Ireland yesterday as Storm Ophelia blasted across the country.
Despite numerous warnings telling people to remain indoors and avoid going anywhere near the sea, photos and videos emerged throughout the day of people risking their lives by getting into the sea.
"Emergency services were magnificent today. They deserve our support. I will publish legislation to give them the protection they deserve," O'Brien tweeted last night.
"Strong deterrent against reckless behaviour which put emergency services at risk today is needed. I will draft legislation to do so," he said.
https://twitter.com/DarraghOBrienTD/status/920055364468527104
Speaking to TheJournal.ie, O'Brien said that there should be consequences to those who put other people's live in danger unnecessarily.
"What I'm trying to do is to bring about a deterrent of people doing what we say in Salthill, doing what we say in Portmarnock, Kerry, Wexford.
People have the right to do what they want but not when it endangers anyone else's life and also when it wastes the time of emergency services. The emergency services are there when someone genuinely gets in trouble.
"I'm not talking about if it's a windy day out there and people are walking along the coast. I'm talking about if there's a specific warning like yesterday, it was a red alert, it was a hurricane, and people still thought that it was fine to jump into the sea," he said.
Yesterday, five windsurfers were rescued by the Coast Guard after they got into difficulty at Dundalk Bay, Co Louth.
The Happy Pear businessmen were also heavily criticised after they posted a photo of themselves heading out for a morning swim. They later apologised and removed the photo from their social media.
Adding to this, people were spotted at Salthill walking, swimming and taking selfies, close to the time when Ophelia became its most powerful.
https://twitter.com/EdCartyPA/status/919920723833032705
Taoiseach Leo Varadkar paid tribute to the emergency services and local authorities for working tirelessly through the storm yesterday.
Fianna Fáil Micheál Martin leader asked the Taoiseach if he would be interested in working with  other parties on the new legislation.
Varadkar said he agreed with the sentiment of the draft legislation, stating that the lives of first responders were put at risk on a number of occasions yesterday.
There were two incidents in particular yesterday that almost cost the lives of emergency service workers, he added.
Fianna Fáil Councillor Niall Kelleher spoke out Facebook last night calling those who surfed during the storm yesterday "idiotic".
#Open journalism No news is bad news Support The Journal

Your contributions will help us continue to deliver the stories that are important to you

Support us now
Speaking to TheJournal.ie, Kelleher said: "Yesterday was exceptional weather. I've seen it, especially here in Kerry when we've had weather alerts in the past, where people have gone and have had to be rescued.
"They're putting the lives of the people in the emergency services in danger by doing such an act, which may lead to a person needing to rescued and that was none too dissimilar to what we heard reports of yesterday. That's why I'm in favour of a legislation like this."
https://twitter.com/TeresaMannion/status/919910266749505536
Yesterday evening, the Irish Coast Guard made a direct plea for people to stay away from exposed coasts, tweeting:
We continue to advise the public to stay away from exposed beaches, cliffs and piers, harbours and promenades during storm conditions.
https://twitter.com/Squireweeks/status/919974776927588353
Despite this, Gerard O'Flynn of the Irish Coast Guard said that they're part of a minority, and the vast majority of people abided by the extreme weather warnings.
"The two earlier incidents were innocent errors really. The bad weather hadn't hit yet, and they were confident about what they were doing," O'Flynn said.
"But it's not the day for heading out to sea, where our resources could needed elsewhere."
Taoiseach Leo Varadkar issued a warning to those out in the stormy conditions too, calling it a "matter of life and death".
Additional reporting by Christina Finn