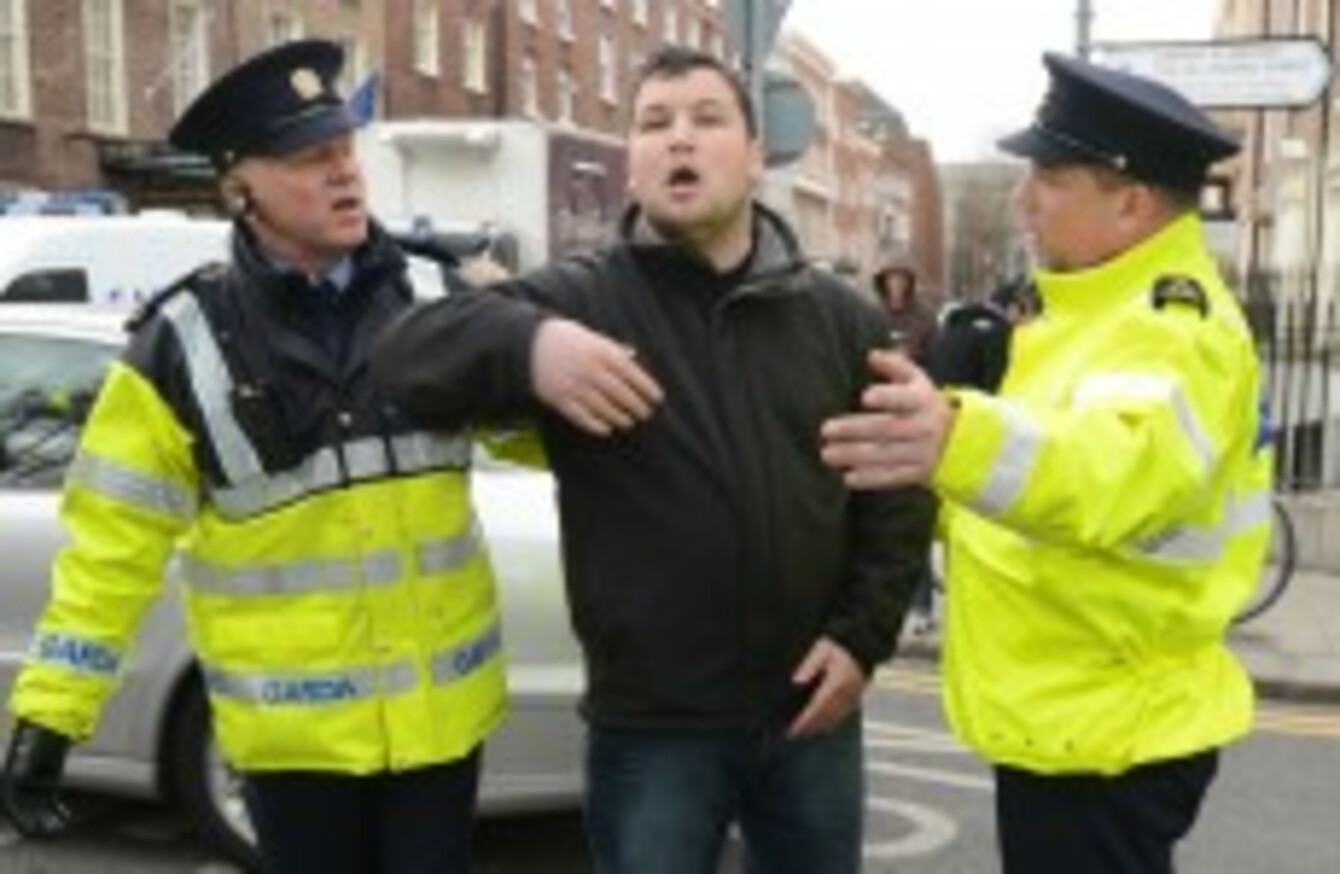 Travellers' rights protest
Image: Sasko Lazarov/Photocall Ireland
Travellers' rights protest
Image: Sasko Lazarov/Photocall Ireland
WHAT'S GOING ON in Leinster House?
Every day the Dáil and Seanad are sitting, TheJournal.ie brings you the most comprehensive guide to what our lawmakers are getting up to in the Houses of the Oireachtas.
So, here is what we can expect to be happening in the Dáil, Seanad and Committee rooms today…
3 things we'll be keeping an eye on
9.30 am: Fresh from some heckling in Roscommon, Health Minister James Reilly will face questions from the Opposition.
10 am and 2 pm (Room 2): The Justice Committee will be asking if the Garda Síochána Act 2005 adequately oversees the force. Submissions will be made by a number of groups, including the Irish Human Rights Commission, the Irish Traveller Movement, the Garda Síochána Ombudsman Commission and the Association of Garda Sergeants and Inspectors. The Guerin Report is also sure to come up.
12 pm: Taoiseach Enda Kenny will be kept on his toes during Leaders' Questions.
Everything else that's happening in the Dáil
10.45 am: Debate will resume on the Housing (Miscellaneous Provisions) Bill 2014. It proposes the establishment of a new housing assistance scheme.
12.21 pm: The Order of Business will be read.
1.51 pm: Topical Issues - where everything and anything could come up.
2.39 pm: Debate on the Housing Bill will continue.
4 pm:  The banking crisis inquiry will be discussed.
7.3o pm: Day two of discussion on Sinn Féin's Private Members motion on people losing discretionary medical cards will take place.
9 pm: The Dáil will adjourn.
Everything happening in the Seanad
10.30 am: The Order of Business will be read.
11.45 am: A Bill that would revise the law on the buying and selling of ships will be debated.
2 pm: Health Minister James Reilly will attend the Seanad to discuss new legislation that will ban under 18s using sunbeds.
3.30 pm: Senator Seán Barrett will put forward a motion on Seanad reform during Private Members Business. Barrett believes replacing the current two-university constituency with a single six-seat constituency will give an unfair advantage to political parties and "in no way further the democratisation of the electoral process".
5.30 pm: Matters on the Adjournment.
Everything else that's happening in the Committees
9.30 am, Room 4: Representatives from Mountain Rescue Ireland will discuss the challenges they face in maintaining their services.
5.15 pm, Room 1: Michael Cawley, Chairman Designate of Fáilte Ireland, will attend to discuss tourism.
2 pm, Room 4: Minister for Public Expenditure Brendan Howlin will lead a discussion on the much hyped Protected Disclosures Bill 2013 - new legislation aimed at protecting whistleblowers.
2.30 pm, Room 1: Colm O'Groman and Aisling Feely, the Executive Director and Campaigns Officer of Amnesty International Ireland, will brief the committee on the organisation's work in North Africa and the Middle East.
Here's how to watch what's going on in Leinster House today: