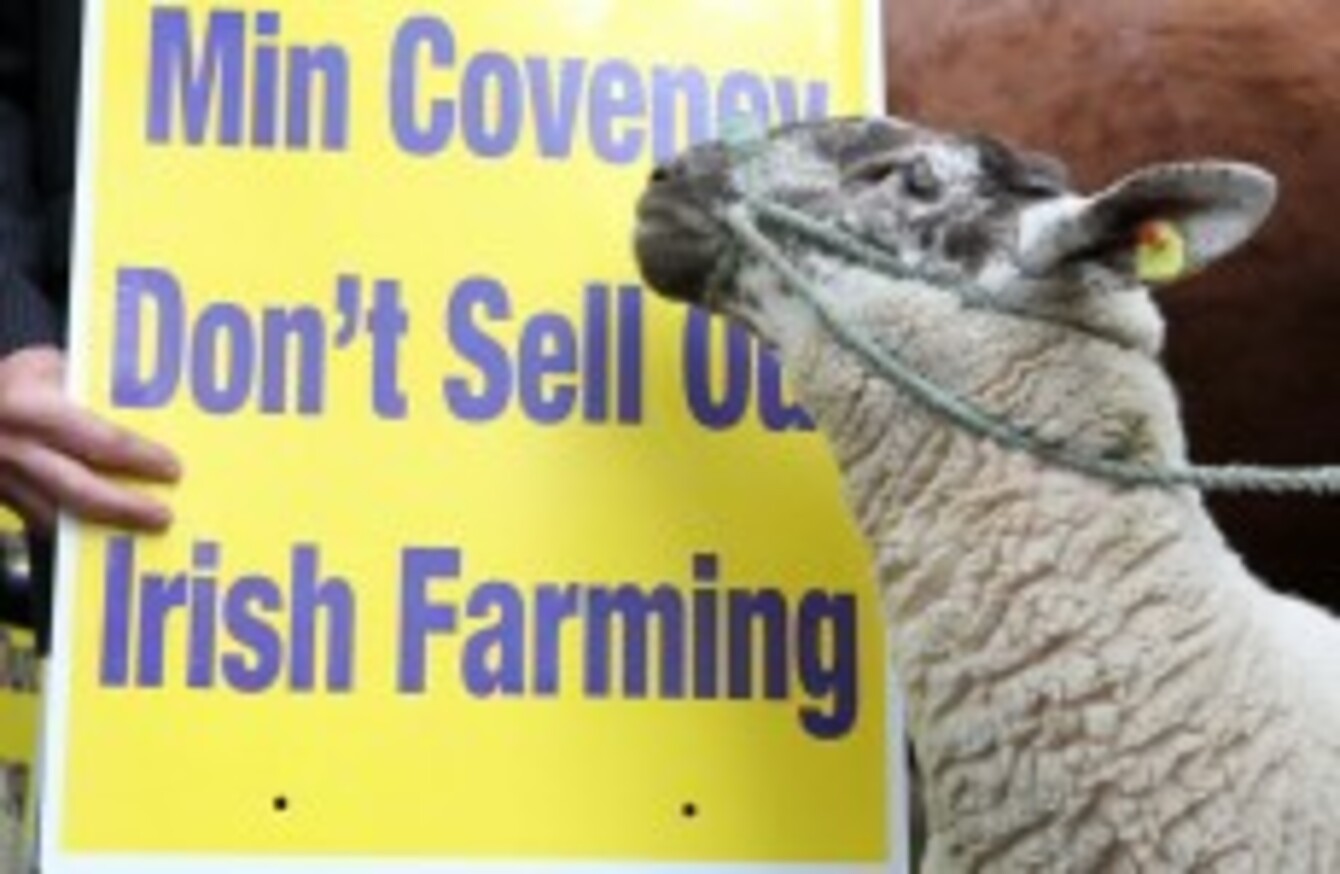 The opponents to CAP reform are many and varied in Ireland.
Image: Sam Boal/Photocall Ireland
The opponents to CAP reform are many and varied in Ireland.
Image: Sam Boal/Photocall Ireland
WHAT ARE OUR politicians doing in the halls of Leinster House?
TheJournal.ie lets you know with our guide to what's coming up in the Dáil, Seanad and various Oireachtas committees today.
DÁIL
Well, good afternoon Joan Burton. The Minister for Social Protection is taking written questions from 2pm today. She's followed by Leaders' Questions at 3.15pm and then questions to Taoiseach Enda Kenny at 3.36pm.
Topical issues today have not yet been chosen but we'll know more at order of business at 4.36pm. What we do know is that the second stage of the Courts and Civil Laws (Miscellaneous Provisions) Bill 2013 comes from the Seanad to the Dáil for a vote. The right of the media to attend certain court hearings – but also the right of the courts to block reporting on certain court matters – is of interest here. (Well, certainly of interest to us!)
It's a long evening in the Dáil today, after its late start with Fianna Fáil coming back at 7.30pm to bring up a motion regarding people in mortgage debt. They are calling for a revision on the Code of Conduct on Mortgage Arrears, looking for clarity on what is an "unsustainable mortgage", a reinstatement of the number of times a bank is allowed to contact a mortgage holder every month and a reinstatement on the 12-month moratorium on repossession process when a mortgage holder has entered the Mortgage Arrears Resolution Process.
Much of the motion focuses on how mortgage holders are treated by their financial institutions when they (the mortgage holders, that is) get into debt. It's actually worth a read – click here.
By 9pm we'll have an hour to listen to statements about offsore oil and gas exploration. At 10pm, they shut up shop for the night.
Watch the Dáil here.
SEANAD
Order of business opens at 2.30pm with a straightforward (ie, no debate) motion on an amendment to the Electricity Regulation Act 1999. The second stage of the Land and Conveyancing Law Reform Bill 2013 will be of note at 3.45pm as Justice Minister Alan Shatter makes an appearance in the chamber.
That bill is expected to sort out a loophole by which hundreds of repossession cases had been adjourned – it isn't retrospective but it does in future give courts the ability to adjourn a family home repossession case so the householder can apply for personal insolvency.
After that is discussed, four senators may take the floor for four minutes each and speak on whatever their heart desires.
Watch the Seanad here.
COMMITTEES
Phil Hogan  turns up in Committee Room 4 at 1.30pm today to speak on revised estimates for Public Services (in his capacity as Minister for Environment, Community and Local Government). He's followed by Arts, Heritage and Gaeltacht Minister Jimmy Deenihan at 5pm in the same room to speak of his department's revised estimates. (Watch here.)
Also at 1.30pm, in room 2, strap yourselves in for Jobs Minister Richard Bruton's review of the Action Plan for Jobs 2013 - and where it is so far. (Watch here.)
That acronym that for some reason always brings us back to the heady days of baling hay and Ireland winning the Eurovision three times in a row – we're talking CAP here – pops up in room 3 at 2pm. CAP Reform and "related matters" are in front of the Ag, Food and Marine committee with Northern Ireland's minister for Agriculture and Rural Development, Michelle O'Neill, in attendance. CAP reform, you will recall, is a matter of anguish to the agricultural community in Ireland. (Watch here.)