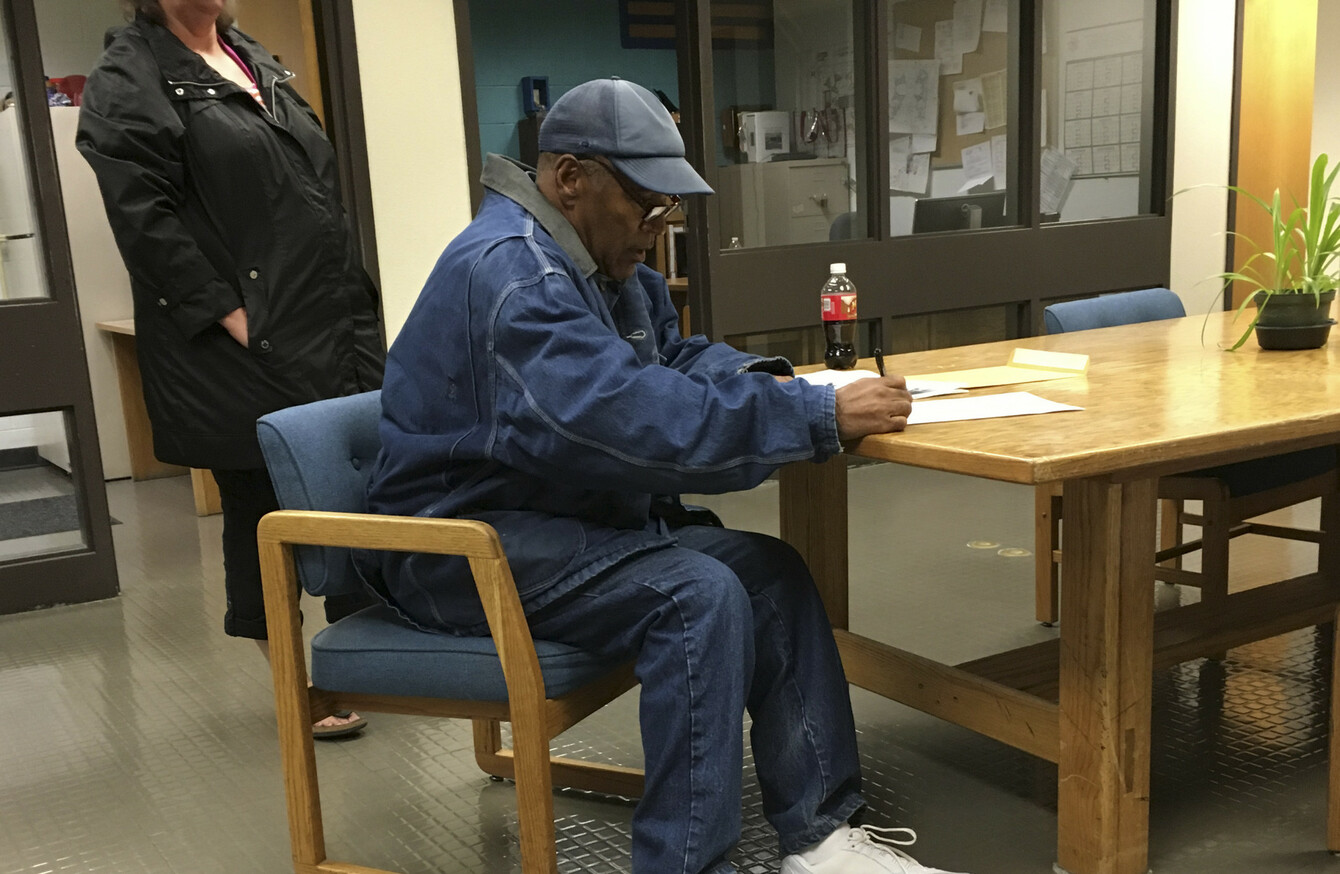 Image: AP/PA Images
Image: AP/PA Images
DISGRACED AMERICAN FOOTBALL star OJ Simpson has been released from jail on parole after nine years behind bars for armed robbery.
The 70-year-old left the Lovelock Correctional Center in the western state of Nevada just after midnight. Prison spokesperson Brooke Keast told AFP, "I don't know where he was headed".
In 1995, Simpson was acquitted of the double-murder of his ex-wife Nicole Brown Simpson and her friend Ronald Goldman in a racially charged murder trial that riveted the US.
In 2008, he was jailed for his part in a Las Vegas hotel room heist after being convicted of several charges including kidnapping.
Simpson was granted parole at a hearing in July and his earliest release date was set for 1 October, but he had widely been expected to be freed no earlier than tomorrow.
Why the early release?
"To ensure public safety and avoid possible incident," Keast said, commenting on Simpson's release at eight minutes past midnight local time, 8.08am Irish time.
Simpson plans to relocate to Florida following his release from the medium-security prison where he has been serving his sentence, his lawyer, Malcolm LaVergne said earlier.
Simpson was famously found not guilty in 1995 of the grisly murders of his ex-wife, Nicole Brown Simpson, and a male friend, Ron Goldman, in a case that transfixed the country and became known as the "trial of the century".
But the former National Football League running back and actor was sent to prison for his role in an armed robbery of two sports memorabilia dealers at a Las Vegas resort in 2007.
Simpson claimed at his trial that he was just seeking to recover personal items from the dealers, and he repeated that explanation at his parole board hearing in July, where the four-member panel voted unanimously for his release.