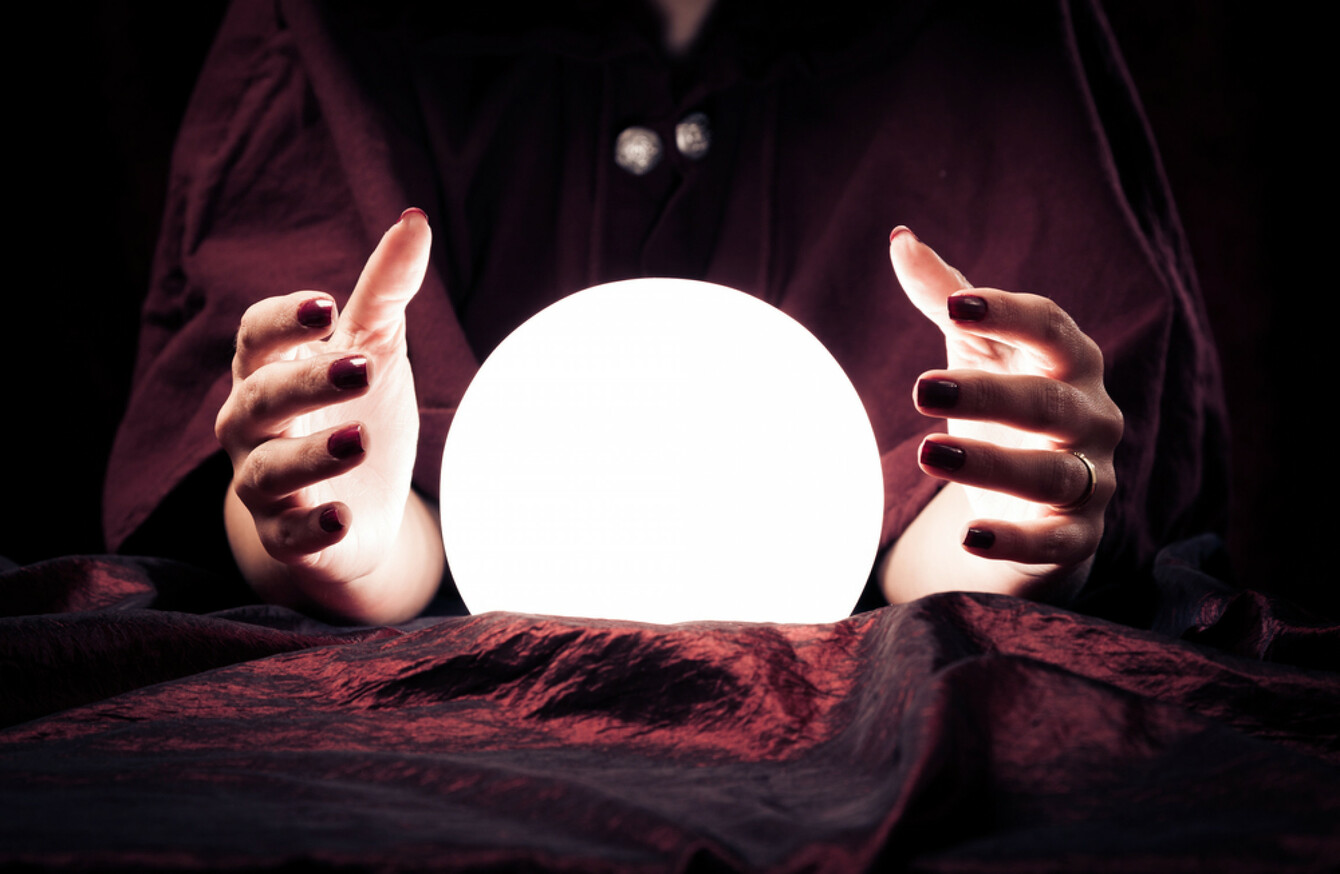 Image: Shutterstock/nullplus
Image: Shutterstock/nullplus
IF YOU'RE THE type of person who doesn't like surprises, keep reading.
Old Moore's Almanac, which has been around for 254 years, makes predictions for the upcoming 12 months at the end of each year – sometimes they're incredibly accurate and sometimes… they're completely off the mark.
Last year, for example, it successfully predicted a number of events, including:
Kate Middleton's third pregnancy
Hugh Hefner would be in the news
News about JFK would flood the media
Prince Harry finally settles down
Apple would have trouble with its Irish operation
The rise of the Bitcoin
Here are more of its predictions for the year gone by.
So, what's the first thing the latest Almanac tells us about next year? 
"Get your wellies on, it's going to be a very wet year in Ireland."
Typical. No surprise there.
Are there any slightly more shocking predictions? Let's see…
What's going to happen in politics?
US President Donald Trump has made the predictions list a few times.
Trump's health will be in the spotlight, according to Almanac.
He's also going to be more careful with Twitter. We'll see about that one.
[image alt="U.S.-WASHINGTON D.C.-TRUMP" src="http://cdn.thejournal.ie/media/2017/12/u-s-washington-d-c-trump-2-296x196.jpg" width="296" height="196" credit-source="Xinhua%20News%20Agency%2FPA%20Images" caption="US%20President%20Donald%20Trump" class="alignnone" /end]
Melania Trump will "take a back seat, however, she is a slow burner and people grow to admire her".
Meanwhile, George Clooney "announces his political interests".
Sport
If you live in Dublin, you're in for a treat. The Sam Maguire is set to return to the capital, with the county tipped for All-Ireland football success.
Mayo is set to win the women's football All-Ireland.
Meanwhile, Tipperary is tipped to win the hurling All-Ireland.
Celebrity news
It looks like we're heading back to 2016. Almanac is predicting that "there will be a lot of well-known people who will die suddenly".
Hollywood will have a problem with movie funding, risking a total collapse in 2018.
Meanwhile, a famous person will have a "shock" gender change, which will "lead to endless debate about transgender issues".
[image alt="Royal visit to Germany - Day Three" src="http://cdn.thejournal.ie/media/2017/12/royal-visit-to-germany-day-three-3-296x215.jpg" width="296" height="215" credit-source="Dominic%20Lipinski" credit-via="PA%20Images" caption="Prince%20William%20and%20Kate%20Middleton" class="alignnone" /end]
As we already know, Prince William and Kate Middleton are expecting their third child, Almanac says it'll be a boy.
Irish news
Almanac has a ton of predictions for Ireland in 2018.
Moving back to celebrity news for a moment, it predicts that an Irish celebrity will die, making "big news".
Irish millennials will move abroad in increasing numbers.
The Irish presidential election is going to be the "most boring ever".
#Open journalism No news is bad news Support The Journal

Your contributions will help us continue to deliver the stories that are important to you

Support us now
[image alt="plough 495_90523662" src="http://cdn.thejournal.ie/media/2017/12/plough-495_90523662-296x226.jpg" width="296" height="226" credit-source="Sam%20Boal" credit-via="Rolling%20News" caption="President%20Michael%20D%20Higgins" class="alignnone" /end]
Ireland will also see some minor seismic action.
Technology
Apparently, 2018 is going to be the year of the cryptocurrency and that physical money will be no more.
Africa will talk about having a common currency by 2021, Almanac predicts.
Drone deliveries for fast food and groceries will come fully online in 2018.
Meanwhile, there will be an "ad-apocalypse", in which many companies will pull their advertising from online media sites.
Keeping with media, fake pools and fake protestor scandals will make headlines. Fake numbers, fake news and other fake drama will continue to be a problem, prompting new kinds of "verified news" sites.
Many complex surgeries will be performed by robots, or so Almanac says.
Other predictions
Almanac also predictions a number of terror attacks for 2018.
It predicts terrorism in Canada and an Eastern nation.
It claims there will be more transport terrorism, on transport types not used before.
Meanwhile, China "announces the creation of the largest city in human history".
Finally, and unusually… Almanac is warning everyone to keep an eye on their granny… pensioner crime waves are expected for 2018.