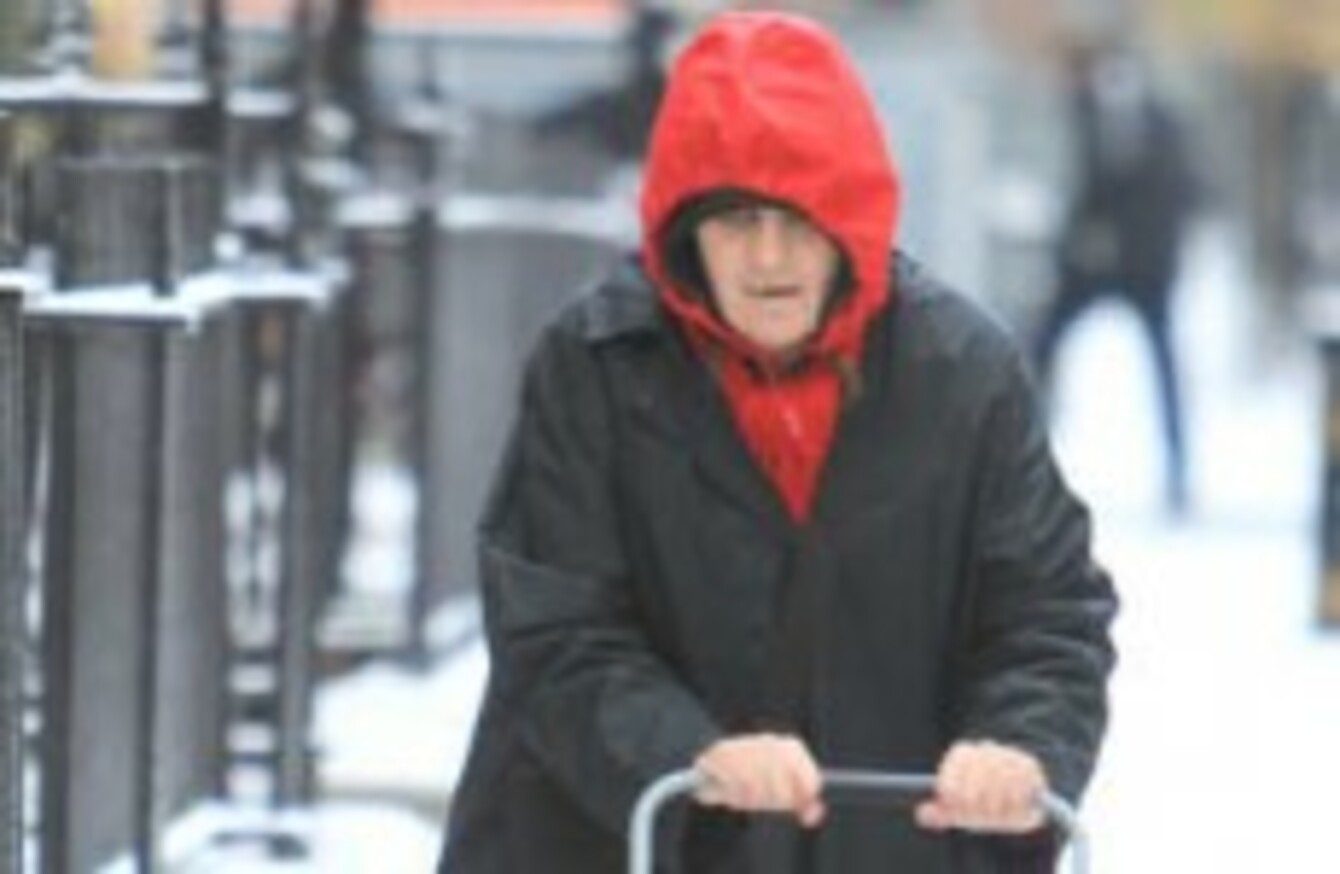 Older people in Ireland have had to deal with transport and heating problems during the Big Freezes over the past two winters.
Image: Photocall Ireland
Older people in Ireland have had to deal with transport and heating problems during the Big Freezes over the past two winters.
Image: Photocall Ireland
MORE OLDER PEOPLE living in Ireland are cold and lonely because of declining public services, a new report released by the Society of St. Vincent de Paul claimed yesterday.
Loneliness is the biggest individual problem faced by older people living on their own, while the cost of fuel is one of the main stresses of the elderly in Ireland.
The SVP said that loneliness amongst older people is particularly acute in rural areas. Declining public services, such as the closure of post offices and cancellation of other local services, including transport, has led to a reduced level of human contact.
Fuel poverty
In Ireland, rural older people are twice as likely to lack central heating and the researchers in this commission heard some worrying anecdotes from the people they surveyed.
The report's authors described how older people were forced into almost 'siege of Leningrad' extremes to cope with the cold.
Some older people restrict central heating to a small number of hours a day or to just one room in the house. All important electrical appliances and the bed would then be brought to this central room.
Others said they went to bed for a few hours during the day in an attempt to keep warm or else wore heavy clothes while indoors. Hot water bottles are also used throughout the day in some homes.
The researchers heard how some men and women switched off their electricity once their free units were used up and, as one said, "then we freeze".
The report also detailed how men did not wash so they could  save electricity through not heating water.
The situation has been exacerbated by older people having to live in larger houses that have been vacated by their children. Many of those surveyed said they would like to downsize their homes but were unable to find a buyer for their current property.
Hospital transport
Another major concern for older people in Ireland concerns the journey to hospital and other medical appointments.
The researchers heard numerous examples of older people obliged to make long, difficult and sometimes stressful journeys to hospitals at great personal expense. The problem was seen in both urban and rural areas.
However, there were also many reports of long waiting periods on trolleys – sometimes up to three days – when they finally reached the hospital.
Positives
The SVP found some positives from the report, which was commissioned to find out more about the experience of being an older person living in Ireland.
According to many of the respondents, growing old was seen as a positive development.  The message of the 'active, fit' old age has been firmly embraced, the report revealed.
Older people consider themselves much more fortunate than their parents or their children's generation
However, those surveyed called on greater advocacy work to be carried out by older people, especially around effective policies to eradicate fuel poverty and a fairer pension system, including the re-establishment of the Christmas Bonus.
During the study, "Older people – experiences and issues," almost 600 people were interviewed in 43 different urban, provincial and rural areas by independent researchers.