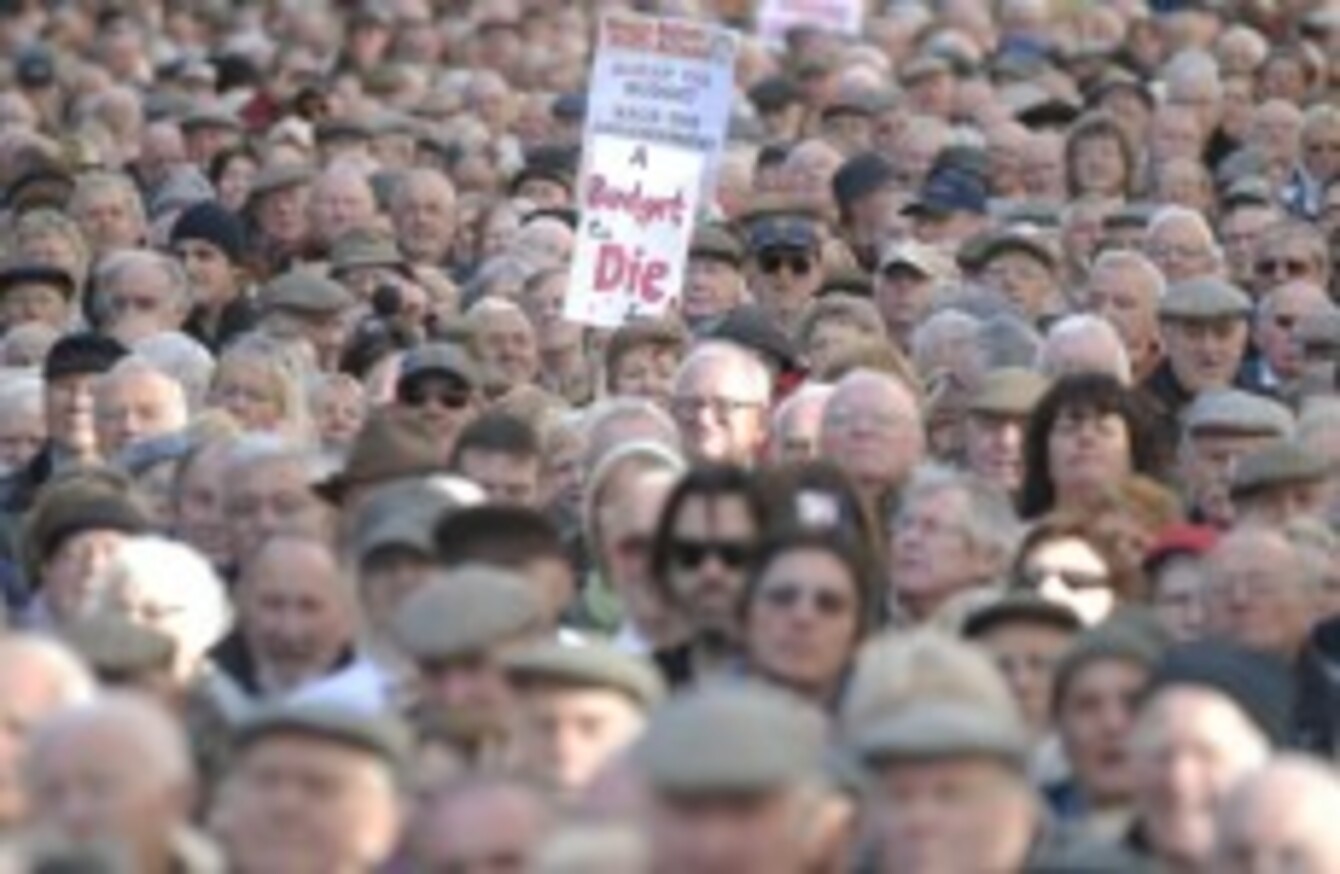 Some 15,000 older people turned out for the 2008 rally
Image: Sasko Lazarov/Photocall Ireland
Some 15,000 older people turned out for the 2008 rally
Image: Sasko Lazarov/Photocall Ireland
SENIOR CITIZENS ARE to hold a demonstration outside the Dáil this afternoon to protest against cuts made by the Government in last week's budget.
The protest will also mark the five year anniversary of a massive protest by seniors that caused the Government to roll back on its plan to remove the automatic entitlement to a medical cards to people over 70.
Today's protest is targeting a number of cuts that will affect elderly people including an increase in prescription charges, lowering of income limit for medical cards for over 70s, the abolition of the telephone allowance for the elderly and the ending of the bereavement grant.
Today's protest is being organised by Irish Senior Citizens Parliament and a spokesperson said that they would hope to have a similar response to the successful 2008 protests:
If we can judge by the phonecalls we've had in the last few days we're thinking its going to be a good response, we're getting people from all over Ireland telling us they are going to travel and that they're getting buses or by train or car or whatever.
The ISCP says that at present they have about 350 affiliated organisations and a total membership of about 80,000 people. In correspondence sent out to affiliates ahead of today's protest, the ISCP told its members that it's time to change media reports that politicians haven't received "too much heat from older people" since the budget. "It's time to shout stop" reads the missive sent to members.
SIPTU is also lending its support to the protest effort, which takes place outside the gates of the Dáil at 1pm.
"They say they haven't touched the state pensions but all of these issues affect people as well because with the contributory pension, everything leads into that pension." according to the ISCP spokesperson. "We are concerned when they are touching us they are indirectly."
Some 15,000 older people and around 10,000 students took part in a rally outside the gates of Leinster House on 22 October 2008.