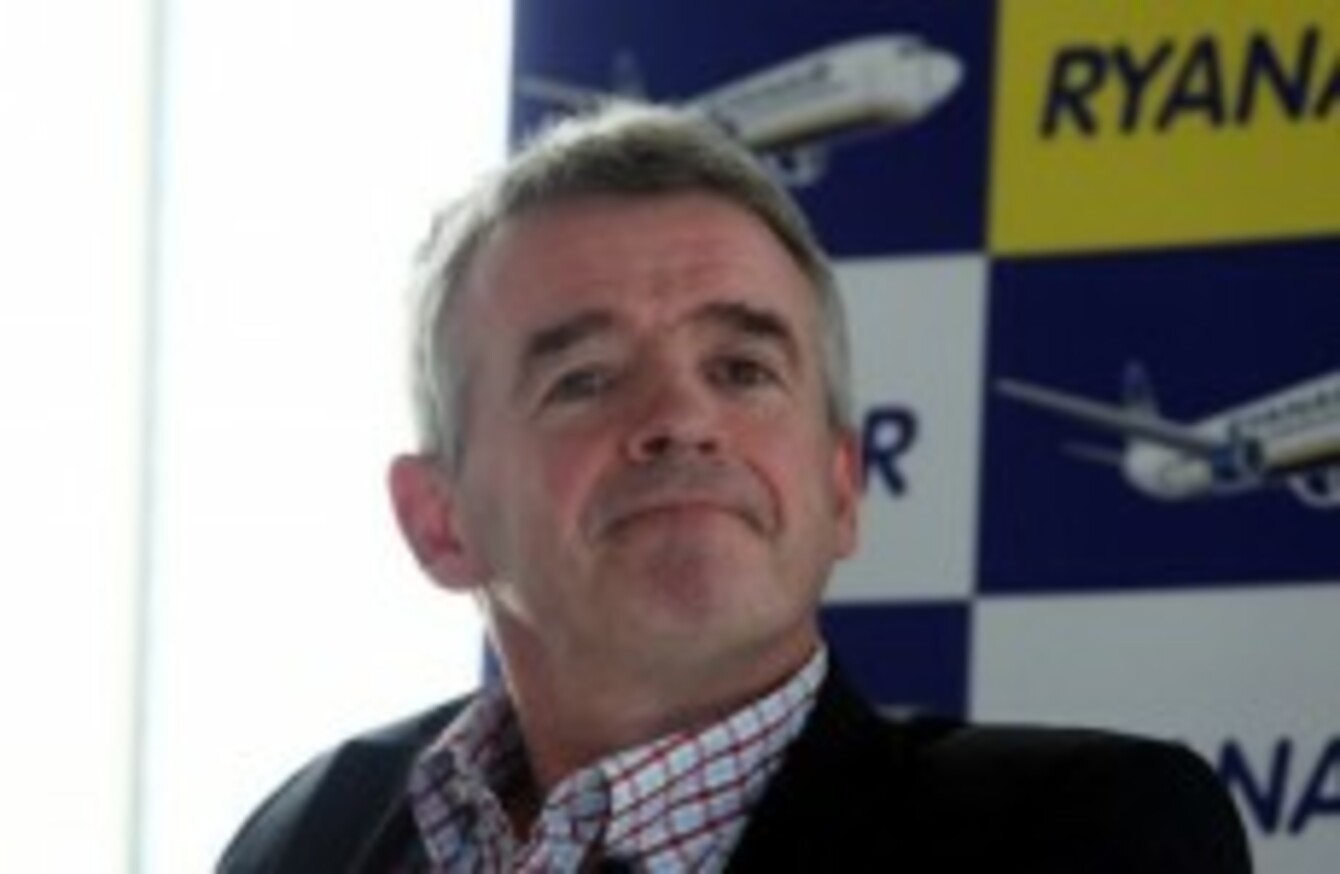 Michael O'Leary
Image: Steve Parsons/PA Wire
Michael O'Leary
Image: Steve Parsons/PA Wire
RYANAIR CHIEF EXECUTIVE Michael O'Leary has moved to defend the company's safety procedures after a Channel 4 documentary aired last night.
In 'Ryanair: Secrets from the Cockpit', details of the airline's fuel usage were outlined, with pilots interviewed saying that they have concerns over the amount of fuel that they carry.
The programme contained details of three Ryanair flights which issued Mayday fuel alerts in the one incident. The planes had been diverted from Madrid to Valencia but had all either entered, or were close to entering, into their reserve fuel tanks. This would give them less than half an hour of flying.
O'Leary, speaking to Newstalk Breakfast, said that despite the incident, the company had not altered policy.
"[Policy] hasn't changed because, as the official IAA (Irish Aviation Authority) report confirms, all of our aircraft  take the required extra hours worth of fuel and fully complied fully with EU rules on declaring a fuel emergency.
"These are 3 planes in the last two years of over 1.2 million flights. These are unusual cases."
O'Leary said that the IAA has "no concerns" over Ryanair policy.
"The IAA said to Channel 4, but Channel 4 omitted to broadcast, that Ryanair's safety is on a par with the safest airlines in Europe. Not the average, the safest."
A current Ryanair pilot, John Goss, was interviewed about a Ryanair practice of keeping league tables on which pilots consume the most fuel. Under the practice, pilots who use the most fuel are sent letters at the end of the month.
O'Leary, however, says that the tables promote safety.
"It's like if you drive to Cork. It doesn't matter whether you start with a full tank or a half tank. Fuel consumption is based on whether you're going 100 miles an hour or 50 miles an hour. We want our pilots at 50 mph. It is is the safest way to fly. It means you have smooth takeoffs and landings and control consumption.
"90 per cent of the time, pilots are using more fuel because of flight speeds.
We don't want boy racers flying our planes. We don't want guys flying in hard, slapping on brakes. We want them slower, smoother and safer.
O'Leary added that Ryanair pilots are the ones who choose the fuel load and that decision is "at their discretion".