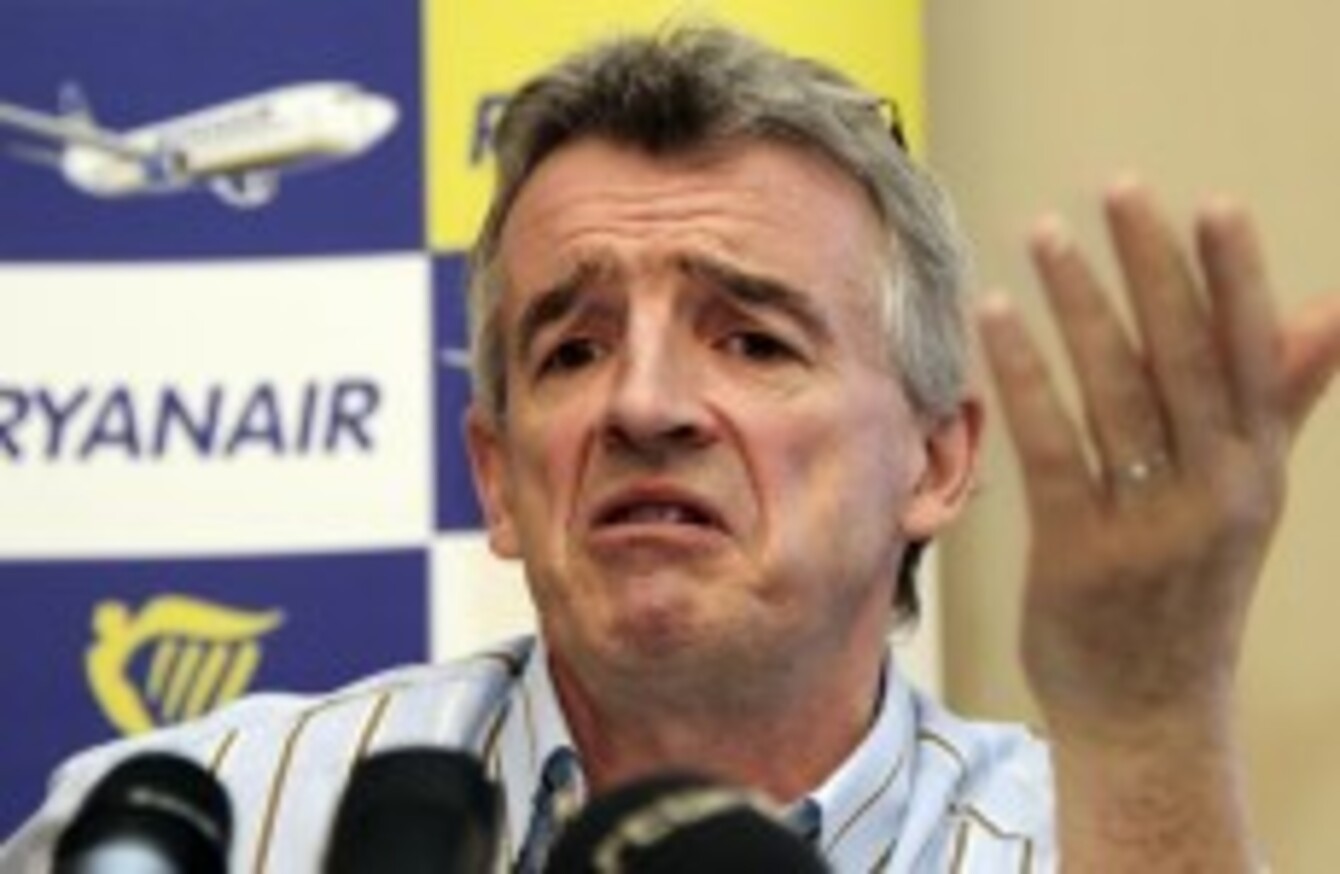 Ryanair CEO Michael O'Leary
Image: Yves Logghe/AP/Press Association Images
Ryanair CEO Michael O'Leary
Image: Yves Logghe/AP/Press Association Images
RYANAIR CEO MICHAEL O'Leary has said that government spending needs to be cut – and that Irish citizens need to work harder – in order for the country to recover from its economic woes.
Speaking to George Hook on Newstalk today, O'Leary said that Ireland's main problem was that it was "borrowing €15 billion a year just to survive" – but said that this could be solved by public servants working harder and by cutting flat-rate benefits, such as the Children's Allowance.
O'Leary criticised payments such as the Children's Allowance and free bus passes for all pensioners – saying that not everybody needed them. He asked:
Why are we taxing ourselves in order to pay multimillionaires like me children's allowance?
He added that teachers did not work "particularly hard" and had long summer holidays, suggesting that they they and nurses could work a bit harder. He also criticised free education for all Irish schoolchildren.
Hook pointed out that O'Leary had been very privileged, benefiting from an education at Clongowes - one of the country's most expensive schools, to which he said:
I value the education I got at Clongowes – but that doesn't mean that teachers don't have to work harder.
He said that payments to the unemployed should be cut after a claimant had been receiving benefits for a certain amount of time, dismissing Hook's suggestion that this would not make finding work any easier. O'Leary insisted there was a "disincentive" for people on lower wages in Ireland to work because the range of State benefits they may be entitled to: "We need to take away the restrictions that prevent them from working," he said.
The Ryanair CEO said that "a serious right wing dictatorship for five years" would sort out Ireland's economic problems.
When asked about emigration, O'Leary said that he didn't think it "existed" anymore, saying that while families used to be broken up forever, people can now fly home practically every week. If school-leavers are faced with the prospect of no employment in Ireland, they should simply go and work for a few years in places like Australia, the UK, US or Canada, he said.
When asked if he would consider taking over the spot recently left vacant by Ivan Yates on Newstalk's Breakfast show, O'Leary declined – saying that he would instead by focusing on "revolutionising" Irish tourism and doubling the number of Ryanair passengers over the next few years.